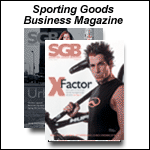 Nautilus Group Earnings Plunge On Small Revenue Gain

APRIL 29, 2004 -- Nautilus Group's net sales were $130.9 million compared to $129.4 million. Net income during the period was $6.4 million, or $0.19 per diluted share, compared to $13.7 million, or $0.42 per diluted share, for the first quarter of 2003. The company press release gave no color on the dreadful earnings shortfall.

Commenting on the quarter, Gregg Hammann, CEO, said, "We are encouraged by our results in the first quarter and our ability to outperform top-line expectations and grow year over year revenue for the first time in over a year. By maintaining our focus on the customer and addressing demand for Nautilus' strength and cardiovascular equipment in the appropriate distribution channels, we delivered $130.9 million in net sales, above the $125-$130 million range we previously anticipated. We are still not satisfied with our gross margins. As part of our turnaround plan, we are working to differentiate our products and position our brands properly in the marketplace to address this issue.

"A number of our brands performed particularly well, including the Bowflex product line, our Nautilus commercial strength line, and our TreadClimber products. The newly designed Nautilus commercial strength line exceeded our expectations. It combines all the benefits of legendary Nautilus engineering and functionality in a sleek new look. Our most innovative product, the TreadClimber experienced a sales increase of 39% in the first quarter compared to the fourth quarter of 2003."

"Our focus on research and development should help our brands perform even better in the future. Our team has just launched two new Bowflex products, the Extreme 2 for our direct channel, which does not require cable changes between exercises and the Sport, which is targeted for our retail customers. We also recently showed the StairMaster variable stride elliptical trainer at the IHRSA trade show, and we expect to begin shipping this product at the end of 2004. In addition, we showed the new commercial TreadClimber at the IHRSA tradeshow, where it received a strong reception from club owners. This product is expected to ship by the end of the first quarter in 2005."







Breaking Headlines
Huffy Hires Lazard Freres
APRIL 29, 2004


Nautilus Group Earnings Plunge On Small Revenue Gain
APRIL 29, 2004


Big 5's Net Income Doubles
APRIL 29, 2004


Columbia Q1 Sales Surge 22%; Net Income Hits Record
APRIL 29, 2004


Short news...4/29/04
APRIL 29, 2004


Inventory Liquidations Slash Russell Profits 85%
APRIL 29, 2004


Saucony Has Record Q1 Sales & Earnings
APRIL 28, 2004


GSI Has Record Q1 Revenues; Loss Is Reduced
APRIL 28, 2004


Short news...4/28/04
APRIL 28, 2004


K-Swiss Q1 EPS Beat Estimates, But Lowers Future Guidannce
APRIL 28, 2004