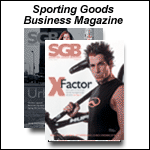 Huffy Hires Lazard Freres

APRIL 29, 2004 -- Huffy Corp. has retained Lazard Freres & Co. LLC to advise the company on financing and strategic alternatives.

Paul R. D'Aloia, CEO, commented, "We are pleased to be working with Lazard to explore alternatives that could provide additional financing for the company and to explore strategic alternatives, including the sale of the company or of product segments within the company.

"We view this year as a year of significant transition. With one divestiture completed, and upon the completion of the pending divestiture of Huffy Service Solutions, the Company will have achieved its vision of moving to a branded sporting goods company. The transition to a single sporting goods platform is well underway, but as previously announced will not improve operational results until the third or fourth quarter of 2004. At present, with higher than anticipated costs associated with the restructuring and reorganization of the Canadian business, it appears that Huffy will not return to profitability until 2005."

Robert Lafferty, CFO, added, "Typically, the seasonality of our businesses is such that during the first few months of the year Huffy has substantial negative cash flows and lower availability under our revolving credit facility. These factors, when combined with the significant loss anticipated in the first quarter of this year, have created greater on-going availability challenges than we normally experience. We have recently reached agreement in principle with the agent for the lenders, subject to final approval and documentation, which will provide increased liquidity and will modify the current loan covenants to allow the company to execute a sale of the company, or of product segments within the company."

D'Aloia concluded, "We remain dedicated to continuing to offer great value and quality to our retail partners and consumers. While the year has been challenging, our suppliers continue to be very supportive and we are proud and grateful for their support."

Given the significant loss anticipated in the first quarter, Huffy will be reviewing certain intangible assets and deferred tax assets to determine the appropriateness of the carrying value of these assets. Although a decision to reduce the carrying value of these assets would have no cash flow impact, EPS for the first quarter would be adversely impacted.







Breaking Headlines
Huffy Hires Lazard Freres
APRIL 29, 2004


Nautilus Group Earnings Plunge On Small Revenue Gain
APRIL 29, 2004


Big 5's Net Income Doubles
APRIL 29, 2004


Columbia Q1 Sales Surge 22%; Net Income Hits Record
APRIL 29, 2004


Short news...4/29/04
APRIL 29, 2004


Inventory Liquidations Slash Russell Profits 85%
APRIL 29, 2004


Saucony Has Record Q1 Sales & Earnings
APRIL 28, 2004


GSI Has Record Q1 Revenues; Loss Is Reduced
APRIL 28, 2004


Short news...4/28/04
APRIL 28, 2004


K-Swiss Q1 EPS Beat Estimates, But Lowers Future Guidannce
APRIL 28, 2004