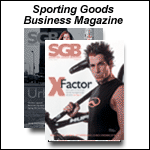 Short news...5/5/04

MAY 05, 2004 -- Sportsman's Warehouse plans a 48,000-square-foot store this fall in Bismarck, ND. Gander Mountain has already started construction on 65,000-square-foot store there. Scheels All Sports plans a 150,000 square-foot flagship store in Fargo by 2007. "I don't think the market is big enough to support everybody. It's going to be interesting to see what kind of battles go on here for a while," CEO Steve Scheel told the Bismarck Tribune. Sheels is headquartered in Fargo. Meanwhile in Omaha, Sheels opened a 177,000-square-foot, two-level store on nine acres. It is the company's largest to date. It will compete with The Sports Authority, Dick's and Galyans. The unit features a 12-car Ferris wheel inside the store. Scheel said he got the idea after seeing one in the Toys 'R Us flagship store in New York City. His directors thought he was crazy, but he told them, "There's nothing better to keep kids happier than a Ferris wheel." A ride costs $1, and there are restrictions. The Omaha door is the 21st for the company, which was founded in 1902 as a hardware and general store by Frederick Scheel, Steve Scheel's great-grandfather. In August, Scheels is scheduled to open a 179,000-square-foot store in Des Moines.

This is from a filing by Vans to the SEC: "On April 27, 2004, the plaintiff in the derivative action captioned In Re Vans, Inc. Derivative Litigation, Lead Case No. BC309805, filed in Superior Court for the County of Los Angeles, amended the consolidated complaint to add class action allegations that the proposed merger between Vans, Inc. and VF Corporation, announced on April 27, 2004 (the "Merger"), is unfair to Vans's shareholders and intended to (i) insulate the defendants from liability under the ongoing federal securities class action and the derivative litigation, and (ii) personally benefit them. The amended complaint purports to seek class action status. While the amended complaint alleges that the defendants should be enjoined from proceeding with the consummation of the transaction, the plaintiff has not filed an application for a temporary restraining order or other injunctive relief."

Major League Baseball has sold its bases and on-deck circles to Columbia Pictures. They will carry Spider-Man 2 branding in 15 stadiums during interleague play next month. MLB passed on selling the netting behind home plate. It didn't want to distract fans, reports espn.com's Darren Rovell. Pitching rubbers and home plate will be adorned with Spider-Man 2 branding before games, but will be replaced with standard white plates once the games start.

BB&T Capital Markets upgraded Pacific Sunwear to buy from hold...ThinkEquity Partners has initiated research coverage of Collegiate Pacific with an overweight rating and a 12-month price target of $15 per share.

Opinion Research Corp. launched a new sports marketing research tool: the Return on Sports Investment (ROSI) measurement model. ROSI, which gives sports professionals concrete insight into the value derived from sponsorships and other sports marketing investments, rounds out the comprehensive offerings of the company's full-service ORC Sports Research Desk. Through an integrated approach of diagnostics and analysis, the ROSI model goes beyond "soft" measures like brand awareness and media impressions to provide quantifiable data on "hard" measures like active customers, share of wallet and sales. The result is information that sports marketers can use to determine which programs impact equity and sales, to communicate effectively with the right audience and to maximize effectiveness and profitability overall. Further information is available at www.opinionresearch.com.

Sport-Haley entered a final order and judgment approving the settlement of the class action that had been pending since October 2001 vs the company, two officers and directors and one former officer and director. The defendants settled the class action while continuing to deny any liability in connection with the asserted claims. In accordance with the settlement agreement, the defendants will pay to the class a total of $1.0 million, from which will be deducted certain administrative costs and awards made to the named plaintiffs and to plaintiff's counsel for attorneys' fees and costs. The company expects that the settlement amount will be derived from proceeds of the defendants' liability insurance coverage. "We're pleased that the class action has finally been settled in its entirety," stated Kevin Tomlinson, CEO. "We believe that the negotiated settlement was in the best interests of all the parties concerned. Having this issue settled relieves a burden on the company's management and allows us to concentrate on moving forward with our strategic plans." The plaintiffs alleged that the defendants knowingly overstated Sport-Haley's financial results

adidas-Salomon reported Q104 sales improved 3% on a currency-neutral basis. In euros, sales fell 3% to 1.623 euros. Sales of the adidas brand improved 3% (-2% on a currency-neutral basis), while Salomon revenues rose 2% (-1% on a currency-neutral basis). However, TaylorMade-adidas Golf revenues were off 4% (-13% on a currency-neutral basis). Group sales in North America were off 7% (-19% on a currency-neutral basis). Sales of the adidas brand in North America were off 8% as a result of a poor performance by the Sport Performance division. Net income increased 41% to 72 million euros…adidas signed Sebastian Telfair to a multi-year contract. Telfair, the 2003-2004 New York City Player of the Year, will forgo college and was entering the NBA Draft on June 24, 2004. Louisville coach Rick Pitino told the New York Times that his endorsement deal will be bigger than his pro contract. Telfair is said to be unlikely to be the first point guard to be drafted. Sources told ESPN.com that Telfair's six-year deal with adidas is worth between $1 million and $2 million annually, depending on his reaching incentives in his contract. Telfair told The Associated Press on his deal was worth more than $15 million total.






Breaking Headlines
Short news...5/7/04 NEW FORMAT
MAY 07, 2004


Short news..5/6/04
MAY 06, 2004


Johnson Acquires Techsonic For $28 Million
MAY 06, 2004


Short news...5/5/04
MAY 05, 2004


OR Confirms Speakers At Summer Market Conference Program
MAY 05, 2004


Mission Hockey Merges with ITECH Sport
MAY 04, 2004


Short news...5/4/04
MAY 04, 2004


Short news...5/3/04
MAY 03, 2004


ispo Will Give Nordic Walking Special Focus
MAY 03, 2004


Short News...4/30/04
APRIL 30, 2004