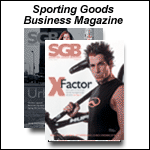 Columbia Q1 Sales Surge 22%; Net Income Hits Record

APRIL 29, 2004 -- Columbia Sportswear announced record Q1 net sales of $206.7 million, an increase of 22.4%. The company reported record net income of $20.0 million, a 34.2% increase. EPS were $0.49, compared to $0.37.

US sales increased 15.8% to $115.3 million, European sales increased 33.2% to $42.9 million, Other International sales increased 37.4% to $26.1 million, and Canadian sales increased 23.8% to $22.4 million.

Excluding changes in currency exchange rates, Other International sales increased 31.9%, European sales increased 14.5%, and Canadian sales increased 8.2%. Consolidated net sales increased 16.5%, excluding changes in currency exchange rates.

Sportswear sales increased 19.6% to $117.0 million, outerwear sales increased 12.2% to $40.4 million, footwear sales increased 29.3% to $38.4 million, and accessories sales increased 51.9% to $8.2 million. Mountain Hardwear contributed $9.7 million in sales, including $2.7 million of equipment sales, a new category for Columbia Sportswear.

Tim Boyle, Columbia's president/CEO, commented, "Columbia again delivered strong sales and operational performance in the first quarter, driven by accelerating demand for our spring related sportswear and footwear products. Our strategies for developing our sportswear and footwear product categories are working well as the spring business at Columbia is now providing a material contribution to the overall profitability of the Company. During the quarter, operating margins expanded to record first quarter levels, demonstrating the strong financial leverage in the organization. Sourcing and operational strengths, combined with foreign currency benefits, contributed to operating leverage and record first quarter earnings."

Columbia reported consolidated backlog increased 14.3% to $777.3 million. Of this total, fall product backlog was $664.0 million, an increase of 12.7%. Excluding changes in currency exchange rates, consolidated backlog increased 10.4%, and fall product backlog increased 8.9%. Due to the timing of the acquisition last year, Mountain Hardwear's backlog was not included in prior year reported backlog results. To provide comparability on current year backlog and future revenue growth, fall backlog at March 31, 2003 has been increased to include $17.7 million in Mountain Hardwear orders that existed in the prior year comparative period.

Boyle continued, "We are pleased with our exceptional fall future orders backlog growth, particularly with fall backlog growth in the US. Growth in fall backlog was led by continued momentum in our sportswear and footwear categories, particularly in the US. Global outerwear backlog was also healthy, driven by strong outerwear demand in Europe and Other International markets. We believe that the consistent execution of our strategies, combined with our balance sheet strength, position us well for continued strong growth.

"Based on our current outlook and the backlog we released today, we currently believe that our strategies will enable us to generate second quarter 2004 revenue growth of 8 to 10% with net income flat when compared to the second quarter of 2003. For the full year 2004, we anticipate net sales growth of 11 to 12%, and net income growth of approximately 10%, compared to 2003."

The board of directors authorized the repurchase of up to $100 million of Columbia common stock.





Breaking Headlines
Huffy Hires Lazard Freres
APRIL 29, 2004


Nautilus Group Earnings Plunge On Small Revenue Gain
APRIL 29, 2004


Big 5's Net Income Doubles
APRIL 29, 2004


Columbia Q1 Sales Surge 22%; Net Income Hits Record
APRIL 29, 2004


Short news...4/29/04
APRIL 29, 2004


Inventory Liquidations Slash Russell Profits 85%
APRIL 29, 2004


Saucony Has Record Q1 Sales & Earnings
APRIL 28, 2004


GSI Has Record Q1 Revenues; Loss Is Reduced
APRIL 28, 2004


Short news...4/28/04
APRIL 28, 2004


K-Swiss Q1 EPS Beat Estimates, But Lowers Future Guidannce
APRIL 28, 2004