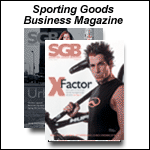 Short news...4/29/04

APRIL 29, 2004 -- Modell's has hired Jim Bel Bruno as VP/sports marketing. He will join the chain on May 10. Bel Bruno came from NFL Properties.

Rocky Shoes & Boots is increasing its earnings guidance for FY04 due to Q104 results and the accretive impact of the subcontract agreement to produce boots for the US military. Net sales are anticipated to be approximately $133 million for FY04, which is $11 million higher than previous guidance and $27 million above net sales for FY03. This sales growth is attributable to solid increases in branded products, footwear, apparel and accessories, and shipment of boots for delivery to the military. If the company achieves net sales of at least $133 million for the FY04, then EPS are expected to be approximately $1.75 compared to previous guidance of $1.54 and $1.32 in FY03.

Umbro will seek a listing on the London Stock Exchange. The company's EBITDA has risen since 2001. The IPO should roll out at the end of June. Part of the proceeds will be used to relaunch the brand in the US.

Delta Apparel reported Q3 revenues increased $24.9 million, or 73.6%, from the prior year quarter, due primarily to the acquisition of MJ Soffe Co. Its sales were $22.6 million, a record for Soffe and an increase of $1.0 million, or 4.8%, from its sales as a stand-alone. A 24.5% improvement in gross margin was primarily the result of the higher gross margins associated with Soffe, offset partially by lower gross margins in Delta's basic T-shirt business. The gross margin on tees declined due to lower average selling prices, higher raw material costs and lower absorption of fixed cost, offset partially by lower conversion costs.

The National Federation of State High School Associations promulgated a new rule on basketball jerseys to go into effect in the 2007-08 season. The new rules will no longer allow home teams to wear light colors rather than white.

Galyans Trading Co. will have the grand opening of an 84,000-square-foot sports and outdoor adventure store on April 30 at Belmar Center, a newly developed lifestyle center six miles west of downtown Denver. The store is the fourth in Colorado and the third in the Denver area.

Wells Fargo Securities lowered its price target on K-Swiss to $27 from $30. Its FY04 EPS estimate dipped to $1.48 from $1.64. WFS felt the huge decline in K-Swiss stock on Wednesday was "unwarranted." DA Davidson downgraded K-Swiss from buy to neutral. The 12-18-month target price has been reduced from $29 to $22, while the five-year target price has been reduced to $38.

The Sportsman's Guide Q1 revenues rose only 1.2% to $44.6 million. Its Q1 net was $1.2 million (+21.9%). The catalog/Internet retailer has New Balance 741 basketball shoes for $29.97 ($70 SRP).






Breaking Headlines
Huffy Hires Lazard Freres
APRIL 29, 2004


Nautilus Group Earnings Plunge On Small Revenue Gain
APRIL 29, 2004


Big 5's Net Income Doubles
APRIL 29, 2004


Columbia Q1 Sales Surge 22%; Net Income Hits Record
APRIL 29, 2004


Short news...4/29/04
APRIL 29, 2004


Inventory Liquidations Slash Russell Profits 85%
APRIL 29, 2004


Saucony Has Record Q1 Sales & Earnings
APRIL 28, 2004


GSI Has Record Q1 Revenues; Loss Is Reduced
APRIL 28, 2004


Short news...4/28/04
APRIL 28, 2004


K-Swiss Q1 EPS Beat Estimates, But Lowers Future Guidannce
APRIL 28, 2004