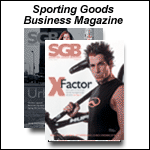 Short news...4/16/04

APRIL 16, 2004 -- Zacks.com released its latest additions and deletions to the All Star Analyst portfolio. This portfolio represents all stocks with a strong buy rating from at least five analysts with a 5 Star All Star ranking. These are the brokerage analysts whose stock recommendations proved to be the most profitable for investors. Making the cut this year was Big 5: "Last month the company announced that it will redeem $15 million principal amount of its 10.875% senior notes due 2007, using funds available under a revolving credit facility. Following the redemption, which is scheduled to be completed in mid-April 2004, the outstanding balance of the company's 10.875% senior notes will be reduced to a face amount of $33.1 million from an original face amount of $131 million when the notes were issued in November 1997. Big 5 estimates that the redemption will result in annualized interest expense savings of approximately $700,000, or three cents per diluted share, on an after-tax basis, based on current interest rates. All Star analysts like what they are seeing and are recommending Big 5 to investors looking for a specialty retail company with plenty of upside.

BB&T Capital Markets maintained a buy rating on Foot Locker. The 12-month target price is $30. Friday morning's price was $26.98.

Bass Pro Shops is said to announce a second store in Alabama. The 150,00-square-foot door will be in Leeds. The other is in the Mobile market. Meanwhile in Louisiana, the Baton Rouge Advocate reported: "Opponents of a plan to publicly finance a Denham Springs Bass Pro Shops store issued a report Wednesday saying the $50 million deal has been shoddily researched and its benefits wildly exaggerated. At $50 million, the deal would be the largest payment ever handed to Bass Pro, said Robert J. Ragland, a Baton Rouge economist hired by local sporting goods stores to do the economic analysis. 'No one has said we're getting a better Bass Pro, because obviously we're not. No one has said we're getting more employees, because we're not,' Ragland said. 'No one has said we're getting a better return on the deal…We're getting the same Bass Pro as everyone else.' The only difference is that Louisiana and Livingston Parish are paying more than anyone else ever has, he said. Although supporters say Bass Pro will employ 300 people, Ragland said the new store will shift sales from existing retailers, and that will cost some people their jobs because of the competition. Arthur Cooper, state economic development department director of business retention and assistance, revealed for the first time Wednesday how big a hit other Louisiana businesses will take. The number of jobs being lost among other retailers would be 148 workers statewide. However, Cooper said, the state will still net 152 new jobs because of Bass Pro. In addition, the department's research shows the Bass Pro jobs will pay significantly higher hourly wages than typical retail employment, along with benefits, he added. The retail shift was the only part of Ragland's report with which Bass Pro supporters didn't vehemently disagree. 'What I see here is three or four retail outlets that felt like they needed to give an opinion on this,' Denham Springs Mayor Jimmy Durbin said. 'It's just basically an opinion.'"

Mountain Hardwear added Cathy Wiedemer to its media relations and communications team. She came to Mountain Hardwear from the Steamboat Ski Resort where she has worked for the past 17 years, most recently as PR mnager. In addition to expanding, the Mountain Hardwear PR team has moved to a bigger location in downtown Steamboat.






Breaking Headlines
Short news...4/19/04
APRIL 19, 2004


Short news...4/16/04
APRIL 16, 2004


Short news...4/15/04
APRIL 15, 2004


Deckers' Q1 Revenues Increase 23%
APRIL 15, 2004


News shorts...4/14/04
APRIL 14, 2004


VF Acquires Napapijri Brand
APRIL 14, 2004


Short news...4/13/04
APRIL 13, 2004


Huffy Sees Big Q1 Loss; Selling Its Services Business
APRIL 13, 2004


Foot Locker Buying 350 Footaction Doors
APRIL 13, 2004


Short news...4/12/04
APRIL 12, 2004