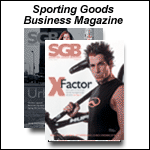 Short news...4/13/04

APRIL 13, 2004 -- Columbia Sportswear signed a license agreement with CO Lynch Enterprises for the design, manufacture and marketing of a new line of hunting and fishing waders, as well as ankle-fit rubber boots. The collection will debut in select specialty and sporting goods retailers in fall 2005.

Grabber Performance Group promoted Chris Pappas to national sales manager. He will be responsible for overseeing all sales. Pappas joined Grabber in 1996, most recently serving as Central Region SM. Prior work experience includes coaching and retail management.

Buda, TX will be the home of a 175,000-square-foot Cabela's. The site now produces negligible tax revenue for the city. Cabela's will be guaranteed significant road improvements…When Cabela's opened in Schuylkill County (PA) last fall, the Schuylkill Transportation System received state money to include the store in its fixed-route schedule, with five trips a day, seven days a week to the store. Unfortunately, the bus is not paying its way. Pennsylvania requires at least 10 riders an hour to continue its finding of the route. The result will be a reduction in the number of bus trips to the huge store.

Karstadt Sport plans to open up to 25 Karstadt Fitness clubs over the next two years, after acquiring nine sites from 24 Hour Fitness last year. Averaging 27,500 square feet, the nine acquired sites are located primarily in northern Germany. Two clubs operate on the site of the Karstadt Sport stores, and the company is keen to open more clubs within Karstadt stores, says Klaus Appelhoff of Karstadt's executive committee. "The success of our facility in Dortmund is already showing the advantages of Karstadt Sport and Karstadt Fitness sharing a common location."

Joe Drabin, territory manager of TaylorMade-adidas Golf for the past seven years, has been named South Florida territory manager, Wilson Golf. Drabin will be responsible all sales activity from Vero Beach to Key West.

The Federal Trade Commission is seeking comments on and requests to participate in a workshop, "Radio Frequency Identification: Applications and Implications for Consumers," to be held June 21, 2004. A Federal Register Notice announcing the workshop says that it "will explore the uses, efficiencies, and implications for consumers associated with radio frequency identification (RFID) technology. The workshop will address both current and anticipated uses of RFID tags and their impact on the marketplace." According to the Federal Register Notice, the workshop "will provide an opportunity to learn about how RFID works and to highlight its numerous and rapidly growing applications. It will also address the privacy and security concerns associated with RFID use, particularly on an item-level basis. By bringing together RFID proponents, privacy advocates, and other interested parties, the workshop will facilitate discussion of core public policy issues and encourage the development of best practices that capitalize on the efficiencies generated by RFID without compromising consumers' privacy and security." Parties seeking to serve as panelists in the workshop must notify the FTC in writing of their interest in participating on or before Friday, May 7, 2004, either by mail to the Secretary of the FTC or by email to [email protected] More information about participating in the workshop, including the specific criteria the FTC will use to select participants, is provided in the Federal Register Notice. Interested parties also may submit written comments on the above questions to foster greater understanding of these issues. Especially useful are any studies, surveys, research, and empirical data. Comments must be filed on or before Friday, May 21, 2004, and may be filed in either paper or electronic form. For paper submissions, an original and two copies of each document should be provided. The FTC requests that any submission filed in paper form be sent by courier or overnight service. US postal mail in the Washington area and at the Commission is subject to delay due to heightened security precautions. Alternatively, comments may be emailed to [email protected]

Cherokee's board of directors has approved the distribution of a special dividend to shareholders of 50¢ per share. The dividend will be payable on or about May 26, 2004 to shareholders of record on May 12, 2004. The special dividend will be paid with the proceeds from the Los Angeles Superior Court arbitration award that awarded Cherokee all finder's fees that Mossimo had withheld under its March 28, 2000 finders agreement with Cherokee. The company recently received $6.39 million from Mossimo in this matter. These proceeds were paid to Cherokee as a result of a final arbitration award dated January 16, 2003, that awarded Cherokee all finder's fees that Mossimo had previously withheld, together with interest at the statutory rate and Cherokee's full attorneys' fees.






Breaking Headlines
News shorts...4/14/04
APRIL 14, 2004


VF Acquires Napapijri Brand
APRIL 14, 2004


Short news...4/13/04
APRIL 13, 2004


Huffy Sees Big Q1 Loss; Selling Its Services Business
APRIL 13, 2004


Foot Locker Buying 350 Footaction Doors
APRIL 13, 2004


Short news...4/12/04
APRIL 12, 2004


PE4Life Supporters Heading To Capitol Hill In May
APRIL 12, 2004


Short news...4/8/04
APRIL 08, 2004


Outdoor Industry Behind Get Outdoors Act
APRIL 08, 2004


Short news...4/7/04
APRIL 07, 2004