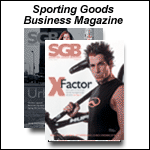 Deckers' Q1 Revenues Increase 23%

APRIL 15, 2004 -- For Q1, Deckers Outdoor's net sales increased 22.6% to $44.3 million. Net earnings for the quarter increased 28.1% to a record $5,382,000 and diluted earnings per share increased 32.4% to $0.49.

CEO Doug Otto stated, "We are pleased as the strong momentum we experienced in fiscal 2003 has continued into the new year. These results have been primarily driven by robust growth in our Teva® business, both domestically and abroad, and continued increases in our UGG business. We believe this performance is a testament to the strength of these brands."

Including sales from both the wholesale divisions and the internet and catalog retailing business, Teva sales for the first quarter increased 18% to $37.4 million compared to $31.7 million last year and UGG sales for the quarter increased 226% to $5.1 million from $1.6 million. Due to the seasonality of the UGG business, the first quarter is generally a lower volume quarter, while the third and fourth quarters are generally the highest volume quarters for UGG. Sales of the Simple brand were $1.7 million for the quarter compared to $2.8 million for the same period last year. Sales for the internet and catalog retailing business, which are included in the brand sales numbers above, aggregated approximately $3.6 million for Q1, up 226%.

The gross margin for the quarter was 46.1%, compared to 45.0% for the first quarter of 2003, largely due to the strong increase in the higher gross margin internet and catalog retailing business, combined with a lower volume of closeout sales in the Simple division compared to last year. SG&A expenses were $10.8 million, or 24.3% of sales compared to $8.2 million, or 22.6% of sales, primarily due to increased costs of the growing internet and catalog retailing business, increased payroll costs, higher legal costs associated with increased efforts to protect the company's intellectual property rights, and increased sales commissions on the higher sales volume.

During the quarter, enotes, repaying an additional $3 million in January 2004. In connection with this repayment, it incurred approximately $0.3 million, or $0.02 per diluted share, of expenses related to the write-off of financing costs and prepayment fees. With this most recent repayment, Deckers has now repaid $7 million of the original $14 million of 16.75% subordinated notes and repurchased all of the $5.5 million of preferred stock. Both the notes and the preferred stock were issued to finance the Teva acquisition in November 2002.

Deckers has also increased its guidance for 2004. The company currently expects annual sales for 2004 to range from $166 million to $174 million, up from previous guidance of $153 million to $162 million, and diluted earnings per share to range from $1.42 to $1.51, up from the previous guidance of $1.25 to $1.35 per diluted share. The company currently expects annual sales in 2004 to be approximately $85 to $87 million for Teva, $9 to $11 million for Simple and $72 to $76 million for UGG. For Q2, the company currently expects sales to range from $34 million to $35 million and diluted earnings per share to range from $0.32 to $0.34.







Breaking Headlines
Short news...4/19/04
APRIL 19, 2004


Short news...4/16/04
APRIL 16, 2004


Short news...4/15/04
APRIL 15, 2004


Deckers' Q1 Revenues Increase 23%
APRIL 15, 2004


News shorts...4/14/04
APRIL 14, 2004


VF Acquires Napapijri Brand
APRIL 14, 2004


Short news...4/13/04
APRIL 13, 2004


Huffy Sees Big Q1 Loss; Selling Its Services Business
APRIL 13, 2004


Foot Locker Buying 350 Footaction Doors
APRIL 13, 2004


Short news...4/12/04
APRIL 12, 2004