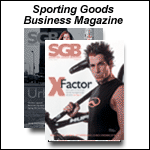 Short news...4/15/04

APRIL 15, 2004 -- On April 14, eB2B Commerce received notice from the lawyers representing the investor representative and investors controlling 85% of the company's January and July 2002 senior secured convertible notes that it is in default on interest payments and that as a result, the note holders opt to accelerate their repayment in the aggregate amount of $3,200,000 plus accrued interest. If the company cannot repay the notes plus accrued interest immediately, the note holders are prepared to take possession of the company's assets, according to the general security agreements associated with the notes, in full satisfaction of the debt.

Décathlon posted 2003 sales of EUR3.118 million ($23.7 billion), a 10.5% increase. Operating income was EUR292 million ($346.3 million. Comp-store sales were up 7.9%. European doors account for 43% of sales. The chain has four stores in the Boston area. The company has 313 stores in 12 countries. Décathlon France achieved sales of EUR2.177 billion ($2.6 billion), an increase of 7.9% with 6.5% positive comps. France accounted for 69.8% of group revenues, down from 71.0% in 2002. The average store is 26,500 square feet. The seven private labels, "Passion" brands (Quechua, Tribord, Decathlon Cycle, Geologic, Domyos, Kipsta, shares are held by the Mulliez Family Association (44%), the family of the founding president Michel Leclercq (43%) and company employees (13%). For 2004, Décathlon plans 20 openings, 15 of which will be internationally (Spain, Italy, China, Portugal, etc.), five new stores and 12 remodels in France. 1,500 new jobs are expected this year.

SmartWool, manufacturers of merino wool performance socks, base layers and accessories, will partner with Montrail, a performance outdoor footwear maker. SmartWool is the exclusive sock sponsor of the Montrail Ultrarunning Team, comprised of 75 of the top ultrarunners in the US. Members of the Team will wear the Adrenaline Mini sock with the new Smart Fit System, as well as the Montrail running shoe of their choice during ultrarunning events. Typical ultrarunning SmartWool will also be a presenting sponsor of the Montrail UltraCup, made up of nine of the top ultra events nationwide. At each Montrail UltraCup, spectators and competitors can demo a variety of Montrail shoes and the SmartWool Adrenaline socks.






Breaking Headlines
Short news...4/19/04
APRIL 19, 2004


Short news...4/16/04
APRIL 16, 2004


Short news...4/15/04
APRIL 15, 2004


Deckers' Q1 Revenues Increase 23%
APRIL 15, 2004


News shorts...4/14/04
APRIL 14, 2004


VF Acquires Napapijri Brand
APRIL 14, 2004


Short news...4/13/04
APRIL 13, 2004


Huffy Sees Big Q1 Loss; Selling Its Services Business
APRIL 13, 2004


Foot Locker Buying 350 Footaction Doors
APRIL 13, 2004


Short news...4/12/04
APRIL 12, 2004