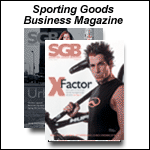 News shorts...4/14/04

APRIL 14, 2004 -- Based on extensive exhibitor and dealer feedback following ispovision winter 04, ispo organizers have improved the concept for summer 2004. This summer's ispovision is now housed in Hall A1 with its central location at the west entrance of the New Munich Fairgrounds. The golf fashion segment is new, integrated into the "Park Village" section of Style City. This will be the first time that a market overview of this fashion segment is available as early as July. The first European Sportstyle Summit is also totally new to the program, with high-profile guests from the industry and trade set to debate developments in this segment. More fashion shows will be added to the fashion show program during the fair in order to give time-squeezed dealers a chance for purchase planning and inspiration during the day. Conde Nast publishers host the exclusive GQ Style Night on Monday, July 5, when invitation-only guests are to enjoy another stylish after-show event, bringing a busy fair day. Jacqueline Sasse, ispovision manager, has is optimistic, "The existing concept has been recognized as on target and important, and was welcomed by the industry and the trade. Exhibitors were highly cooperative with suggestions for improvement. There has been a joint effort to improve the concept in several points. We discussed the hall venue, for example, and reviewed the brand mix. Separations between different segments and sections of Style City as well as the event area have been improved, making thematic divisions between the different styles more transparent. Maritime lifestyles and golf are trend segments, which will be presented in a fitting ambience."

The OutDoor show in Friedrichshafen, July 22-25, has already beaten last year's exhibit sales number. Some 500 direct exhibitors have signed up for 233,000 square feet of space.

Columbia Sportswear joined forces with local authorities in three simultaneous raids last week of Malaysian Factory Outlet Stores selling counterfeit Columbia apparel. The recent raids resulted in the seizure of more than 1,400 pieces of counterfeit shirts and pants using Columbia labels. The raids took place at three separate Factory Outlet Stores in Kuala Lumpur. These stores, prevalent throughout Malaysia, have been known to purvey counterfeit high-end products for discounted prices. Due to the large number of counterfeit product found at the three stores, Columbia is working with local authorities to determine if criminal or civil sanctions may ensue.

ICON Health & Fitness' Q3 revenues were off 4.6% to $328.0 million. The sales dip was across several product lines. Sales of cardiovascular and other products were off $24.3 million. Sales of strength equipment rose 8.6%. Operating profit plunged 19.8%, and net income, $18.2 million, was down 10.3%.

Watermark will exit the snowshoe category with its Yakima branded snowshoes line. This change will be effective immediately. "WaterMark is committed to the wintersports arena," noted Chris Dannewitz, senior director of the three years of substantial effort, we did not meet the target business goals we had established. The passionate outdoor consumer is a core element of our growth strategy. We will pursue other means of reaching out to this special customer who loves to play in the snow. We thank the retailers who have supported us during this time."

CS First Boston initiated coverage of Big 5 with a neutral rating and a target price of $27…Merrill Lynch increased its rating on Finish Line to buy from neutral. ML feels the sell-off following the Foot Locker-Footaction deal was overdone.

adidas Originals and Missy Elliott have introduced a signature hip hop sportswear collection, Respect Me. Respect Me. It includes sport-inspired footwear, apparel and accessories. The first collection will be available at US retail in September 2004, followed globally in November 2004. She has worn adidas Originals almost exclusively among athletic brands over the past three years, most prominently in videos, album packages and awards show appearances. The collection will have three competitive components: Bass, Rhythm and Remix, targeting different looks and distribution channels. Sizes will range from XS to 2XL, for women of all sizes, with select items available as unisex pieces. A percentage of sales from the Respect Me line will benefit Break the Cycle, an innovative non-profit organization whose mission is to end domestic violence by working proactively with youth. Elliott is a national spokesperson for Break the Cycle and has pledged to raise $5 million for the organization via industry contacts and cause related marketing initiatives.

New York City is suing Albert Elovitz, Inc., a Pittsburgh wholesaler who has been selling NYPD and NYFD shorts, caps, towels, magnets, key chains, glasses and jewellery to street vendors without authorization. Two nonprofit foundations own the rights, which Elovitz allegedly ignored. The city claims the company has no license and produces shoddy goods.

Rykä introduced a newly designed Radiant walking shoe. The signature Radiant, sold exclusively at Lady Foot Locker stores, includes an embroidered pink ribbon to demonstrate Rykä's partnership with the Avon Foundation and its sponsorship of the 2004 Avon Walk for Breast Cancer series. In addition to Rykä's breast cancer awareness shoe, the company will donate $2.00 from every pair of Rykä shoes sold at Lady Foot Locker stores to the Avon Foundation from now through October 2004. Rykä has agreed to contribute up to $10,000 to the Avon Foundation in support of the fight against breast cancer.






Breaking Headlines
News shorts...4/14/04
APRIL 14, 2004


VF Acquires Napapijri Brand
APRIL 14, 2004


Short news...4/13/04
APRIL 13, 2004


Huffy Sees Big Q1 Loss; Selling Its Services Business
APRIL 13, 2004


Foot Locker Buying 350 Footaction Doors
APRIL 13, 2004


Short news...4/12/04
APRIL 12, 2004


PE4Life Supporters Heading To Capitol Hill In May
APRIL 12, 2004


Short news...4/8/04
APRIL 08, 2004


Outdoor Industry Behind Get Outdoors Act
APRIL 08, 2004


Short news...4/7/04
APRIL 07, 2004