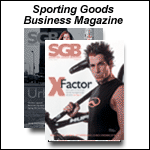 VF Acquires Napapijri Brand

APRIL 14, 2004 -- VF Corp. has entered into an agreement to acquire Green Sport Monte Bianco S.p.A. ("Green Sport"). Headquartered in Aosta, Italy, Green Sport designs and markets premium casual outdoor apparel under the Napapijri brand. The company's sales were approximately $76 million (63 million euros) in 2003, up 18% from 2002 levels.

Nearly 80% of Green Sport's sales are in Europe. Sales of Napapijri (pronounced "napa-peery") brand products are evenly distributed among sporting goods, department and urban lifestyle stores. The company has both wholesale and retail operations, with three owned retail stores located in Paris, Milan and Chamonix. An additional 14 stores are operated in partnership with retailers in Europe and Japan.

"We're delighted to be adding the Napapijri brand to our growing Outdoor coalition," said Mackey McDonald, COB/CEO of VF. "This acquisition is exactly in keeping with our goal of adding fast growing brands in attractive market segments." He noted that the acquisition is expected to be neutral to VF's earnings in 2004 and slightly accretive in 2005.

Added Guiliana Rosset, CEO of Green Sport, "VF is a great company, with the resources and global reach to significantly grow the Napapijri brand."

"We see the opportunity for continued double-digit growth for the Napapijri brand, both throughout Europe and in the US," said Eric Wiseman, VP and chairman of VF's Sportswear and Outdoor Coalitions. "Under Guiliana's leadership, we look forward to using the great design talent behind the Napapijri brand to strengthen our sportswear platform in Europe, enabling additional growth for The North Face brand and assisting in the European launch of the Nautica brand. At the same time, VF's well-established base in Europe will support future sales growth and ensure an efficient business model."

Green Sport will become part of VF's International Outdoor division. Rosset will report to Karl Heinz Salzburger, president of VF's International Outdoor division. Mike Egeck, president of The North Face, will have responsibility for the Napapijri brand in the US.

The acquisition, which will be funded with existing cash balances and is expected to be completed by the end of June, is subject to normal closing conditions.









Breaking Headlines
News shorts...4/14/04
APRIL 14, 2004


VF Acquires Napapijri Brand
APRIL 14, 2004


Short news...4/13/04
APRIL 13, 2004


Huffy Sees Big Q1 Loss; Selling Its Services Business
APRIL 13, 2004


Foot Locker Buying 350 Footaction Doors
APRIL 13, 2004


Short news...4/12/04
APRIL 12, 2004


PE4Life Supporters Heading To Capitol Hill In May
APRIL 12, 2004


Short news...4/8/04
APRIL 08, 2004


Outdoor Industry Behind Get Outdoors Act
APRIL 08, 2004


Short news...4/7/04
APRIL 07, 2004