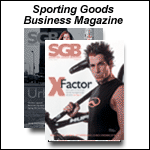 Short news...4/12/04

APRIL 12, 2004 -- The Wichita Eagle has editorialized against incentives to lure Bass Pro Shops to town: "Tax dollars should not be used to build a Bass Pro Shops store at WaterWalk. Wichita already is in the hotel business and subsidizes AirTran Airways. If businesses cannot compete on their own merits, they should not be in business."

adidas lost a legal battle vs the patent claims of a Hungarian shoe designer. The Budapest Municipal Court (FB) has overruled an attempt by adidas and adidas Budapest to eliminate a utility model) of a soccer shoe design by Hungarian inventor László Oroszi. A UM is an initial copyright, pending a patent registration. The court also ruled that Oroszi is the true owner of the concept now registered as a full-fledged patent backdating to October 14, 1996, which automatically replaced the UM. The backdating is valid for 18 European countries where the patent exists, while adidas has no such existing patent, said Oroszi. He turned to the FB last year requesting a review of why the Hungarian Patent Office had agreed to abolish his UM at adidas' request despite a patent was still pending. adidas' had asserted there was "nothing new or inventive" about his design. Oroszi has sued adidas, claiming his technology has appeared in the Predator Precision and Predator Mania shoes. He also claims Herbert Galocke, adidas' director of R&D, had publicly rejected his offer to sell the technology back in '98…JP Morgan Chase began coverage of adidas-Salomon with a neutral rating with a EUR98 target price. The analysts expect adidas-Salomon to post healthy results from 2H 2004. They are not optimistic that adidas can improve in US market share, however. Salomon and TaylorMade-adidas Golf are expected to diversify and expand product ranges during the current year, JP Morgan said. According to JP Morgan, a recovery in the US market and an increase in adidas-Salomon's market share in Europe and Asia are expected to drive the company's sales growth. Despite increasing competition from Nike in Europe, adidas-Salomon is expected to post healthy earnings growth in 2004, the analysts added. JP Morgan believes the stock offers limited upside potential in the near term. The EPS estimates for 2004, 2005 and 2006 are EUR7.4, EUR8.3 and EUR8.7, respectively. The P/E estimates for 2004, 2005 and 2006 are 13.1x, 11.6x and 11.1x, respectively.

Footstar seems likely to close its Gaffney, SC, distribution center. It is one of three the company operates. A closure would affect 212 jobs.

Sheels All Sports will open a 177,000-square-foot store in Omaha. The two-level store will feature a three-story, 12-car Ferris wheel inside. Scheels is also set to open their new store in West Des Moines at the new Jordan Creek Town Center on August 4. The Scheels All Sports in Des Moines will be the largest All Sports store with 179,000 square feet on two levels. The focal point of the new store will be a 65-foot American Oak tree created by Naturemaker, a Carlsbad, CA-based company that specializes in realistic tree sculptures. The tree will feature the changing foliage of a crisp, cool fall day in Iowa.

GSI Commerce is considering buying a 104,000-square-foot building that has sat vacant in King of Prussia, PA, for nearly three years.

DA Davidson initiated coverage of Nike with a buy rating. The target price is $91…Puma was rated overweight in initial coverage by JP Morgan Chase.






Breaking Headlines
News shorts...4/14/04
APRIL 14, 2004


VF Acquires Napapijri Brand
APRIL 14, 2004


Short news...4/13/04
APRIL 13, 2004


Huffy Sees Big Q1 Loss; Selling Its Services Business
APRIL 13, 2004


Foot Locker Buying 350 Footaction Doors
APRIL 13, 2004


Short news...4/12/04
APRIL 12, 2004


PE4Life Supporters Heading To Capitol Hill In May
APRIL 12, 2004


Short news...4/8/04
APRIL 08, 2004


Outdoor Industry Behind Get Outdoors Act
APRIL 08, 2004


Short news...4/7/04
APRIL 07, 2004