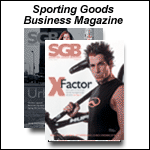 PE4Life Supporters Heading To Capitol Hill In May

APRIL 12, 2004 -- To emphasize the importance of daily PE, PE4LIFE, the physical education advocacy group (www.pe4life.org), backed by other sponsors and supporters, will again take its message to Congress during the 4th annual National PE Day, May 4-5 on Capitol Hill.

Professional athletes more will show their support for PE and the role it plays in reversing obesity in American youth. Accompanied by local educators and sporting goods manufacturers and retailers, they will meet one-on-one with Representatives to score increased support in 2005 for the Carol M. White Physical Education for Progress (PEP) grant program. Now in its fourth year, this competitive grant program will provide $70 million in FY2004 funds to local educational agencies and community-based organizations to help cover the cost of initiating, expanding and improving physical education programs.

But professional athletes aren't the only group joining PE4LIFE to promote physical education. Members of the food and beverage industry, hospital executives, health and fitness professionals, and others committed to improving children's health will all be on hand throughout the two-day event to help promote quality, daily PE as an effective and inexpensive solution to the many looming health issues threatening today's youth.

The National PE Day schedule includes:

PE4LIFE Summit on Childhood Obesity, Tuesday, May 4, 8 a.m-3 p.m.:School officials and community stakeholders will come together to develop solutions for childhood obesity based upon strengthening physical education in their local schools. Location: Hyatt Regency Washington on Capitol Hill, 400 New Jersey Ave., N.W.

P.E.4LIFE Welcome Reception, Tuesday, 6 p.m.-7:30 p.m.: A prime networking opportunity as PE4LIFE honors the "Heroes of the Movement" and announces the winner of the PELIFE "My Favorite PE Teacher" award. Location: Hyatt Regency Washington on Capitol Hill.

Congressional PEP Rally Briefing Session, Wednesday, May 5, 7:30 a.m-9:30 a.m.: PEP Grant winners will explain how they are making a real difference in their communities. The event will also honor the PE4LIFE "Legislators of the Year." Location: Hyatt Regency Washington on Capitol Hill.

Congressional PEP Rally, sponsored by SGMA International, Wednesday, May 5, 10 a.m.-5 p.m.: National P.E. Day gets down to business as educators and sporting goods manufacturers meet with their Congressional delegations to discuss the importance of getting all children healthy and active, plus the growth of the PEP Grant program. Location: various Congressional office buildings.

National PE Day will also feature the official launch of the four-year old organization's new logo with italic letters to emphasize motion and movement. It includes a round ball to emphasize sports and fitness and uses a tag line: "Active Body – Active Mind" to communicate that children do better in school when they are physically fit and active.

"A recent Duke University study concludes that obesity is the worst health problem facing US cildren, causing them to score lower in measurements of overall health than children in 1975," said Anne Flannery, president and CEO of PE4LIFE. "National PE Day could very well be the two most important days of the year for those passionate about the health and well-being of the nation's youth."

For more information: Sheryl Stanley, 816/472-7345, www.pe4life.org. Registration deadline for the Summit is April 27.

PE4LIFE (www.pe4life.org) is a non-profit, advocacy organization dedicated to the delivery of health, fitness, and sports activities to all students, every day in school. Quality, daily physical education provides a simple and
inexpensive solution to reduce children's exposure to chronic diseases, while fostering lifelong fitness habits.







Breaking Headlines
News shorts...4/14/04
APRIL 14, 2004


VF Acquires Napapijri Brand
APRIL 14, 2004


Short news...4/13/04
APRIL 13, 2004


Huffy Sees Big Q1 Loss; Selling Its Services Business
APRIL 13, 2004


Foot Locker Buying 350 Footaction Doors
APRIL 13, 2004


Short news...4/12/04
APRIL 12, 2004


PE4Life Supporters Heading To Capitol Hill In May
APRIL 12, 2004


Short news...4/8/04
APRIL 08, 2004


Outdoor Industry Behind Get Outdoors Act
APRIL 08, 2004


Short news...4/7/04
APRIL 07, 2004