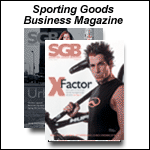 Short news...4/8/04

APRIL 08, 2004 -- Footstar has won court approval to auction off 355 Footaction doors on April 16.

Reebok International plans to acquire all of the outstanding shares of Montreal-based The Hockey Company Holdings Inc., a designer, manufacturer and marketer of hockey apparel and equipment under the CCM, Jofa and Koho marks for Canadian $21.25 per share in cash (US$16.00). On Wednesday, the stock closed at C$17.20.

A survey conducted in February 2004 for Recreational Equipment, Inc. shows a majority of women who enjoy the outdoors want gender-specific outdoor gear. In fact, 36% believe such gear designed specifically for women can enhance their performance. Although 90% of both men and women polled were aware that bicycle designs are gender-specific, far fewer knew about gender-specific designs for sleeping bags, hydration packs and other outdoor equipment. REI also found that 70% of women practice yoga to improve performance in other activities, such as backpacking, hiking and rock climbing. angled and curved shoulder straps to fit a woman's shape.

With theft a top concern for many trade show exhibitors, ExpoCovers offers a solution with its new line of custom trade show display security covers. Up until now, exhibitors have attempted to prevent theft by using bed sheets, blankets, police tape, shrink wrap and other such devices, after they have left the show floor. Some companies contract security guards to watch their booths at night. However hiring private guards can be costly, and according to many show organizers, even hiring a private guard is no guarantee. ExpoCovers answers this critical need by providing a line of effective, affordable, reusable covers specifically designed to protect trade show display equipment at night. ExpoCovers include adjustable, lockable security cables, to allow for a custom, secure fit. ExpoCovers also include storage duffels for compact, convenient storage, and are available in both standard and custom sizes to accommodate virtually all display configurations. In addition, ExpoCovers can be custom screen-printed with a specific logo, per the client's request. ExpoCovers are the affordable, effective, easy-to-use answer to trade show security concerns. To receive additional information about ExpoCovers including a free sample and pricing information, contact ExpoCovers directly at toll-free (877) 624-1298, or by visiting www.expocovers.com.

One of a kind hand-painted shoes, created during the global Planet Reef events, are set to be auctioned on eBay beginning June 15. Six pairs will be auctioned, with 100% of the proceeds benefiting Surf Aid International. A hyperlink directing bidders to the auction will be posted on www.reef.com. Reef began its collaboration with the Ninth Concepts artists in the spring of 2003. The union of the two partners is affectionately referred to as Planet Reef. The French artists create innovative designs for Reef products, advertising and point-of-purchase displays. Their unique and constantly evolving style is a valuable compliment to Reef's substantial in-house design resources. Through all of the Planet Reef touring festivals, launch parties and tradeshows over the past year, the Ninth Concept artists have created a collection of over 30 hand-painted Reef shoes. Their painting style is an eclectic mix of urban graffiti, tribal sketches and modern caricatures, with a unique Reef twist. Each shoe is a walking piece of art.

Wilson Golf retained VSA Partners, brand and design consultants, to assist in evaluating the company's brand identity. Through the relationship VSA Partners and Wilson Golf will work together to re-position the company within the highly competitive golf equipment market and restore the company's leadership position in the industry. A fresh and comprehensive approach will be applied to all creative elements that will reflect a new vision at Wilson Golf; one that is geared to bridge the gap between Wilson's legendary heritage and today's younger golfer.

Everlast Worldwide entered into a licensing agreement with Image & Craft Planning Co., Ltd., Seoul, for the launch of Everlast-branded apparel and footwear in South Korea. The new Everlast products, which will include men's, women's, and children's active and sports apparel and footwear (excluding pro boxing shoes), will be launched in the fall of 2004 and sold through sporting goods retailers, athletic shoe stores, and department stores.

Always looking for new ways to celebrate the collective camaraderie that that takes place at the world's largest bicycle trade event, Interbike plans to throw InterBash 2004 – the first Interbike event of its kind designed to bring the entire industry together while also raising funds for advocacy. Featuring live music, free beer, food, silent auctions, raffles and other special events, InterBash 2004 will be held in place of Interbike's Annual Industry Party and the Annual Bicycle Industry Awards Celebration on Wednesday, October 6, in the Venetian Hotel's Veronese Ballroom. Providing the perfect opportunity for industry friends to catch up and network over a cold one, InterBash is open to all attendees and proceeds from the auctions and raffles will benefit Bikes Belong – the bicycle industry's advocacy group. InterBash will also play host to some of the trade's most talented musicians, as the party sets the stage for any industry band or solo musician to showcase their musical talent (at least one member from each band has to work in the bicycle industry).

DoskoSport has reached an exclusive partnership agreement with Cargo Golf to manufacture, market and distribute the innovative 2-n-1 Travel Bags. The creative bags allow golfers to travel with their clubs in protective hard-sided cases and play out of the same case on the course. Due to their ability to protect clubs with hard-shell security without being bulky, the 2-n-1 Travel Bags were named the Best Overall Product of the Year by Travel & Leisure Golf Magazine. The bags are a part of DoskoSport's expanded emphasis on the golf industry and are available now. Approved by airlines and endorsed by golfers, the bags provide club protection during travel and are light enough to carry 36 holes. They are large enough to fit a full set of 14 clubs - plus three additional

The Times of London issued its Rich List, estimating the net worth of Britain-s wealthiest. The Rubin family, owners of Pentland, ranked #116 with an estimated wealth of $535 million. David Whelan, the founder and COB of JJB Sports, was #167 with an estimated worth of $355 million.






Breaking Headlines
News shorts...4/14/04
APRIL 14, 2004


VF Acquires Napapijri Brand
APRIL 14, 2004


Short news...4/13/04
APRIL 13, 2004


Huffy Sees Big Q1 Loss; Selling Its Services Business
APRIL 13, 2004


Foot Locker Buying 350 Footaction Doors
APRIL 13, 2004


Short news...4/12/04
APRIL 12, 2004


PE4Life Supporters Heading To Capitol Hill In May
APRIL 12, 2004


Short news...4/8/04
APRIL 08, 2004


Outdoor Industry Behind Get Outdoors Act
APRIL 08, 2004


Short news...4/7/04
APRIL 07, 2004