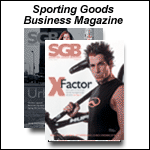 Outdoor Industry Behind Get Outdoors Act

APRIL 08, 2004 -- Outdoor Industry Association, representing the interests of over 4,000 businesses and the $18 billon outdoor industry, hosted a press conference where Congressmen George Miller (D-CA) and Don Young (R-AK) announced the introduction of the Get Outdoors Act which will establish a trust fund providing $3.1 billion in annual funding to encourage physical activity and recreation.

The goal of the bipartisan Act is to get more Americans outdoors by providing access to parks and recreation areas in urban and rural communities, preserve historic places, promote healthy lifestyles and provide other outdoor opportunities such as fishing and wildlife viewing for all Americans.

At a time when obesity is rapidly overtaking cigarette smoking as the leading cause of preventable deaths in the US, the outdoor business community is eager to support policymakers, such as Miller and Young, and their efforts to increase the investment in parks, trails and lands for Americans to play and pursue healthy, active lifestyles.

"Research has shown that accessibility to trails and recreation opportunities are directly related to increased physical activity and thus OIA. "We stand united to endorse the power and promise of this major legislative vehicle to reduce obesity and promote health and wellness through increased access to quality parks and recreation."

"Congress cannot, and should not, tell Americans what to eat, but we can fight the battle of the bulge by investing in local parks, recreation centers, soccer fields, and hiking trails. If we are serious about addressing the long-term cost of obesity-related health problems, we have to recognize the importance of recreation opportunities for children, adults, and families," said Congressman Miller.

"More important than simply providing dollars, The Get Outdoors Act establishes new priorities for conservation and recreation funding. It provides policy that is driven by local priorities and not federal dictates. I've worked hard on this concept all my years in Congress because I believe that this is good and right for the nation," said Congressman Young.

Business leaders from outdoor companies across the country, including The North Face, JanSport, REI and Cascade Designs, are in D.C. this week to support the launch of the Get Outdoors Act and pursue conversations with policymakers about the importance of increasing and protecting lands for recreation as a way to create a healthier America and support the outdoor recreation industry.





Breaking Headlines
News shorts...4/14/04
APRIL 14, 2004


VF Acquires Napapijri Brand
APRIL 14, 2004


Short news...4/13/04
APRIL 13, 2004


Huffy Sees Big Q1 Loss; Selling Its Services Business
APRIL 13, 2004


Foot Locker Buying 350 Footaction Doors
APRIL 13, 2004


Short news...4/12/04
APRIL 12, 2004


PE4Life Supporters Heading To Capitol Hill In May
APRIL 12, 2004


Short news...4/8/04
APRIL 08, 2004


Outdoor Industry Behind Get Outdoors Act
APRIL 08, 2004


Short news...4/7/04
APRIL 07, 2004