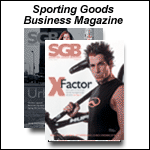 Short news...3/25/04

MARCH 25, 2004 -- Columbia Sportswear recently joined forces with Chinese authorities in three separate raids of factories producing counterfeit Columbia apparel. As part of an aggressive campaign to stamp out counterfeiters and protect its unique brand, the recent raids resulted in the seizure of more than 5,700 pieces of counterfeit jackets, vests, pants and 157,000 counterfeit Columbia labels. Two raids took place in the Jinjiang City, China and the third in Zhuzi City, Zhijiang. The products confiscated in Jinjiang City were destined for local distribution, and the products seized in Zhuzi City were destined for Russia.

Wedbush Morgan downgraded Vans to hold from strong buy. Sidati & Co. raised it to buy from neutral.

The American Hockey League and The Hockey Co. formed a multi-year, multi-million-dollar partnership that will serve as the foundation for the THC will be the exclusive supplier of sticks, gloves, helmets, pants, performance underwear and bench wear to AHL teams beginning with the 2004-05 season, and of jerseys and socks beginning in 2005-06. THC will also serve as exclusive supplier of helmets, pants, jerseys and performance underwear to all AHL referees and linesmen. THC will also create an advisory panel comprising THC product specialists, AHL players and team equipment managers in order to continue the development of high-performance professional equipment. THC is home to CCM, Jofa and Koho. This partnership also includes a joint marketing commitment between the AHL and THC to cultivate the game at the grassroots level, including a pledge by THC to purchase thousands of tickets during the term of the agreement for use in community-driven initiatives. THC will receive significant visibility in AHL markets in the form of in-arena signage, television advertising, e-commerce opportunities and other promotional activities. THC will also be a major sponsor of and equipment supplier to the AHL All-Star Classic, and serve as the title sponsor of the CCM AHL Player of the Week, Koho AHL Goaltender of the Month, Jofa AHL Rookie of the Month and CCM AHL Performers of the Month awards. Furthermore, THC will receive the exclusive rights to supply and market authentic and replica jerseys for AHL clubs and the AHL's annual All-Star teams, as well as authentic AHL apparel, including locker room and Calder Cup championship apparel. The AHL and THC will also join forces by using the CCM brand to aggressively market and distribute complete lines of AHL-licensed apparel, including AHL Vintage jerseys to coincide with the league's 70th anniversary season in 2005-06.







Breaking Headlines
Short news...4/19/04
APRIL 19, 2004


Short news...4/16/04
APRIL 16, 2004


Short news...4/15/04
APRIL 15, 2004


Deckers' Q1 Revenues Increase 23%
APRIL 15, 2004


News shorts...4/14/04
APRIL 14, 2004


VF Acquires Napapijri Brand
APRIL 14, 2004


Short news...4/13/04
APRIL 13, 2004


Huffy Sees Big Q1 Loss; Selling Its Services Business
APRIL 13, 2004


Foot Locker Buying 350 Footaction Doors
APRIL 13, 2004


Short news...4/12/04
APRIL 12, 2004