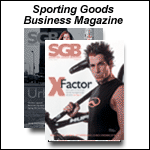 Footstar Selling Athletic Business; Blames Nike

MARCH 25, 2004 -- Footstar, as part of its Chapter 11 reorganization, is moving forward with an accelerated process to sell its remaining athletic footwear operations. This was no surprise. Possible buyers could include Foot Locker, Finish Line, or even Famous Footwear.

The planned divestiture will enable the company to focus its full attention and resources on its core Meldisco business, a strong cash generator and a leader in the licensed and discount footwear segments. Footstar also said that its decision to pursue a sale was in part due to the absence of a commitment from Nike, the largest supplier to Footstar's athletic business, to supply that business for more than 75 days in accordance with past business practices.

Subject to Bankruptcy Court approval, Footstar intends to begin soliciting bids for all or part of the remaining athletic footwear business, which will be divested through a Court-supervised auction. This business now consists of a strong portfolio of 353 Footaction stores, following the Footstar's announcement, earlier this month, of plans to close 163 underperforming locations. Clearance sales at these locations, which include 88 Just For Feet stores and 75 Footaction stores, are now underway.

Dale Hilpert, CEO, commented, "Based on careful analysis of various alternatives, we believe the value in our athletic business can be best realized by pursuing a sale at this time. In recent weeks, we have taken actions to significantly strengthen this business by exiting unprofitable operations and streamlining the organization. The Footaction business that remains is attractive and profitable, serving a core base of athletic footwear consumers across major metropolitan markets. A sale will enable us to concentrate our full resources and energies to capitalize on the strengths of our Meldisco business.

"We recognize this decision has serious implications for many of our associates. We will be working to complete the sales process."

Under a master license agreement, Meldisco has operated the footwear departments of Kmart stores for more than 30 years. Meldisco generated revenues of approximately $1.0 billion in 2003.








Breaking Headlines
Short news...4/19/04
APRIL 19, 2004


Short news...4/16/04
APRIL 16, 2004


Short news...4/15/04
APRIL 15, 2004


Deckers' Q1 Revenues Increase 23%
APRIL 15, 2004


News shorts...4/14/04
APRIL 14, 2004


VF Acquires Napapijri Brand
APRIL 14, 2004


Short news...4/13/04
APRIL 13, 2004


Huffy Sees Big Q1 Loss; Selling Its Services Business
APRIL 13, 2004


Foot Locker Buying 350 Footaction Doors
APRIL 13, 2004


Short news...4/12/04
APRIL 12, 2004