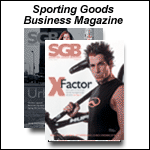 Short news...3/24/04

MARCH 24, 2004 -- Cabala's is the latest big box outdoor retailer to file an IPO. In contrast to its competitor, Gander Mountain, Cabela's is very profitable. Gander recently filed an IPO, which indicated it hadn't made a penny in years. In FY 2003, Cabela's had revenues of $1,392,423,000 and earnings of $51,391,000. The offering is expected to go out in June.

The success of St. Joseph's in the NCAA tournament has one industry manufacturer worried. Jesse Lee, the owner of Sports Belle, is expecting one of the major shoe manufacturers to offer big bucks to the college for basketball uniform rights. Sports Belle has sold uniforms to the small school for eight years. The New York Times quoted St. Joseph's AD that Lee's concerns are premature. Lee made uniforms for the University of Tennessee for 12 years until adidas came in with a checkbook. If St. Joseph's basketball coach, Phil Martelli, has any say in the matter, he prefers Sports Belle. He told The Times he was watching the Pittsburgh-Wisconsin match. Both teams wear adidas. "'They both had adidas uniforms,'" he said, "'but it was the exact same uniform.'" He thought to himself that each team should have a distinct uniform, not one produced in a "'cookie cutter operation.'" He said he would hate to have a team uniform produced on a Xerox machine. He's afraid the public will be unable to tell one team from another. Sports Belle does not pay Martelli. Lee has been in the business for years. He quit Southern Athletic in 1974, he told The Times, because he couldn't convince management of the impact of Title IX. Southern insisted on giving female athletes men's apparel. He founded Sports Belle with Title IX in mind. Eight women's teams in the NCAA women's tournament wear Sports Belle.

Dunham's has announced plans to open a 25,000-square-foot store in Marshfield, WI. This will bring its store-count to 125 in 11 states.

B. Riley upgraded The Sports Authority to buy from neutral.

Top-Flite is making an $18 million (+73%) in advertising and a new television campaign. Golf Nation, the new 30-second Top-Flite television spot designed to illustrate the magnitude of the brand, will air Saturday, March 27, to coincide with The Players Championship.






Breaking Headlines
Short news...4/19/04
APRIL 19, 2004


Short news...4/16/04
APRIL 16, 2004


Short news...4/15/04
APRIL 15, 2004


Deckers' Q1 Revenues Increase 23%
APRIL 15, 2004


News shorts...4/14/04
APRIL 14, 2004


VF Acquires Napapijri Brand
APRIL 14, 2004


Short news...4/13/04
APRIL 13, 2004


Huffy Sees Big Q1 Loss; Selling Its Services Business
APRIL 13, 2004


Foot Locker Buying 350 Footaction Doors
APRIL 13, 2004


Short news...4/12/04
APRIL 12, 2004