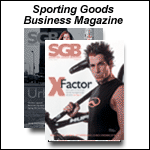 Forzani Acquires Gen-X

MARCH 24, 2004 -- Forzani Group, Canada's largest retailer of sporting goods, confirmed its results, previously released on March 2. In addition, the company announced the acquisition of all of the shares of the corporation carrying on business as Gen-X Sports, an opportunity-buy business specializing in the sourcing, purchase and subsequent re-sale of manufacturers' excess capacity product. Huffy Corp. had sold back Gen-X earlier this week to its founders who sold it immediately to FGL.

Commenting on the acquisition, Forzani CEO Bob Sartor stated, "The acquisition of Gen-X Sports, and the retention of its talented management team, will provide FGL with an opportunity-buy arm, capable of delivering high quality, profitable close-out products to our corporate and franchise stores. This will enable the company to continue to grow its margins in an increasingly competitive environment. The transaction will be immediately accretive to earnings in the current fiscal year, after giving effect to the issuance of 300,000 FGL Class A shares to complete the transaction. The shares will be escrowed, and are subject to an earn-out over a four-year period."

FGL's results for the fourth quarter and full year, fiscal 2004, were as follows: Q4 net earnings of $15.4 million were 11.6% higher. EPS Q4 were $0.48, compared to $0.43 per share for the same period last year. Consolidated gross margins for the quarter increased 160 basis points to 38.4%, and EBITDA margins increased 40 basis points to 12.0% versus 11.6%. Retail system sales increased $100,000 to $362.6 million. Revenue decreased 1.0% to $280.9 million. Consolidated comp-store sales decreased 3.8%. Corporate and franchise comp-store sales decreased 4.1% and 3.1%

FY net earnings were $28.0 million, down 6.7%. EPS were $0.86 versus $0.95 per share in the previous year. Gross margin for the year decreased 30 basis points over fiscal 2003 to 34.4%, resulting in an EBITDA margin of 8.4%, a 50 basis point decrease over the prior year. Retail system sales (corporate and franchised stores) increased 5.1% to $1.108 billion compared to $1.053 billion. Revenue for fiscal 2004, which consists of corporate retail system sales and wholesale sales to franchisees, was $968.1 million, a 4.8% increase over the previous year. Consolidated comp-store sales decreased 0.7%. Corporate comp-store sales decreased 3.0% and franchise store sales grew by 3.9%.

"The company delivered, in an increasingly difficult retail environment, a record fourth quarter," stated Sartor. "This was overshadowed by the fact that we missed our annual targets due to the weaker performance of the first three quarters of last year. However, our fourth quarter performance was particularly important because it demonstrated that changes implemented in the company's product mix and promotional programs could deliver better results in what is traditionally the most competitive period of the year for retailers. The current fiscal year will see continued store growth for the company and the beginning of a renovation program for the Sport Chek banner, based upon the successful test-store formats introduced last year. While we don't believe current competitive activity will abate in the current fiscal year, with more and better private brands and closeouts; exclusive international brand deals and a new promotion strategy, we expect to not only compete, but to grow our business. Our long-term expectations for FGL remain unchanged, as the current competitive environment will undoubtedly provide consolidation opportunities in the sector."

During FY 2004, the company opened 24 new corporate stores, six of which were opened during Q4. Also, during FY 2004, the franchise division opened 12 new franchise stores. This growth translates to an additional 327,270 square feet of retail space, an increase of 7.6% over the previous year. The company now has over 4.6 million square feet of retail selling space from coast to coast.

For the first seven weeks of Q1, fiscal 2005, consolidated comp-store sales decreased by 0.8%. On a corporate store basis, comp-store sales decreased by 0.2% and, in the franchise division, comp-store sales decreased 1.8%.

For the current fiscal year, management has taken a conservative approach to guidance, reflecting the belief that competitive activity experienced in fiscal 2004 will continue through 2005. As a result, management's earnings per share guidance for 2005 is in the range of $1.02 to $1.10.






Breaking Headlines
Short news...4/19/04
APRIL 19, 2004


Short news...4/16/04
APRIL 16, 2004


Short news...4/15/04
APRIL 15, 2004


Deckers' Q1 Revenues Increase 23%
APRIL 15, 2004


News shorts...4/14/04
APRIL 14, 2004


VF Acquires Napapijri Brand
APRIL 14, 2004


Short news...4/13/04
APRIL 13, 2004


Huffy Sees Big Q1 Loss; Selling Its Services Business
APRIL 13, 2004


Foot Locker Buying 350 Footaction Doors
APRIL 13, 2004


Short news...4/12/04
APRIL 12, 2004