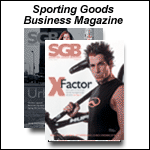 Short news...3/23/04

MARCH 23, 2004 -- Five Ten, a producer premium rock climbing shoes and high-friction footwear, hired John Connelly as international sales manager. For the past 20 years, Connelly has specialized in sales, marketing and category development for a variety of outdoor companies, including Montrail/One Sport, Tecnica, Vasque, and, most recently, Zamberlan. Connelly will be working out of his home in Bozeman, MT.

Kymsta Corp. will continue to seek cancellation of Quiksilver's federal trademark registration for Roxy. It has filed a notice of apparel of the court decision of March 18, appealing the February 2004 ruling from its trial against Quiksilver over the "Roxy" trademark. It filed its notice of appeal on March 18.

Cutter & Buck was named as The PeerNet Group 2003 Vendor of the Year. The PeerNet Group is an alliance of leading promotional products and marketing companies with locations across the US.

DA Davidson upgraded Nautilus Group to neutral from underperform. The target price is $12.50-$15.50.

Burton set up a Events and Entertainment group. Through strong, long-established relationships with the world's top snowboarders, the industry's best filmers and photographers and world class events, the Events and Entertainment group works with TV networks, the film industry and entertainment providers to create snowboarding-related programming that stays true to the sport and riders. During its 27-year history, Burton has engaged in a number of successful entertainment partnerships and created some of the most respected and revered events in snowboarding, including the Open Snowboarding Championships held in North America, Europe and Japan. Burton has also established long-standing, solid relationships with snowboarding's best film companies, including Standard Films and Mack Dawg. Now Burton is investing more resources in its new Events and Entertainment group. With the new group in place, Burton has forged several new partnerships with TV networks and events. NBC will be the official television carrier of the 2004 Philips US Open, which will air on April 11 from 1:30 to 3:00 PM. Owned by Burton, the Open is the longest standing snowboard event in the world and attracts the sports' best riders. "Since NBC is the official home of the 2006 Winter Olympics and did an excellent job bringing snowboarding to the forefront during the 2002 Salt Lake City Games, it only makes sense that NBC is the home of the 22nd Annual US Open," said Bryan Johnston, VP/marketing. "With a reach of over 108 million homes, NBC will enable every kid in America to take in the excitement of snowboarding's most anticipated event." Burton also announced a partnership with Nickelodeon Games and Sports (Nick GAS). Nick GAS will create new programming with Burton's professional snowboarders.

The name Sheldon Coleman is getting attention again in Wichita. The grandson of the foundein 1989 after the family put the company in play in an attempt to take it private again. Nothing much was heard of the younger Coleman, but today he has become one of Wichita's larger employers. In 1995, he founded Big Dog, a custom manufacturer of heavy cruiser motorcycles. He sold 52 bikes that year. This year, he expects to sell 5,200 priced between $24,000 and $30,000, according to Kansas.com. He hasn't been able to keep up with demand. Harley produced 291,000 hogs last year. Kansas.com said Coleman expects to outgrow his 36,000-square-foot plant in Wichita in a few years. He employs about 300 people. Coleman seems to still have bad taste in his mouth about the way his family's company was taken away. He said he refuses to consider a sale or an IPO.






Breaking Headlines
Short news...4/19/04
APRIL 19, 2004


Short news...4/16/04
APRIL 16, 2004


Short news...4/15/04
APRIL 15, 2004


Deckers' Q1 Revenues Increase 23%
APRIL 15, 2004


News shorts...4/14/04
APRIL 14, 2004


VF Acquires Napapijri Brand
APRIL 14, 2004


Short news...4/13/04
APRIL 13, 2004


Huffy Sees Big Q1 Loss; Selling Its Services Business
APRIL 13, 2004


Foot Locker Buying 350 Footaction Doors
APRIL 13, 2004


Short news...4/12/04
APRIL 12, 2004