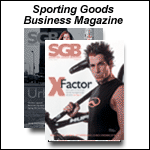 Short news...3/22/04

MARCH 22, 2004 -- The Intersport Deutschland buying group now has a huge mail-order retailer as a new member. The Otto Group and all its subsidiaries, such as Baur and Schwab, will now purchase their sporting-goods through Intersport. Another Otto subsidiary, the Munich-based Sport-Scheck chain, has been Intersport member since 1989…On March 11, Intersport Deutschland launched a counterattack against sporting goods sales by supermarkets, such as Aldi and Lidl. The action is called "Intersport spinnt!" ("Intersport Goes Crazy!"). According to Intersport president Klaus Jost, the group plans 15 low-price campaigns this year, each dedicated to a specific sport. The first sale was dedicated to inline skates and will be followed by bikes in early April. The skates cost between EUR44.95 and EUR39.95 accompanied by a set of protectors and a helmet (EUR9.99 each) and a scooter. Jost said that around 600 of the about 1,300 retailers in the buying group took part in the first sale.

A Louisiana legislative budget committee agreed to give Bass Pro Shops tax breaks in exchange for opening up a store in Livingston Parish. The outdoor chain wants to build a 150,000-square-foot store employing about 300 people. The tax breaks approved by the committee could amount to $30 million over the next 20 years.

Footstar Consumer Direct is closing its offices in Wausau, WI, that employed about 30 people. Among those losing their jobs is Harry Colcord, president of the BU. He joined the company in 2002 from Eastbay.

Timberland promoted Carol Yang to VP/global marketing, effective June 1. She will be responsible for directing overall brand strategy and marketing communications for the Timberland brand worldwide. She will report to Ken Pucker, EVP/COO. She was most recently director of marketing/Asia Pacific.

Brian Maxwell, founder of PowerBar business and a former world-class marathon runner, died of a heart attack in a post office. He was 51. He and his wife founded PowerBar in 1986 and sold it to Nestle in 2000 for $375 million.

Dexter's golf shoes will now be fitted exclusively with the new Champ Stinger spike in Champ's patented Q-LOK Fastening System. Champ is a division of MacNeill Engineering Worldwide.

Huffy hired golf industry veteran Kirk Peglow as GM of Tommy Armour Golf. In his new role, which also includes being named VP/global golf, he will be responsible for the global sales, marketing, and product development for the Tommy Armour, Ram, TearDrop and Zebra brands. Furthermore, Peglow will lead Tommy Armour through the transition to Huffy's new golf offices in Springboro, OH. He came to Huffy following a nine years at Wilson Sporting Goods, where he most recently served as the golf unit's VP/sales.






Breaking Headlines
Short news...4/19/04
APRIL 19, 2004


Short news...4/16/04
APRIL 16, 2004


Short news...4/15/04
APRIL 15, 2004


Deckers' Q1 Revenues Increase 23%
APRIL 15, 2004


News shorts...4/14/04
APRIL 14, 2004


VF Acquires Napapijri Brand
APRIL 14, 2004


Short news...4/13/04
APRIL 13, 2004


Huffy Sees Big Q1 Loss; Selling Its Services Business
APRIL 13, 2004


Foot Locker Buying 350 Footaction Doors
APRIL 13, 2004


Short news...4/12/04
APRIL 12, 2004