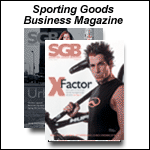 News...8/3/04

AUGUST 03, 2004 -- IN THIS ISSUE:
Drapeau Out At Callaway Golf;
Saucony Considering Potential Sale;
Job Site Rolls Out Improved Malakye.com;
Mountainsmith Names O'Keeffe President;
Everlast Enters Large-Scale Deal Involving "Contender" Show;
Shorts: TennisWelcomeCenter.com, K2 Snowboarding, Oakley, Cabela's, adidas-Salomon and Reebok.

Drapeau Out At Callaway Golf

It was tough to replace one of the greatest marketers in the history of the sporting goods industry. Ron Drapeau had headed manufacturing at Callaway Golf when he was Ely Callaway's hand picked successor. He took over as CEO a month before Callaway died of cancer. He carried the CEO and COB titles. Drapeau's career as CEO is over after three years. The company announced his resignation. Drapeau has not been able to replicate his predecessor's success. Profits fell in three of the past four quarters and totally missed its guidance recently. He did, however, succeed in buying the Top-Flite brand, but it's been an expensive integration. Callaway was recently forced to launch an aggressive price promotion program to hold on to its sliding driver market share.

Saucony Considering Potential Sale

Saucony has retained the services of Chestnut Securities, Boston, to assist the company in its analysis and consideration of various strategic alternatives that may be available to it, including a possible sale of the company. Saucony has not determined whether to pursue any particular strategic alternative. There can be no assurance that, if any transaction is commenced, it will be completed or as to the value that any such transaction might have for the company's stockholders. Any sale would be complicated by the company's curious two classes of shares: A and B. While it's not uncommon for a company to have two classes, as does Nike, it's very odd to see both classes traded. The B shares get a dividend of 110% of the A shares, but have no voting rights. Analysts have been questioning the merit of two classes as it makes the company hard to value. The board has continually refused to merge the classes.

Job Site Rolls Out Improved Malakye.com

Malakye.com (http://www.malakye.com) rolled out an improved website. The new version of Malakye.com is developed and designed to make the site faster, easier to use, and more effective for job seekers and companies. Malakye.com now features three new sections of content - Company Q&A, Resume Craft and the Industrial Profile - as well as improved job seeker and company account interfaces. The Company Q&A section features Q&A sessions with employers who advertise job opportunities on Malakye. These provide information about what a company looks for in first-impressions of a resume, hiring process, what to expect in an interview, what not to do, how to increase chances of landing a job, and more.

The Resume Craft section will cover everything from effective resume submissions through Malakye to building an overall job search strategy. As the section grows it will provide job seekers with tools to have a more productive and effective job search. The Industrial Profile is a monthly interview series of people who work in the industry. People interviewed cover a wide range of career level and profession. Malakye.com's new resume account sign-up and user interface makes the sign up process easier and aids job seekers in ensuring their details and resume formatting represent them in the best possible way. An easier-to-use account interface produces faster resume database search results, job postings, job posting performance statistics, and more.

Mountainsmith Names O'Keeffe President

Greg Thomsen, general manager of Pacifica, LTD, parent company of Mountainsmith and 105 Meridien, named Geoff O'Keeffe as president of both divisions. He will be responsible for all consumer products under the Mountainsmith brand name, as well as OEM products produced by 105 Meridien. He will run both the domestic and international operations out of Mountainsmith's Colorado offices, reporting directly to Thomsen. O'Keeffe has 28 years of experience in multi-channel, specialty lifestyle consumer markets including consumer brands, e-commerce, brick-and-mortar retail, mail order and wholesale distribution. Most recently, he was with Lowe Alpine Systems as president and director after starting as COO. Prior to that, he held executive level positions at Planetoutdoors.com, Patagonia, and Adventure 16.

Everlast Enters Large-Scale Deal Involving "Contender" Show

Everlast formed a strategic merchandise, licensing and euity alliance and agreement with Contender Partners LLC, formed by leading entertainment companies Mark Burnett Productions and DreamWorks LLC, and Foot Locker, involving the upcoming reality television show, "The Contender" airing this fall.

Produced by Mark Burnett Productions (producers of Survivor and The Apprentice) and DreamWorks, The Contender is a new unscripted drama about the lives of 16 boxers. The boxers have been selected through a nationwide search and will represent the best and most promising talent available. Sylvester Stallone and Sugar Ray Leonard will mentor these young boxers as they compete for a million dollar prize. The Contender Series 1 will air starting in November on NBC. As part of the agreement, Everlast will be the series' exclusive supplier of equipment, activewear, T-shirts and shoes. In addition, Everlast will unveil a Contender hang-tag branding campaign for a line of Everlast sports apparel, shoes and equipment which will be sold exclusively in Foot Locker stores and available this October.

The Athlete's Foot Settles CA Class Action

The Athlete's Foot Group has setlled a class action lawsuit oover a credit card form used by stores in California. The suit alledged the standard credit card form used in these stores contained a preprinted space designated for the cardholder's telephone number, and that this is in violation of section 1747.8 of the California Civil Code. Following the filing of the action, The Athlete's Foot voluntarily changed the form to remove this space.

The class representative and The Athlete's Foot have reached a proposed settlement. As a condition to a settlement of this action, The Athlete's Foot has agreed to continue not to include this space on its credit card form, to make a donation of cash and product to a charitable organization benefiting the people of California and to pay the fees for the class attorneys and class representative.

There is ancourt hearing scheduled for September 8 to approve the terms and conditions of the Settlement Agreement. Any objections must be filed with the Court and served on the attorneys for the parties by August 27, 2004.

Donald Trump is appearing in print ads in the US Open program and national publications in the fall. He'll be supporting the TennisWelcomeCenter.com initiative of the USTA and TIA. Earlier ads featured Jeff Gordon and Mike Wallace.

K2 Snowboarding has been awarded three Good Wood board awards as judged by Transworld Snowboarding magazine in the upcoming buyers guide issue hitting newsstands this month. This is the first time all three boards submitted by a single manufacturer have won in a single season. The boards are the Mix, Temptation and Disciple.

Merriman Curhan Ford initiated coverage of Oakley with a buy rating…Thomas Weisel initiated coverage of Cabela's with a peer perform rating.

Rumors circulating in Europe that adidas-Salomon will buy Reebok. The company doesn't comment on rumors, but analysts will certainly quiz management in tomorrow's conference call. There have been constant reports that adidas would like to unload Salomon.






Breaking Headlines
News...8/3/04
AUGUST 03, 2004


Shorts...08/02/04
AUGUST 02, 2004


NSGA Study: Department Stores, led by Sears, Hike Share in Fitness Equipment
AUGUST 02, 2004


Short news...7/30/04
JULY 30, 2004


Short news...7/29/04
JULY 29, 2004


Short news...7/28/04
JULY 28, 2004


146 Million Americans Enjoying Outdoor Activities
JULY 28, 2004


Shorts...7/27/04
JULY 27, 2004


Short news...7/26/04
JULY 26, 2004


Collegiate Pacific Completes Acquisition Of Dixie
JULY 26, 2004