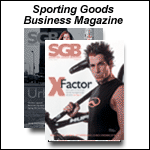 Short news...7/22/04

JULY 22, 2004 -- TSA Must Lower Guidance; Weather Impacted Q2 Sales

The Sports Authority expects to report a Q2 same-store sales decline of 4%-5% and fully diluted EPS of 41¢ to 48¢, excluding merger integration costs. This compares to the previous Q2 guidance of flat same-store sales and fully diluted EPS of 70¢, excluding merger integration costs. Doug Morton, CEO, commented, "Our sales results for the quarter were negatively impacted by the unusually cool and wet weather in many of our key markets. In particular, the more seasonal outdoor categories under-performed expectations while footwear was generally on plan. We are also continuing to experience a slow-down in sales of fitness equipment. Despite these challenges, we continue to make progress in many of our initiatives.

"We are pleased with the initial success of our store remodel program in the company's Sports Authority store locations where the incremental sales increase experienced in the 27 remodeled stores since the merger has approximated 7%. In addition, our gross margin rate continues to trend positively compared with last year's combined company rate. We remain cautiously optimistic about the third and fourth quarters due to continued progress on the store remodel and gross margin initiatives as well as the transition to fall and winter merchandise assortments. The third quarter will be the first quarter since the merger that we will have complete cold weather assortments, including ski and snowboard equipment, apparel and accessories in the company's Sports Authority stores. The company plans to provide updated guidance for fiscal 2004, as well as guidance for the third quarter, when it reports complete results for the second quarter on August 26, 2004."

Dick's Reaffirms Its Prior Q2 Guidance

Dick's Sporting Goods reaffirmed its outlook previously provided for Q2. As originally provided in the company's Q1 earnings press release, the outlook for Q2 remains as follows: Based on an estimated 52.5 million fully-diluted shares outstanding, Q2 EPS is expected to be 32¢-33¢, a 3%-6% increase Q203 EPS of 31¢. Last year's second quarter included a 2¢ gain from the sale of stock of our third-party Internet commerce service provider, while this year's Q2 estimate includes 1¢ of expenses for the relocation of a store. Net income is expected to be $16.8-17.2 million, compared to last year's net income of $15.5 million in the second quarter, an increase of 8%-11%. Comp-store sales are expected to increase 2-3%.

Reebok Not Seeing Any Licensed Apparel Decline

Reebok insisted that its licensing business has been very good and it expects this to continue. Orders from retailers who are complaining about the sector are up. Sales to fan-based team shops rose 68% in 1H04. The company will benefit from the decision of the NBA to consolidate its number of licenses, with Reebok being the major winner. The company expects to see some dumping of obsolete product from former licensees, but Reebok intends to carefully control the amount of its product in the marketplace until cleans itself up. It has begun selling a $100 jersey, and sales are expected to reach 300,000 units. Reebok has received no cancellations of the licensed orders. Another plus factor in the sector is the addition of new products, such as the new jerseys and outerwear, equipment and an "extraordinarily strong" business in caps. The company admits the fashion side will slip, but the fan piece will hold, if not improve. Reebok is putting the same number of replicas out in the market as it did last year.

Branded apparel sales were down significantly in Q2 and the YTD. Part of the decline is the result of a strategy to reposition this product line for future growth and to exit certain unprofitable product groups. Margins have improved. Reebok continues to believe that the US branded apparel category is a significant long-term growth opportunity. The goal is to generate revenue growth and profit improvement from US branded apparel during 2005.

Columbia's Q2 US Sales Up 17%

Columbia Sportswear's Q2 US sales increased 17.0% to $105.9 million, European sales increased 20.1% to $24.5 million, Canadian sales increased 13.6% to $12.5 million, and Other International sales decreased 6.6% to $28.2 million. Excluding changes in currency exchange rates, European sales increased 9.9%, Canadian sales increased 7.9%, and Other International sales decreased 10%. Consolidated Q2 net sales increased 10.1%, excluding currency changes. Q2 sportswear sales increased 31.4% to $90.4 million, footwear sales increased 8.5% to $30.7 million, accessories sales increased 13.8% to $6.6 million, equipment sales increased 4.0% to $2.6 million, and outerwear sales decreased 12.6% to $40.8 million.

Oakley's New Categories Grow 9%, But Footwear Is Disappointing

Q2 gross sales of Oakley's newer categories improved by 9.2% to a Q2 record $40.1 million, led by strong spring launches of apparel products internationally, together with increased sales of watches and prescription eyewear, partially offset by lower sales of footwear. Apparel and footwear sales were better internationally than in the US. The women's apparel collection is growing much faster than men's. Combined sales from the newer categories accounted for 24.0% of Q2 gross sales and 23.2% in Q2O3. Oakley-owned retail stores generated strong positive comp-store sales, which, combined with new store openings, resulted in net sales growth of 37.3%, representing 12.3% of total Q2 sales. Total Q204 retail sales were $18.8 million. At the end of Q2, Oakley operated 30 O Store locations, including two stores opened during the quarter, and 81 Iacon stores, including three stores opened during Q2. Sales from the company's website and other direct sales declined during as a result of a shift in direct marketing support to the back-to-school and holiday seasons.

Oakley's order backlog was $74.4 million, up 11.9%. The backlog reflects large increases in orders for apparel and sunglasses, modest increases in goggles (+10%) and a substantial decline in footwear. Increases in orders from Luxottica represent a significant portion of the increased sunglass orders. Oakley is moving out of footwear doors to small specialty retailers. Footwear expectations by the company have been lowered for 2H, especially with the cancellations the company experienced. Sales in the surf/lifestyle channel was the strongest for the group. The company expects 350 athletes in Athens will be wearing OO sunglasses.

K2 Gets No Bad Press In Europe Over Acquisitions

The acquisitions of Volkl and Marker were very well received by the European press and retailers, K2 CEO Richard Heckmann said. This surprised him. He had expected some backlash when a big American company acquired a "venerable: German brand such as Volkl. He indicated the trade appreciates the financial and distribution support Volkl will get as a result of the deal, which leave production intact in Europe. The effects of the integration of the new outdoor brands won't be felt until 2006 and beyond, when all the synergies and new products unfold.

K2's balance sheet at June 30 reflects acquisitions and the seasonal working capital debt associated with the Marine and Outdoor and Team Sports segments 1H04 activities. Cash and accounts receivables totaled $235.9 million as compared to $202.5 million at June 30, 2003 and, inventories at increased to $212.5 million from $177.2 million, in each case as a result of the acquisitions that occurred after June 30, 2003. To pay for Worth and Brass Eagle, and K2 Licensing & Promotions, K2 boosted its share count by seven million, or 32%.

Deckers Q2 Sales Up By Two-Thirds

Including sales from both the wholesale divisions, and the Internet and catalog retailing business, Teva Q2 increased 21% to $27.1 million. UGG sales were up dramatically to $11.7 million from $400,000 last year. Simple sales increased 21% to $1.8 million. Sales for the Internet and catalog retailing business, which are included in the brand sales numbers above, aggregated approximately $4.9 million, up 218% from $1.5 million.

Nautilus Starts Another Suit Vs Icon

The Nautilus Group filed another additional trademark infringement lawsuit vs ICON Health and Fitness, Inc., the manufacturer of "CrossBow" and "CrossBar" equipment. The lawsuit, which was filed on July 21, 2004, alleges that ICON has further infringed on the Bowflex trademark by the use of the "CrossBar" trademark. According to the complaint, ICON had a legal obligation to rename "CrossBow" in such a manner that it did not further infringe on the trademark rights of Bowflex. Nautilus seeks injunctive relief to prevent the sale of any fitness equipment that bears the trademark "CrossBar" as well as monetary damages.

On June 22, 2004, the Federal Court of Appeals in Washington, DC affirmed that Nautilus was entitled to an injunction barring ICON from using the trademark "CrossBow" on any exercise equipment pending trial. In its ruling, the Court concluded that "...there remains sufficient evidence...to justify the preliminary injunction in Nautilus's favor. The degree of similarity of the marks, proximity of the products and services, strength of the Bowflex mark, and similarity of marketing channels are all factors that the court found to favor Nautilus. We have sustained the Districts Court's finding with respect to the strength of the Bowflex mark..." That injunction is in effect until Nautilus' trademark claim can proceed to trial on a date to be determined. After that injunction was issued, ICON re-named the "CrossBow" product as "CrossBar."

ASICS" US Sales Hit $11.1 Million In 1H04

ASICS America Corp. reported positive sales numbers. 1H sales were $111.1 million, an increase of 9.5% over 2003. In addition, ASICS has surged to the third position within the running footwear category with an 11.3% market share according to SportScanINFO, July 11, 2004. The top selling shoe for ASICS through the first half has been the GT-2090, with sales numbers over 50% higher than in 2003. During second quarter, the GT-2090 became the top selling shoe, based on sales volume, in ASICS America's history.

More Than 350 Chinese Textile Producers Will Participate In Conference

More than 325 Chinese apparel and textile producers have signed on to participate in Apparel's Sourcing Fair, part of the magazine's China Symposium & Sourcing Fair, set to debut September 13-16 in Shanghai. The Sourcing Fair, now projected to attract a minimum of 400 exhibitors, will be held September 14 and 15 at the Shanghai Exposition Center. The China Symposium & Sourcing Fair is designed to help apparel executives maximize their opportunities in the exponentially growing Chinese textile and apparel industry, particularly in light of quota expiration in 2005, as well as a changing retail landscape. Attendees will benefit from in-depth industry knowledge from leading experts, and personal connections with potential partners relative to the sourcing of both raw materials and apparel, as well as licensing and retailing opportunities. The complete four-day event includes a full-day Symposium, focused on high-level, practical market information and headlined by Kurt Salmon Associates, including KSA's "China Consumer Economic Outlook." Networking highlights include private matchmaking sessions, facilitated by pre-arranged information exchange, and tours of area apparel and textile facilities. In other news, both Gerber Technology and EGL Eagle Global Logistics have signed on to sponsor the event. Other sponsors to date include Lectra, China Direct Trading Co. and Orient International Holding Co. Ltd. Registration for Apparel's China Symposium & Souring Fair is $1,500 and includes all Symposium sessions, followed by a networking reception and dinner; facilitation of private, pre-arranged meetings with potential partners; two days' admittance to the Sourcing Fair; a day of tours; and some meals. Additional attendees from the same company may register for $1,000. Admission to the Sourcing Fair only is $75. To register, visit apparelmag.com/china. The event is jointly produced with VNU Exhibitions Asia, Shanghai, China.

The Bush administration is reviewing a request from domestic sock manufacturers that there be a cap placed on imports from China. In 2001, one million dozen pairs were imported from China. In 2003, the number was 22 million pairs.

Hibbett Sporting Goods was upgraded from neutral to outperform by Harris Nesbitt.






Breaking Headlines
News...8/13/04
AUGUST 13, 2004


News...8/12/04
AUGUST 12, 2004


News...8/11/04
AUGUST 11, 2004


News...8/10/04
AUGUST 10, 2004


News...8/9/04
AUGUST 10, 2004


News...8/6/04
AUGUST 06, 2004


News...8/5/04
AUGUST 05, 2004


News...8/4/04
AUGUST 04, 2004


Warnaco Group Buying Ocean Pacific
AUGUST 04, 2004


News...8/3/04
AUGUST 03, 2004