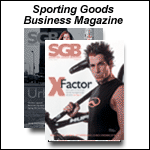 Short news...7/21/04

JULY 21, 2004 -- Hibbett Won't Make Q2 Sales, Earnings Guidance

Hibbett Sporting Good revised its Q2 sales and earnings expectations downward. It now expects to report a Q2 comp-store sales increase of 2% to 3% and EPS in the range of 13¢ to 15¢ per diluted share compared with previous expectations of comparable store sales increases of 5% to 6% and EPS in the range of 18¢ to 20¢. Commenting on the announcement, CEO Mickey Newsome stated, "Although we started off the quarter with sales above our expectations, for the last few weeks we have experienced a slowdown in two areas, licensed apparel and fitness equipment. Sales in footwear and team equipment, however, have continued to post strong results. As we discussed when we reported first quarter earnings in May, we had planned for licensed apparel, particularly pro-licensed apparel, to soften starting in the third quarter. Unfortunately, the momentum in this category, including college-licensed apparel, has slowed down more dramatically and sooner than anticipated. Additionally, our comparable-store sales were impacted by rainy weather in June. We have responded with more aggressive markdowns in both licensed apparel and fitness equipment. Together with the shift in sales away from apparel to footwear, these markdowns are expected to result in lower overall margins for the quarter."

VF's Outdoor Businesses Soared 21% In Q2

Sales in VF's Outdoor businesses, which include The North Face, Vans, JanSport, Eastpak, Napapijri and Kipling brands, jumped 21% in Q2 to $146 million from $121 million. The North Face brand continued its strong growth in the quarter, with sales up 52%. Two new stores, in Amsterdam and Hong Kong, were added during the quarter. Additional stores in Boston, Milan and Helsinki are on plan to open in Q3. Fall bookings for the brand remain robust, up 47% in the US and 28% internationally. Sales in the company's packs business declined slightly, but are expected to increase for the year, with growth driven by travel and apparel products. The acquisitions of Vans, Napapijri and Kipling brands are expected to contribute approximately $275 million to sales and 5¢ to earnings per share. Sales in VF's Imagewear coalition showed a strong turnaround in Q2, rising 11% to $173 million from $156 million last year. Licensed sports apparel continued its strong growth, with sales up 19% in the period. Sportswear sales were $112 million in the quarter. Nautica men's sportswear business continued to perform slightly better than anticipated, with a healthy gain in retail sales per square foot despite a significant reduction in retail floor space for the brand. Fall bookings remain on plan.

Nike AIT Giving Armstrong A Boost In The Mountains

Nike's Advanced Innovation Team created a special suit for Lance Armstrong to wear at the Tour de France for the unique rigors of Stage 16, a 15 kilometer climb from Bourg d'Oisans to L'Alpe d'Huez. Their efforts complimented Armstrong's winning climb during the grueling individual mountain time trial stage. 2004 marked the first time that the L'Alpe d'Huez climb was a time trial, forcing the riders to attack a steep average gradient of 8% for over 40 minutes. Armstrong finished the 9.6-mile climb today through 21 hairpin turns to L'Alpe d'Huez in 39 minutes, 41 seconds, the only rider under 40 minutes. He was 61 seconds faster than second-place Jan Ullrich and passed his closest challenger, Ivan Basso, even though he started two minutes ahead of Armstrong.

Nike designers developed a special suit to meet the demands of such an unusual stage. "With such specific requirements to meet, we set out to design an extremely lightweight and breathable suit," explained Nate Demarest of AIT, who designed the climbing suit. "We placed venting on the suit in optimal zones that our research showed would provide the best cooling. We balanced the need for cooling with reducing drag by maintaining a conformal fit, and using our patented Zoned Aerodynamics where appropriate." To address the many hairpin turns that force riders out of the saddle, Nike designers added a stretch panel to the front waist. The panel provides greater comfort when cyclists are standing on the turns, but will return to a more streamlined fit through the waist when the cyclist is seated. The Nike Swift Spin Suit is nearly 22% lighter than a standard Tour-issue short-sleeve time trial suit, and up to 35% lighter than a standard jersey and bib shorts.

Everlast Signs Two More Licensees

Everlast Worldwide signed two licensing agreements. Hong Kong-based Stelux Watch Ltd. Will launch Everlast-branded watches in China, Hong Kong, Taiwan, Singapore, Malaysia, Thailand and Japan with most sales going through its own City Chain group of stores throughout Asia. New York-based 24-7 International, LLC was licensed for Everlast sports bags, gym bags, duffels, back- packs, luggage and fashion bags. Under the agreement, the new Everlast products will be launched in the US in Q1 2005 and will be available in sporting goods retailers and other US chains.

Concerns Over Licensed Apparel Spur Downgrades

Banc of America Securities downgraded Foot Locker to neutral from buy, Reebok got the same treatment from the analysts there. Softness in the licensed apparel market prompted both rating changes. Analyst Robert Ohmes said, "Licensed apparel is slowing too fast." This was evidenced from the comments Hibbett made regarding Q2 (see story above). Reebok has been betting the house on licensed apparel. But it should be noted that it's the fashion side of the business that is being impacted the most, not the traditional fan side. In addition to the softness in licensed apparel at Foot Locker, he was concerned about the cost of integrating Footaction. He lowered his price target for the stock to $23 from $28 and his 2004 EPS estimate to $1.60 from $1.65. Ohmes also warned that K-Swiss is eating into Reebok's cash cow, the Classics. He added that Alan Iverson's collection has been weak at retail. The effect of Hibbett's announcement and the downgrades can be seen in today's stock price review.

An explosion caused an estimated $250,000 in damage Tuesday evening at the Coleman Co. plant in Wichita. It makes plastic coolers, jugs and gas appliances.Something exploded in a compressor room and blew out two walls made of concrete blocks. Most of the damage was caused by smoke and water. Water built up because indoor sprinklers went off and some water pipes were broken. It could be several days before the room is usable.

"The damage was extensive to this room and the immediately surrounding area," he said.


AllCoastSportfishing.com, a popular angling community portal, has selected BoatersWorld.com as its exclusive online retailer. The partnership puts BoatersWorld.com's enormous selection of fishing and boating products at the fingertips of AllCoastSportfishing.com users.






Breaking Headlines
News...8/13/04
AUGUST 13, 2004


News...8/12/04
AUGUST 12, 2004


News...8/11/04
AUGUST 11, 2004


News...8/10/04
AUGUST 10, 2004


News...8/9/04
AUGUST 10, 2004


News...8/6/04
AUGUST 06, 2004


News...8/5/04
AUGUST 05, 2004


News...8/4/04
AUGUST 04, 2004


Warnaco Group Buying Ocean Pacific
AUGUST 04, 2004


News...8/3/04
AUGUST 03, 2004