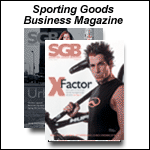 Short news...7/20/04

JULY 20, 2004 -- Footstar Sells Shoe Zone Doors

Footstar completed the sale of 26 Shoe Zone stores in Puerto Rico to Novus, Inc. for approximately $5.5 million in cash, subject to certain post-closing adjustments. Novus is a leading footwear retailer in Puerto Rico, operating 64 stores through five distinct retail concepts including Novus, La Favorita, Bakers, Wild Pair and Metro. Novus has stated that it intends to continue to operate the stores under the Shoe Zone banner and plans to partner with Footstar to continue to offer many of the same great styles that the Shoe Zone customer has come to expect, including the Thom McAn brand. Dale Hilpert, CEO, said, "The sale of these 26 stores to Novus, coupled with the closing of our nine US Shoe Zone locations announced on March 18, virtually completes Footstar's exit from the Shoe Zone business, as part of our strategy to refocus on our profitable core Meldisco business and position the company for a successful emergence from Chapter 11."

Pacific Trail Signs Tent/Cot License Agreement With Tuned In Sports.

Pacific Trail signed a three-year licensing agreement with Tuned In Sports, Inc., a manufacturer, marketer and distributor of recreational tents, camping furniture and canopies. Tuned In Sports, Washington DC, will begin distribution of Pacific Trail-branded tents and cots in November 2004. Distribution channels for the tents and cots will mirror that of other Pacific Trail products, focusing primarily on sporting goods retailers.

"We are a recreational outdoor wear brand so this agreement is a natural extension for us," said Gary Hansen, president of Pacific Trail. "The tent line offers a distinct point of difference with its Boing technology, an easy-to-assemble process for setting up a tent. This will establish a strong niche for us in the recreational equipment marketplace." The new agreement is part of Pacific Trail's long-term strategy to enhance the brand by partnering with manufacturers that have expertise in designing, developing and distributing products that support the brand's core business of recreational apparel and related accessories.

The new collection, positioned for the car camper and recreational user, includes: the Cub tent, a lightweight tent that sleeps one person; the Klondike tent that sleeps two to three people; the Bighorn tent that sleeps four people and packs flat for easy storage; and the Teton dome tent that sleeps up to five people. In addition, Pacific Trail will distribute the Moosum cot that is lightweight, extra wide, and holds up to 600 pounds. The Cub, Klondike and Bighorn tents feature Tuned In Sports' exclusive Boing! technology. This technology enables the camper to remove a strap, producing a tent that is fully assembled in seconds.

Coleman Co. closed its outlet store at Silverthorne Factory Stores in Colorado.

Pacific Growth Equities upgraded Pacific Sunwear to overweight from equal weight.






Breaking Headlines
News...8/20/04
AUGUST 20, 2004


News...8/19/04
AUGUST 19, 2004


News...8/18/04
AUGUST 18, 2004


News...8/17/04
AUGUST 17, 2004


News...8/16/04
AUGUST 16, 2004


News...8/13/04
AUGUST 13, 2004


News...8/12/04
AUGUST 12, 2004


News...8/11/04
AUGUST 11, 2004


News...8/10/04
AUGUST 10, 2004


News...8/9/04
AUGUST 10, 2004