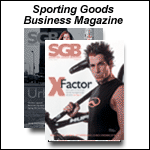 News shorts...7/14/04

JULY 14, 2004 -- Phone-Cameras Open Up Time Window For Style Theft

In the good old days, it might take weeks before an apparel design could be knocked off in Asia. Now the work on the knockoff can be started immediately. At the past ispo, ISG witnessed a Chinese woman with a phone-camera standing outside the Columbia Sportswear booth. She was taking photos of an outfit that Columbia displayed.

Is Nigerian E-Mail A Sports Gear Scam?

For years, swindlers operating from Nigeria have been mailing letters to people in the US asking for money to get huge sums released from banks. The scam has risen to new levels with the sale of e-mail lists to these crooks. Now there is a totally new twist to the communications from Nigeria. ISG received this unsolicited e-mail. The spelling and grammar entirely the sender's:

DEAR SIR,
HELLO FOR YOU TODAY?
PLS CAN YOU HANDLE A CONTRACT AWARDED TO YOU WITH FEDERAL GOVERNMENT OF NIGERIA TO SUPPLY SPORTS EQUIMENTS TO THEM.
the contract is $8.5million to pay you 50% mobilliozation fees cash first in NIGERIA.

your name and address, telphone no; e-mail address;

ITEMS TO SUPPLY(football and bascet ball) below;
fcsnooker
Soccer Uniform
Goalkeeper Glove
Competetion Match Ball
Bicycle Retailer
Knee Pad
Fleece Fabric -Jacket
Beach Volley Ball-PVC Foamy
then you are to go to indonesia to sign the contract and receive your mobillization fees of 50% of the total funds of this contract and supply to the federal government.
you will give me 2% commission as the local agent to you who get the contract for you, after you cash the money in NIGERIA .
THE UNITED NATION IN NIGERIA WILL SIT MEETING WITH YOU BEFORE RELEASE THE MONEY TO YOU ,AFTER YOU SIGN ALL THE DOCUMENTS ABOUT THE CONTRACT AWARD TO YOU THERE AND PAY YOU IN CASH OR TRANSFER INTO YOUR BANK ACCOUNT UNMBER IN ANY BANK IMMEDIATELY.
WAITING TO HEAR FROM YOU SOON.
THANKS,
BEN OKOYE.

Under Armour Launches Second Stage Of Ad Campaign

Under Armour Performance Apparel will launch the next installment of its popular "Protect This House" advertising campaign as a 90-second MicroMovie during the 2004 ESPYs. The 90-second spot and 15-second bumpers will air during the red carpet portion of the July 18 ESPYs (8 p.m. EST on ESPN2) and throughout the award show (9 p.m. EST on ESPN). A private preview of the MicroMovie will take place during the July 17 Jimmy V Fight For Victory Fundraiser at the Playboy Mansion in Los Angeles in conjunction with the ESPYs, which recognize major achievements, relive unforgettable moments, and salute leading performers and performances from each year in sports.

Wolverine Has Record Q2 Results

Wolverine World Wide reported record Q2 revenue and earnings, making this the tenth consecutive quarter of both record revenue and record net earnings for the company. Q2 revenue totaled $198.8 million, an 8.0% increase over Q203 revenue of $184.0 million. Q2 EPS were 27¢ compared to 23¢ reported in Q203. For 1H04, revenue reached $423.6 million, a 12.8% gain over the $375.5 million reported for 1H03. Net earnings for 1H04 grew to $23.3 million (57¢ per share), up 39.5% from $16.7 million (41¢ per share) for the same period of '03

Fleet Feet Completes Franchise Conference Awards

Fleet Feet, the franchisor of running specialty stores, recognized the significant contributions of franchisees, employees, and vendors during its annual National Franchise Conference in Squaw Valley, CA. Franchise owners and managers representing some 50 stores, as well as executives from Fleet Feet and adidas, Asics, Brooks, Hind, Mizuno, New Balance, Nike, Saucony and Superfeet participated in the five-day event.

Celebrating the success and contributions of Fleet Feet owners and vendors is a part of the annual tradition with an awards dinner on Tuesday evening. The 2004 award winners included:

Fleet Feet Brand Builder Award: David and Debby Spetnagel, Fleet Feet St. Charles and Chesterfield, MO. The award recognizes a franchisee for excellence in establishing and promoting the Fleet Feet brand in his/her community, as well as contributions to the national Fleet Feet franchise network.

Fleet Feet Ambassador Award: J.D. Denton, Fleet Feet Davis, CA. The award is given to an individual for his/her outstanding contributions to Fleet Feet.

Fleet Feet Rookie of the Year Award: Jeff Wells, Fleet Feet Jackson, MS. The award recognizes an outstanding Fleet Feet franchise open more than a year and less than three years.

Fleet Feet Lola Amcher Vendor Customer Service Award: Mirna Rodriguez, New Balance Athletic Shoe. Named in honor of Lola Amcher, the first recipient of this award, it is presented to a vendor representative for his/her outstanding customer service to Fleet Feet franchises nationwide.

Fleet Feet Footwear Vendor of the Year: Brooks Sports (third consecutive year to receive this award.) Fleet Feet selects one of its footwear manufacturers for this award for providing excellent products and support to Fleet Feet stores nationwide.

Fleet Feet Jane Ketchin Bryl Memorial Scholarships: Sarah Ann Day, Fleet Feet Davis; Dustin Fee, Fleet Feet Fair Oaks and Roseville (CA); Meghan Hall, Fleet Feet in Scotts Valley, Monterey and Aptos, (CA); Mae Hignett, Fleet Feet Pittsburgh; Kent Purcell, Fleet Feet Nashville; and Nicole Steele, Fleet Feet, Inc., Sacramento. Established in 1999 in memory of Jane Ketchin Bryl of Fleet Feet Albuquerque, the $500 scholarships are awarded to Fleet Feet employees and/or children of Fleet Feet store owners or corporate staff. With her dedication to her family and her community, Jane Ketchin Bryl embodied the Fleet Feet philosophy to help people reach their goals whether in business, education or life.

2004 Participation Research Series Available

American Sports Data released its 2004 report series based on original survey research. Click on (http://www.americansportsdata.com) for complete information. Reports include: The Superstudy of Sports Participation, Volume I-Fitness Activities; Volume II-Recreational Activities (expanded); and Volume III-Outdoors Activities; Obesity/Weight Control Trend Report (new); Trends in U.S. Physical Fitness Behavior (1987-Present); The Superstudy-Lifestyle Segmentation Report; The Superstudy - Geographic Supplement (Reversible by Sports/Geography); The Superstudy - Sports Sector Analysis Report; A Comprehensive Study of Sports Injuries in the US; and Health Club Trend Report: National Survey of Personal Trainer Usage; Consumer Attitudes Toward Physical Fitness & Health Clubs; and The American Fitness Revolution: a 90-Minute PowerPoint Presentation.

UK Retailer Boasts 17.5% Sales Gain On 4.2% Comps

Blacks Leisure Group, a major UK sporting goods retailer, announced that total Group sales in the 19 weeks to July 10 increased by 17.5%. Comp sales (comprising the Millets, Blacks Outdoor, Freespirit, Just Add Water and O'Neill banners) increased 4.2%. The Group's overall gross margin is approximately 100 basis points ahead of this time last year. In Outdoor, Millets now trades from 256 doors and Blacks Outdoor from 76. In Boardwear, Freespirit now operates from 39 stores, Just Add Water from 13 and O'Neill from 16. These numbers include eight new openings since the start of the year, and there is a healthy pipeline of additional stores in place. (Source: SGBUK)

Nike Golf had a party in New York, with Grace Park as the special guest. The company is now the world's largest brand of golf apparel.

The American Platform Tennis Association has chosen Viking Athletics' platform tennis ball to be the official ball of the APTA Men's and Women's Open and "B" National Championships through the 2009 Nationals. According to Marjorie Hodson, executive director of the APTA, "Viking has been instrumental in promoting and expanding the sport through their support of the USA PPTA, the Viking Junior Tour, the APTA Hall of Fame, and a myriad of other activities and events. The APTA is proud to have a commitment from Viking for the next five seasons."

Phoenix Footwear Group announced the pricing of its public offering of 2,500,000 shares of common stock at a price of $12.50 per share. The offering is expected to close on July 19, subject to customary closing conditions as well as the concurrent closing of its pending acquisition of Altama Delta Corp. and related bank financing for the acquisition. The company plans to use the net offering proceeds to pay a portion of the price for the pending Altama acquisition.

Whitaker Securities initiated coverage of Deckers with a buy rating.







Breaking Headlines
News...8/20/04
AUGUST 20, 2004


News...8/19/04
AUGUST 19, 2004


News...8/18/04
AUGUST 18, 2004


News...8/17/04
AUGUST 17, 2004


News...8/16/04
AUGUST 16, 2004


News...8/13/04
AUGUST 13, 2004


News...8/12/04
AUGUST 12, 2004


News...8/11/04
AUGUST 11, 2004


News...8/10/04
AUGUST 10, 2004


News...8/9/04
AUGUST 10, 2004