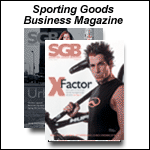 Short news...7/12/04

JULY 12, 2004 -- IN THIS ISSUE:

Northwestern Golf Looking For Equity Partner;
Collegiate Pacific Will Beat Guidance For Q4;
Legislation Would Make Duck-Stamp Purchases Easier;
Wardle Sells Part Of His JD Group Equity To Pentland;
Conley To Phase Out Of Cutter & Buck.

Northwestern Golf Looking For Equity Partner

Equity Partners, Inc. was retained by Northwestern Golf to seek a joint venture partner, or a new equity investor. Founded in 1929, Northwestern Golf produces approximately two million clubs per year and is headquartered in Elmhurst, IL. A second operation is based in Toronto and an additional sales distribution operation is located in Manchester, England. The business also operated Pro-Select, Inc., which recently merged into Northwestern Golf. The business's brands include: Northwestern Pro, Pro Select, Northwestern, and Tour Select. Northwestern Golf is in the process of implementing a restructuring process with new management at the COO (Mark Psaros) and CFO (Joe Powell) levels, with a focus on improved selling efforts and reductions in operating costs. Northwestern's owner, Nat Rosasco, has again involved himself in the day-to-day business to help in the improved profitability and growth of the business. "Over 75 years, millions of golfers played their first round with Northwestern clubs, and millions continue to play with our various brands today," said Rosasco. "We will continue to supply our customers and to grow the business during this restructuring and into the future."

According to Ken Mann, a partner at EPI, "This is a unique opportunity to partner with, or acquire, a company with very strong brands, good customers, exceptional products, and improving operating efficiencies." Equity Partners, Inc., headquartered in Pasadena, MD, provides investment-banking services exclusively for under-performing businesses and has completed in excess of 300 transactions throughout the US since 1988.

Collegiate Pacific Will Beat Guidance For Q4

Collegiate Pacifc said Q4 sales exceeded previous guidance. Sales for the period ending June 30 were approximately $18.2 million. Previous guidance was for sales in the $17-$18 million range. Michael Blumenfeld, CEO, stated: "The combination of strong organic growth and solid contributions from our newly acquired Tomark and Kesslers properties resulted in the largest sales quarter in history for the company. Q4 sales will reflect a more than 150% increase over the year ago period. These results do not include any contribution from the pending acquisition of Dixie Sporting Goods, which is targeted to close on or before August 15, 2004."

Legislation Would Make Duck-Stamp Purchases Easier

Congressional Sportsmen's Caucus members Congressman Ron Kind (D-WI) and Congressman Chip Pickering (R-MS) introduced legislation to simplify the process of purchasing a federal duck stamp by phone, over the Internet or at automated stamp machines at hunting and outdoor stores. The Electronic Duck Stamp Act of 2004 (HR4685) instructs the Secretary of the Interior to conduct a three-year pilot program allowing sportsmen to purchase their federal duck stamps electronically in 15 states. The cost of the $15 federal duck stamp will not increase with this legislation and hunters would still be able to purchase their stamps in the present manner. Created in 1934, the federal duck stamp program has been responsible for generating more than $600 million in conservation funds that has protected more than five million acres of waterfowl habitat.

Wardle Sells Part Of His JD Group Equity To Pentland

John Wardle reduced his stake in John David Group, a major UK sportswear/footwear retailer, to 14.6% by selling 5.4 million shares to Pentland Group. Wardle, a founder and director, remained a director of the group and said selling the shares allowed him to diversify his investments as he moved toward retirement. Wardle is known to want to take the company private for estate tax reasons. Pentland owns clothing and footwear brands such as Kickers, Speedo and Berghaus. The business has been run by the Rubin family since 1932 and employs 2,000 people worldwide, including at offices in Australia, Vietnam, Hong Kong and Italy. The company described thepurchase as "an attractive investment opportunity". It was speculated that Pentland also has an option to buy the remaining Wardle shares should he choose to retire from the group he set up in 1981. Co-founder David Makin, analysts believe, is also willing to sell part of his 21% stake. John David Group has been hit by problems integrating the 209-door chain of First Sport stores, which it purchased in May 2002. Pre-tax profits during the year to January 31 fell 80% to 2.1 million pounds, while COB Roger Best was replaced by former finance director Peter Cowgill in March.

Conley To Phase Out Of Cutter & Buck

Cutter & Buck finalized details of the previously announced transition of its COB/ CEO, Fran Conley. Under a transition agreement between her and the company, Conley will remain COB/CEO and a member of the board through September 15. She will then transition to an employee through March 15, 2005. The agreement will provide for her to work with the board on the transition to a new CEO. The company has already begun the process of searching for an apparel industry veteran to become the next CEO and hopes to have the search narrowed or the process completed by the September date.

"In the continuing discussions between Fran and the board, we all agreed that a specific timetable for Fran's transition would be best," said Larry Mounger, former CEO of Pacific Trail and a founding board member. "We accelerated the timeline somewhat from that previously disclosed because the board felt that differences had arisen regarding product management. Working together with Fran, we all felt it would be appropriate to have her transition from chairman and from the board to make sure the new CEO will feel unfettered in leading the company and helping the board to chart the company's strategic direction. And at the same time we continue to get the benefit of Fran's considerable knowledge and talent well into this fiscal year while we work toward a smooth transition to a new CEO."

Conley retains her current salary throughout the transition period and will be entitled to an additional preset payment at the end of the transition period. "Few companies and few CEOs will ever go through the kind of turmoil that we went through over the last two years and come out as well as we did," added Mounger.

Shorts: Footstar

Footstar plans to sell its distribution center in Mira Loma, CA, to Alere Property Group of Madison, WI. Footstar also said it plans to outsource certain warehousing and distribution operations to support the ongoing needs of the company's Meldisco division.






Breaking Headlines
News...8/20/04
AUGUST 20, 2004


News...8/19/04
AUGUST 19, 2004


News...8/18/04
AUGUST 18, 2004


News...8/17/04
AUGUST 17, 2004


News...8/16/04
AUGUST 16, 2004


News...8/13/04
AUGUST 13, 2004


News...8/12/04
AUGUST 12, 2004


News...8/11/04
AUGUST 11, 2004


News...8/10/04
AUGUST 10, 2004


News...8/9/04
AUGUST 10, 2004