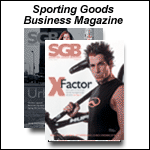 Ashworth Buys Gekko Brands (The Game and Kudzu)

JULY 07, 2004 -- Ashworth acquired Gekko Brands, a leading designer, producer and distributor of headwear and apparel under The Game and Kudzu brands. This strategic acquisition provides for additional growth in new, quality channels of distribution for the Ashworth and Callaway Golf apparel brands, as well as further growth from The Game and Kudzu brands' sales into the company's current distribution channels.

The Game brand products are marketed primarily under licenses to more than 1,000 colleges and universities, as well as to the PGA Tour, resorts, entertainment complexes and sporting goods dealers that serve the high school and college markets. The Game brand is one of the leading headwear brands in the College/Bookstore distribution channel.

The Kudzu brand products are sold into the NASCAR/racing markets and through outdoor sports distribution channels, including fishing and hunting. The acquisition enhances Ashworth's multi-brand, multi-channel, global business model in several ways. The transaction increases the company's channels of distribution from three to six and increases the number of brands that can be sold into each distribution channel while leveraging existing channel relationships, sales forces and expertise.

The Game management and its sales forces will sell Ashworth and Callaway Golf apparel into their existing college bookstores and sporting goods dealer distribution channels. Additionally, Kudzu management will sell Ashworth-inspired apparel into the corporate NASCAR/racing channels. The Game design team will also develop a new line of Ashworth and Callaway Golf apparel and headwear, which will be sold by the company's existing sales forces in the US, Europe and Canada into its green grass, retail and corporate distribution channels.

Gekko achieved sales of $32 million in FY03. Ashworth reported FY revenues of $150 million. Ashworth believes the acquisition will be accretive to earnings starting in FY04.

The purchase price for the acquisition was $24 million, consisting of $23 million in cash at the time of closing plus a $1 million promissory note. Up to an additional $6.5 million in cash will be paid to the remaining partners of The Game/Kudzu management if the subsidiary achieves specific EBIT and other operating targets over the next four years or through FY08. To finance this acquisition, the company has established a five-year bank facility comprised of a $20 million term loan and a $35 million line of credit. This new secured facility replaced the prior $55 million bank facility.

Randall Herrel, CEO of Ashworth, Inc., commented, "Gekko is a terrific fit with our organization from a strategic and financial standpoint. The organization is an aggressive, energetic and entrepreneurial company with a reputation for providing high quality products with innovative logo designs, which fits with the Ashworth culture. We see tremendous future synergies.

"The transaction brings to Ashworth the opportunity to enter into new channels of distribution with its apparel brands as well as enhance the Ashworth and Callaway Golf apparel product categories in their existing channels of distribution. The Game and Kudzu brands are very well respected in their distribution channels for quality, service and innovative design. The Game brand specifically has broad appeal across many types of sports and may provide for even broader distribution in the future. Gekko's management team also has incredibly strong relationships with its core customers."

COO/CFO Terence Tsang stated, "This transaction meets most of our acquisition criteria, which include leadership in a niche market, diversified distribution channels, brand extensions, apparel related products, good management team, and strong financial metrics."

Ashworth also announed it has reached a tentative settlement to conclude a securities class action lawsuit brought in 1999 against the company and certain current and former directors and officers. Under the settlement, all claims will be dismissed and the litigation will be terminated in exchange for a payment of $15.25 million, approximately 82% of which will be paid by Ashworth's insurance carriers. As part of the settlement, Ashworth also agreed to adopt modifications to certain corporate governance policies. Ashworth expects to record a pretax charge in its third quarter of fiscal year 2004 of approximately $3 million related to settlement of this suit.

"Although the company was fully prepared to defend the litigation, the company decided to settle in order to put this 5-1/2 year old case behind us and allow management to focus on running and growing the business," said Tsang. "This settlement will put the shareholder litigation behind us." The company entered into the settlement agreement solely for the purpose of settling this litigation and believes that settling this matter at this time is in the best interest of shareholders as it avoids further protracted litigation.

The terms of the agreement, which are subject to final court approval and notice to class members, includes no admission of liability or wrongdoing by the company or other defendants.








Breaking Headlines
News...8/20/04
AUGUST 20, 2004


News...8/19/04
AUGUST 19, 2004


News...8/18/04
AUGUST 18, 2004


News...8/17/04
AUGUST 17, 2004


News...8/16/04
AUGUST 16, 2004


News...8/13/04
AUGUST 13, 2004


News...8/12/04
AUGUST 12, 2004


News...8/11/04
AUGUST 11, 2004


News...8/10/04
AUGUST 10, 2004


News...8/9/04
AUGUST 10, 2004