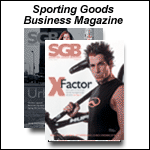 Shorts...04/02/04

JULY 02, 2004 -- K2 Completes Marmot Purchase, Gains New Financing

K2 Inc. announced today that it has closed its previously announced acquisition of Marmot Mountain Ltd. The purchase price was approximately $84 million plus the assumption of debt. Additionally, K2 announced that it has completed the following financing transactions:
* K2 has issued $200 million in aggregate principal amount of 7 3/8% senior notes due 2014. The net proceeds of $194.5 million from the offering of senior notes were funded into an escrow account pending the consummation of the previously announced acquisitions of Volkl Sports and Marker Group, which are currently expected to close by mid-July.
* K2 has also completed its sale of 6.4 million shares of its common stock to a group of underwriters led by J.P Morgan Securities Inc., which included 400,000 shares sold pursuant to an over-allotment option. The net proceeds to K2 from the offering were approximately $94 million.
* K2 has executed an amended and restated credit facility led by J.P. Morgan Chase Bank providing for a $250.0 million revolving loan, with an option to expand the facility to $350.0 million subject to certain conditions.

ACI Acquires Vertical Sourcing

ACI, which owns the L.A. Gear brand and distributes Shaq and Ocean Pacific footwear under licenses, has agreed to acquire the product development and sourcing capabilities of Vertical Sourcing Inc. The companies have been working closely for the past several months. The move is designed to make ACI, which also holds 14 character licenses and makes footwear under private label arrangements, a bigger player in men's footwear. Steve Hamel, President of Vertical Sourcing, will be joining ACI as VP, Men's Product Development and Sourcing. Hamel, a veteran of the men's business, speaks Chinese and Vietnamese, and has spent a considerable amount of time living in Asia. Says Hammell, "I am very excited to be joining such a dynamic, entrepreneurial organization. Based on what has already been built, ACI International obviously has a formula for success, and their willingness to invest further has impressed me a great deal."

Craig Hardy, Senior EVP at ACI, sees big growth opportunities in the men's category, and recently hired Roy Shuman as VP of men's. "With Roy Shuman leading the team, and now, Steve Hamel building the product and managing the sourcing, I believe we can quickly establish ourselves as a formidable force in the men's branded and private label business. It will also put us in a better position to go out and acquire suitable new licenses and brands as they become available."

Watershed USA Announces Distribution Agreement with Granger's

Watershed USA has become the North American distributor for Granger's after-market waterproofing products. Granger will be distributed by a new division of Watershed USA, Axis Outdoor, which will be responsible for the distribution, marketing, and brand management of the product side of Watershed's business. Watershed USA, which will continue to specialize in fulfillment, back-office and supply chain support, said the move will solidify Watershed USA/Axis Outdoor as the most experienced team in the after-market waterproofing category by uniting the company with the UK's market leader and the oldest name in the business, Granger's (est. 1936).

Granger's has been looking for a partner for the past two years, beginning with the hiring of Allen Slade, most recently with Patagonia Canada, to research the North American market. Karolina Jones, general manager and head of product development, said that Granger's will be increasing its efforts to bring new and innovative products to market, specifically engineered for the North American consumer. Said Morrie Trautman, president of Watershed USA, "We hope to breathe some new life into a category that's been stagnant in terms of offering new innovation, beginning with our launch at the upcoming Outdoor Retailer Summer Market trade show."

Watershed USA recently announced the severance of its distribution agreement with Nikwax products after an 11-year relationship. Prior to making that announcement, Watershed USA said it created a custom fulfillment and back-office operation business specific to the outdoor market. The new venture is up and running and has signed its first major client, PacSafe Designs travel products.

Wacoal Launches Its First Sports Bra

Wacoal will launch the CW-X Sport Support Bra, its first sports bra, in August at the Outdoor Retailer Summer Market in Salt Lake City (booth no. 3489). Wacoal says that while other sports bras use compression to restrict movement, or borrow "shelf" or underwire designs from conventional bras, CW-X has mesh webbing built into the cup of the bra to encapsulate each breast as a separate entity. The web is shaped like a 5-point star which covers the breast from the center out. Suspending the breast from the shoulder strap, the webbing reduces upward bounce experienced during high impact activities. Anchoring the Soft Support Web (tm) at the base strap and shoulder provides the wearer with a floating inner support web that is comfortable yet supportive, allowing for the freedom to enjoy different levels of activity. Four-way stretch CoolMax is used to provide added motion control and increase the movement of moisture away from the skin. The new CW-X Sport Support Bra will be available in an all black version and black with light gray trim. It will be sold at specialty sports and outdoor retailers nationwide starting in spring 2005 for a suggested retail price of $45. Wacoal already uses its proprietary CW-X technology in shorts, tights and tops for men and women.

New USA Basketball Uniforms Debut July 4th

Reebok, in its third year as the exclusive outfitter of USA Basketball, will launch an updated version of USA Basketball uniforms on July 4th. The uniforms, which will be worn at exhibitions and the Olympic games, contains navy inserts featuring red horizontal stripes running from the jersey to the short, while utilizing Reebok's Play-Dry technology which offers body moisture management and temperature control. The "USA" arch adorns the front of the jersey with the star/ball logo featured on the sides of the short. The full USA Basketball logo appears on both the jersey and the short. The men have added red, a color they have not worn since 1984, while the women have brought back navy blue, last worn in 1992. Both teams will choose between red and blue for games they are designated as the road team, while continuing to wear white for all home games. It marks the first time the USA Basketball Men's and Women's Senior National teams will have three uniform options. This summer also marks the debut of the USA Basketball Performance Collection, practice wear featuring lightweight reversible mesh tank and short, and featuring Reebok's Play-Dry technology.

Native Eyewear Rolls Out At Gander Moutain

Huntingdon Valley, PA-based Native Eyewear, the original brand of All Sports All Polarized (A.S.A.P.) Eyewear, has recently been rolled out to all stores of the Gander Mountain. "This is clearly a big step forward for our Mid-West distribution - we are extremely happy about it," Jason Wildman, President of Native Eyewear stated, "our All Sports All Polarized niche has really caught on and I think our dedication to the outdoor and winter sports markets is really paying off."

Report: Apparel Sees First Inflation in USA Since 1997

According to the latest Quarterly Market Basket report from Ernst & Young LLP, overall apparel prices rose 0.7% from May 2003 to May 2004, the first gain since 1997. Women's and girl's apparel showed the greatest gains, followed by men's and boy's clothing; infants' and toddlers' apparel remained deflationary. Ernst & Young attributed the gains to an improving economy, good demand for fashion this spring, and rising import prices, due to the weakness of the dollar.

Shorts: Nike has signed 18-year old Ha Seung Jin, the first South Korean player in the NBA, to a four-year endorsement contract. Seugn Jin, who stands 7'1", was chosen in this year's draft in the second round by the Portland Trailblazers...Killick Datta, CEO GBMI received the 2004 Ernst & Young Entrepreneur Of The Year Award at an awards ceromony held June 29 at the Beverly Hills Hilton, Los Angeles. GBMI owns Pony International and Dry-shoD, retail store chain Global Feet, and is the footwear licensee Diesel, XOXO, Nautica, and Mecca...








Breaking Headlines
News...8/20/04
AUGUST 20, 2004


News...8/19/04
AUGUST 19, 2004


News...8/18/04
AUGUST 18, 2004


News...8/17/04
AUGUST 17, 2004


News...8/16/04
AUGUST 16, 2004


News...8/13/04
AUGUST 13, 2004


News...8/12/04
AUGUST 12, 2004


News...8/11/04
AUGUST 11, 2004


News...8/10/04
AUGUST 10, 2004


News...8/9/04
AUGUST 10, 2004