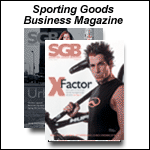 Collegiate Pacific Buys Dixie

JUNE 21, 2004 -- Collegiate Pacific executed a letter of intent to acquire the nation's largest independent team sports distributor, Dixie Sporting Goods. Kesslers Team Sports, formerly the nation's largest independent team sports distributor, was acquired by Collegiate Pacific on April 1. Terms of the Die deal were not disclosed. Closing is anticipated within 60 days.

The acquiistion will add $15M+ to FY05 sales, which are now said will exceed $90 million. The transaction expands the CP geographic footprint for to include five strategic East Coast states and increases road force from 80 to 120 sales professionals

The company to present this recent development and plans for future growth at the ThinkEquity Conference in Chicago, IL. Tuesday, June 22, 2004 at 9:30AM CST. The presentation will be broadcast live and accessed at http://www.wsw.com/webcast/tep/boo

Dixie Sporting Goods, based in Richmond and founded in 1952, employs 40 road sales professionals throughout five states in the Mid-Atlantic/East Coast region. Dixie is one of the nation's leading distributors of team uniforms to the institutional markets with annualized sales of $17-18 million.

Michael Blumenfeld, CEO of Collegiate Pacific, stated, "We are excited to welcome Dixie and its talented employee base to the CP family. Ken and Michael Caravati, longtime owners and operators of Dixie, will be enormous assets to Collegiate as we build upon their past success. Assuming successful closure of this transaction - subject to customary due diligence and the execution of a definitive agreement - Dixie will bring the company's FY05 (starting July 1, 2004) estimated sales to beyond $90M. The combination of Kesslers and Dixie within the CP system will produce the largest direct distributor of branded team uniforms and equipment to institutions in the USA."

"Dixie's operation is the perfect compliment to our Kesslers Team Sports platform. The Kessler and Dixie territories are contiguous, creating sales force coverage of 14 neighboring states from the Midwest to the East Coast. The addition of Collegiate's 4,000 factory-direct equipment SKUs to Dixie's broad line of branded team uniforms makes for a one-stop-shop to the Dixie customer base, creating what we believe is a substantial competitive advantage. We intend to leverage the sale of our proprietary products through this highly experienced sales force to produce increased revenues; operating margins and earnings in future periods. Dixie's core competency in football and team uniforms is well balanced by Collegiate Pacific's historic expertise in baseball and team equipment. We see a multitude of cross-selling and cross-operating synergies between these properties going forward."

Blumenfeld continued, "Dixie's sustained profitability and organic top line growth fit the mold of companies Collegiate will pursue as we continue to augment our distribution platform. We envision a sales force of national scope; acting as a direct pipeline to over 200,000 potential and actual customers for the multitude of equipment and uniform related products offered. We continue as well to review manufacturer's whose products lend themselves to sale through this burgeoning road sales force and our traditional catalog and telesales outlets. The company maintains an active list of targets under review."






Breaking Headlines
News: 8/30/04
AUGUST 30, 2004


News...8/27/04
AUGUST 27, 2004


News...8/26/04
AUGUST 26, 2004


News...8/25/04
AUGUST 25, 2004


Shorts...8/24/04
AUGUST 24, 2004


News...8/23/04
AUGUST 23, 2004


News...8/20/04
AUGUST 20, 2004


News...8/19/04
AUGUST 19, 2004


News...8/18/04
AUGUST 18, 2004


News...8/17/04
AUGUST 17, 2004