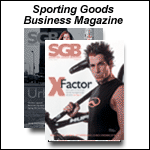 Short news...6/16/04

JUNE 16, 2004 -- Lance Armstrong Takes Accusers To Court

Lance Armstrong has filed a suit in London vs David Walsh, co-author of "LA Confidentiel: Les Secrets de Lance Armstrong." It was published this week in France. He's also suing the London Times, where Walsh works. The Times published a news report about the book's allegations. Armstrong warned another suit would be filed vs co-author Pierre Ballester, the publishers of L'Express, which published a 10-page excerpt. Armstrong did not say whether he would sue any of the people who are quoted in the book, moist notably Emma O'Reilly, the US Postal Service team masseuse.

Hibbett Makes Management Promotions;

Hibbett Sporting Goods made several members of its management team have taken new roles in the company. Chuck Adams was named chief information officer and VP/distribution. Adams was previously VP/information systems and distribution. He is a five-year veteran of Hibbett with 16 years of experience in retail systems. Jared Briskin was named VP/apparel and equipment, having previously served as a divisional merchandise manager. Briskin has been with Hibbett for six years and has 11 years of retail experience. Mark Dobbins has been promoted to VP/footwear. He was previously a divisional merchandise manager. A 22-year retail veteran, Dobbins joined Hibbett in 2000.

Commenting on the announcement, CEO Mickey Newsome said, "These moves recognize not only the contributions each individual has made but also the importance we place on each area for the continued growth of our company. They are all outstanding performers, and I am confident they will flourish in their new capacities. We have a proven growth strategy at Hibbett as well as a deep and experienced management team to successfully execute that strategy."

'Elite' Conference Program Takes Shape

In March, SGB announced a new conference program aimed at specialty running stores. "The Elite," November 7-10, will consist of educational seminars, guest speakers, athlete appearances, and product presentations focused on the top 50 running specialty stores in the country. Now some specifics are available. The conference kicks off on Sunday, November 7, following the New York Marathon. There will be a welcome reception at the Marriott Financial Center. Product presentations during the conference will be made by New Balance, Champion, Pearl Izumi, 180s, Brooks Sports, Moving Comfort, Sof Sole and others. Keynoting the event on November 8 will be Ken Schmidt, a former Harley-Davidson exec. A session will follow that will be moderated by Marty Liquori. Other topics at the three-day event are: What the election means to independent retailer; getting the most out of community involvement; selling your business; and the future of running at retail. New Balance will host a reception at the Track & Field Hall of Fame. For more information, contact Mark Sullivan at 646-654-4981.

Rick White To Head Phoenix Footwear

Rick White has been appointed CEO of Phoenix Footwear. White has been a member of company's board of directors since May. James Riedman, formerly COB/CEO, will retain the title of COB, and will continue to play an active role in the strategic development and operation of the company. White has 18 years of product marketing and brand management experience in the marketing and footwear industry. He was a consultant to trade associations and sports organizations from 2002 to June 2004, and from 1999 to 2002 served as the president and CEO of Reed Exhibitions, North America, the largest business-to-business event organizing company in North America. Prior to serving at Reed Exhibitions, White was GM of Subsidiary Brands at Nike from 1997 to 1999, where he managed Bauer Nike Hockey, Cole-Haan and Nike Team Sports. He directed the Cole-Haan strategic repositioning and assembled its current management team, leading to innovations such as incorporation of Nike Air cushioning technology into Cole-Haan footwear and a revitalized design approach. He has also held product-marketing positions at Strategic Merchandising Associates, Major League Baseball and MLB Properties, and was president and CEO of MLBP for seven years.







Breaking Headlines
News...8/20/04
AUGUST 20, 2004


News...8/19/04
AUGUST 19, 2004


News...8/18/04
AUGUST 18, 2004


News...8/17/04
AUGUST 17, 2004


News...8/16/04
AUGUST 16, 2004


News...8/13/04
AUGUST 13, 2004


News...8/12/04
AUGUST 12, 2004


News...8/11/04
AUGUST 11, 2004


News...8/10/04
AUGUST 10, 2004


News...8/9/04
AUGUST 10, 2004