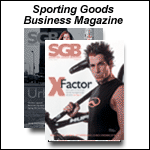 Short news...6/3/04

JUNE 03, 2004 -- Modell's Is Perceived By Consumers As Tops In Value

A survey of consumers gave Modell's the top rating in terms of favorable perceptions of price. Kohl's and Dunham's followed. The bottom three, in order from the bottom, were EMS, Galyans and REI. It's interesting that Galyans makes the latter list since it has been promoting everyday low prices as core to its marketing plan. The data are from the SGB Brand Awareness and Retailer Assessment Study prepared by the Leisure Trends Group. Headlines from the survey include: Top 20 Brands: By overall population; by age 16-65; by age and gender (10-15%); by gender; by ethnicity; by region; by residence area; by presidential choice; by sports participation; by auto type; and by leisure habits. Other portions include brand awareness (10-65); brand power ratings, footwear brand imagery (10-65); and much more. For more information, contact Jeff Nott, 646/654-4997, [email protected]

TIA Will Have Tennis Show At Super Show

The Tennis Industry Association will try to bring some fresh faces to The Super Show. It will be sponsoring the TIA Expo at the show, January 17-19, Orlando. Tennis used to be a major category at the show, but now has only a handful of exhibitors (but more could be found in hotel suites). The show will offer retailers/pros a choice of eight business seminars. There will also be an industry Forum to hear research figures and news from the various tennis governing bodies. An industry awards program that will honor the top 20 tennis welcome centers, top 10 pro shops, top 10 tennis specialty shops, top sporting goods retailer, top hard goods manufacturer and top softgoods manufacturer. Hard goods commitments have come from Head, Penn, Prince, Volkl, Yonex and Fischer. The tennis area will have its own fashion shows. Tail, Boast, Fila, Little Miss Tennis, Reebok, Prince and others will be there.

VOLVO SportsDesign 2005 Program Taking Shape

One of the highlights of the past two ispos has been the collaboration between Volvo and ispo to produce the VOLVO SportsDesign FORUM conferences for industry designers worldwide. It was decided the conference would take place one=ce a year at the winter show. Already, the conference planners are leasing some of the program. VOLVO SportsDesign 2005 is set for Saturday, February 5, at the Munich Fairgrounds. The one-day program features presentations, interviews, panel discussions and workshops. Planners decided on one central topic: "Women-Specific Design - if you reach the expectations of women, you exceed the expectations of men." In addition, Volvo and ispo have decided to organize the 1st VOLVO SportsDesign AWARD. The international Design Award of the Sports Industry will concentrate on the same general topic: Women -Specific Design. The categories will be the following: Women's skiing, board sports, outdoor, footwear, accessories/components and concepts (students only). The award ceremony will follow directly after the VOLVO SportsDesign FORUM at the Volvo Designer's Night in a central location in Munich. More detailed information will be released very soon.

PacSun May Comps Rose 8%

Pacific Sunwear of California reported that total May sales were $72.4 million, an increase of 18.5%. Company same-store sales increased 7.8% with PacSun same-store sales up 8.3% and d.e.m.o. same-store sales up 3.0%. Total sales for the first 17 weeks of FY04 were $317.5 million, an increase of 22.4. Company same-store sales increased 11.6% for the period with PacSun same-store sales up 12.3% and d.e.m.o. same-store sales up 5.4%. While the results beat PSUN's own forecast, they did not meet analysts' expectations. Analysts were expecting comps of 8.5%. Harris Nesbitt downgraded Pacific Sunwear to neutral from outperform, citing the deceleration in the girl's category and in the d.e.m.o. division. The target price was lowered to $22 from $28.

Core Skate, Surf Retailers Head To Munich

A core group of US surf and skate retailers will join the ispo party and get immersed in the complete European board sports industry experience. They will travel to Munich from July 4-6 for ispo summer 04 as part of ispo's continuing program to connect American retailers to buying opportunities and business advantages from the European market. ispo joins Transworld Skateboarding Business in hosting the skate retailers, and Transworld Surf Business in hosting the surf retailers.

Board_ispo is one of the most dynamic aspects of ispo summer 04. The European surf and skate community hosts its counterparts from Asia and North America for three days of exhibits, new product showcases, seminars, retailing summits and the ever-popular board_ispo community night and board_ispo select night. The retailers' highlight is board_ispo skate summit, which enables retailers from throughout the world to exchange promotional, marketing, merchandising and sales ideas, and ways to further promote the sport.

The retailer tour program is part ispo's ongoing effort to enable American retailers to exchange ideas with their European counterparts, and to seek out products from European manufacturers for their stores.

Memorial Day Shift Impacts Famous Footwear Sales

Retail sales at Brown Shoe's Famous Footwear chain rose 0.2% to $85.1 million for the four-week period ended May 29. Same-store sales decreased 2.2%, as the calendar shift in Memorial Day weekend negatively affected sales. "Adjusting for the Memorial Day shift, store-for-store sales in May would have been approximately even with last year, and margins remained strong," said Brown Shoe CEO Ron Fromm. "In addition and looking forward, because the 4th of July holiday also shifts from the June sales calendar in 2003 to the July sales calendar in 2004, year over year sales comparisons will not be comparable until July." Famous Footwear sales for the first 17 weeks of fiscal 2004 were $357.2 million, a 3.2% increase. Same-store sales for the FY-to-date period were up 1.4%.

New Tretorn Collection Launched

Tretorn established "Tretorn Gullwing," a division of Tretorn, which was acquired by Puma in 2001. The Gullwing collection will hit stores in Fall 2004 with a line of elegant tennis shoes and classic rubber boots for men and women. The Autumn/Winter 2004 Gullwing collection takes its inspiration from Tretorn's history and features a selection of classic sneakers and utilitarian boots. With the introduction of Gullwing trainers, Tretorn is looking to recreate the popularity that was established with the Tretorn Canvas and Leather Nylites in the 1980's. When Etonic made the shoes in the US, its president said he guaranteed the shoes until they came out of the box. The Tretorn Nylites were not famous for their durability. Made from sturdy canvas, suede and supple leather paired with clean, understated detailing, the new Gullwing line features 11 silhouettes for both sexes and defines simplicity and classic style. The Autumn/Winter Tretorn Gullwing collection is available limitedly at high-end boutiques and department stores in major cities in the US.

Million Signatures Sought To Hold Bush To Funding Promise

SGMA is encouraging the trade to join Americans Saving American Places, a one million-person petition to support parks and sports fields. The Americans Saving American Places campaign supports full federal funding for America's parks, playgrounds, ball fields, and running and biking trails. Americans Saving American Places (www.ASAP2004.org) begins its "Sign It This Summer" campaign on Earth Day. The goal is to use the 140 days between Earth Day and Labor Day to rally Americans who love the great outdoors. In that time, the goal is to gather the signatures of more than one million Americans on the ASAP Petition. When enough people "Sign It This Summer," it will be used to remind President Bush to keep his promise to fully fund the Land and Water Conservation Fund, whose original purpose was to provide close to home recreation for all Americans. The petition can be found at http://www.asap2004.org/petition.html

Shorts: Shoe Carnival reported May sales increased 8.8% to $43.1 million. Comp-store sales increased 0.5% in May 2004. Sales for the first four months of 2004 increased 6.8% to $188.5 million. Comp-store sales decreased 1.5% for the 17-week period.

Woodlake Design Group (Woodlake and Mad Iguana) is working with Schoeller Technologies India to use 3XDRY technology for the first time. When applied, the technology creates a water repellent, highly breath\able and soil resistant barrier on the outside, as well as transporting moisture from the inside. Woodlake is also offering the technology to companies in outerwear, outdoor and golf markets. Several companies have signed on.







Breaking Headlines
News...8/20/04
AUGUST 20, 2004


News...8/19/04
AUGUST 19, 2004


News...8/18/04
AUGUST 18, 2004


News...8/17/04
AUGUST 17, 2004


News...8/16/04
AUGUST 16, 2004


News...8/13/04
AUGUST 13, 2004


News...8/12/04
AUGUST 12, 2004


News...8/11/04
AUGUST 11, 2004


News...8/10/04
AUGUST 10, 2004


News...8/9/04
AUGUST 10, 2004