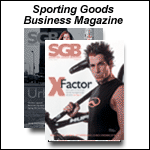 Finish Line's Q1 Numbers Answers Serra With 14% Comp Gain And Increased EPS Guidance

JUNE 03, 2004 -- Last month, Foot Locker CEO Matt Serra told Wall Street analysts that his new rival, The Finish Line, was obviously overinventoried since it was running a regular inventory liquidation sale. The Finish Line quickly challenged Serra's ESP powers with a press release denying his allegations emphatically. Now Finish Line has released its greatly improved Q1 sales data and has increased its Q1 EPS guidance.

Finish Line reported net Q1 sales of $258.0 million, an increase of 24%. Comp-store net sales for Q1 increased 14% on top of a 14% increase reported for the comparable 13-week period last year. Effective with the beginning of FY 05, the company has included the internet business from http://www.Finishline.com in the comp-sales calculation. This change had the effect of increasing Q1 comparable sales by 1%.

Alan Cohen, CEO/COB, stated: "We are extremely pleased with our sales performance in Q1 and our continued momentum from last year. The breadth of our product assortment remains a key driver of sales gains and has allowed us to continue to gain market share in all footwear segments including men's, women's and kids'."

During Q1, footwear comp-store sales increased 16%, and apparel/accessories comp-store sales increased 5%. For Q1 the gross profit percentage will improve over Q104 as a result of continuing strong sell-through of higher-priced performance and premium footwear, led by Nike.

The success of performance product has also contributed to a 5% increase in the footwear average selling price for the quarter. Inventory levels are expected to be up 10%-12% per square foot at the end of Q1 and are in line with the company's plan. The percentage of aged inventory has improved versus the same period a year ago.

Due to sales exceeding plan, the company now anticipates that diluted Q1 income per share will range from $0.41 - $0.43 cents as compared to previous guidance of diluted income per share of $0.37 to $0.39 cents.

Q1 was negatively effected by $0.02-$0.03 for costs incurred related to the unsuccessful acquisition of Footaction stores. For Q104, Finish Line reported EPS of $0.28 cents. For Q2, which will end August 28, comp-sales guidance is being increased to 5% from 3% with total sales of $310.0 million, up from $304.0 million. Full fiscal year comp-sales guidance is 6%, up from 4%, with full year sales of $1.2 billion, up from $1.1 million. For the current FY05, net income is now expected within a range of $2.39-$2.43 per share, up from previous guidance of $2.29 to $2.33 per share.

During Q1, the company opened 21 new stores, remodeled eight stores and closed two stores. For the current fiscal year, the company expects to open 70 new stores, an increase over the previous new store guidance of 60 stores, remodel 25 existing stores and close 5-7 stores. As of May 29, 2004, the company operated 550 stores compared to 490 at May 31, 2003, an increase of 12%. In addition, store square footage increased 9% to 3,164,000 square feet compared to 2,890,000 square feet at the end of Q1 last year.







Breaking Headlines
News...8/20/04
AUGUST 20, 2004


News...8/19/04
AUGUST 19, 2004


News...8/18/04
AUGUST 18, 2004


News...8/17/04
AUGUST 17, 2004


News...8/16/04
AUGUST 16, 2004


News...8/13/04
AUGUST 13, 2004


News...8/12/04
AUGUST 12, 2004


News...8/11/04
AUGUST 11, 2004


News...8/10/04
AUGUST 10, 2004


News...8/9/04
AUGUST 10, 2004