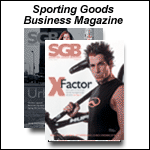 Madsen Will Retire Next Year From REI; COO Jewell Will Take Top Spot

JUNE 08, 2004 -- Recreational Equipment, Inc. CEO Dennis Madsen will retire from the outdoor retailer at the company's annual membership meeting on March 28, 2005, and said he will spend the next 10 months helping to transition the company's leadership to its current COO, Sally Jewell.

Jewell will assume the CEO's position following REI's 2005 annual meeting, according to REI Board Chairman Bill Britt. He said Madsen has been in discussions with the board for the past few months about his desire to retire.

"Dennis' discussions with the board have allowed us the opportunity to thoughtfully consider REI's future leadership, and we are very pleased that the company has a strong person on its management team ready to assume the top leadership role. Sally has proven herself as a board member and as a senior executive in the company. It's a testament to Dennis' leadership that REI has a strong and capable management team ready to carry on the positive legacy that he worked so hard to create," Britt said.

"I have often said that I have the best job in the world, and I am extremely proud of the heart, soul and spirit of REI. It's been an amazing journey from the store stockroom to the CEO's office, and now it is time to begin the next adventure in my life," Madsen said. "The time is ideal to transition leadership of REI as the company is experiencing phenomenal success. We are hitting on all cylinders, we
are very focused and we are healthier as a business than at any point in the company's history."

Madsen, 55, began his career with REI at the age of 17 working as a stocking clerk at the company's Seattle store. At that time, the Seattle-based cooperative had one store, a mail order catalog, 33 employees and $1.8 million in sales. Over his years with the company he has worked in many positions. Prior to becoming CEO in 2000, he served for 13 years as COO, a position in which he oversaw REI's operating divisions, including the company's retail and direct sales lines of business, and its marketing and warehousing/distribution functions.

An avid outdoors person, Madsen is passionate in his pursuit of outdoor activities, including bicycling, skiing, backpacking, climbing and sailing. His participation in the outdoors extends to service on the boards of a number of conservation and outdoor recreation non-profits, including the national Rails-to-Trails Conservancy Board, the Washington Wildlife and Recreation Coalition, IslandWood and the Bicycle Alliance of Washington. He also serves as board president for the Western Washington University Foundation and is on the board of the Alaska Air Group, parent company of Alaska and Horizon Airlines.

Madsen said that, in addition to continuing to pursue his many outdoor interests, he also looks forward to having more time to dedicate to his many community involvements.

Madsen's successor, Jewell, joined REI as COO in 2000, after serving as an elected director on the company's board for four years. She presently oversees REI's customer-facing divisions including retail, multi-channel programs, direct sales, merchandising and marketing.

Prior to her employment at REI, Jewell's career spanned nearly 20 years in the banking industry, most recently serving as president and CEO of Washington Mutual's Commercial Banking Group. She too is very active in a variety of business and community organizations and causes. Jewell is a founding board member and the immediate past
president for the Mountains to Sound Greenway Trust, which is dedicated to enhancing the long-term environmental health and economic vitality of the Interstate 90 corridor from Puget Sound across the Cascade Mountains. She serves on the University of Washington's Board of Regents, is a member of the Washington State Governor's Competitiveness Council and a board member for Premera, parent company to Premera Blue Cross and other subsidiaries.

Jewell is a lifetime outdoors person and lists among her interests hiking, biking, mountaineering, sailing, skiing and snowboarding.

"I am humbled and honored to have the opportunity to work with a great and talented group of people in a great organization," Jewell said. "I am going to be spending the next 10 months working closely with Dennis and learning from him. He has helped shape a wonderful company, and I want to continue the legacy of success that he's contributed in his years at REI. I appreciate his ongoing commitment to ensuring that REI has a smooth and supportive leadership transition."





Breaking Headlines
News...8/20/04
AUGUST 20, 2004


News...8/19/04
AUGUST 19, 2004


News...8/18/04
AUGUST 18, 2004


News...8/17/04
AUGUST 17, 2004


News...8/16/04
AUGUST 16, 2004


News...8/13/04
AUGUST 13, 2004


News...8/12/04
AUGUST 12, 2004


News...8/11/04
AUGUST 11, 2004


News...8/10/04
AUGUST 10, 2004


News...8/9/04
AUGUST 10, 2004