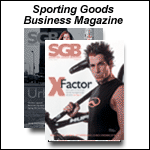 Short news...6/8/04

JUNE 08, 2004 -- Neville To Be President of Keds

Shawn Neville will be joining Stride Rite as president of Keds, effective July 7. Most recently, Shawn was president/CEO of Footstar's athletic division, including the management of Footaction USA and Just For Feet. Previously, he held senior level marketing roles with VISA USA and senior level sales, marketing and general management positions with Reebok, Tambrands and Procter & Gamble. He will report to Rick Thornton, president/COO of Stride-Rite.


Thorlo, Asolo Form Euro Alliance

Thorlo has concluded a strategic alliance with the Asolo/Lowe Alpine group in respect of the European market for Thorlo sport specific socks. As part of this alliance, Asolo Lowe Alpine with now handle the distribution of Thorlo products through its subsidiaries in Italy, the UK, Holland and Germany. In all other areas Thorlo will continue to be handled its current distributors within the overall strategy and framework set by the European management team. The aim of the alliance is said to be to create a strong and presence and footprint for Thorlo across all European markets in an effort to deliver a strategy, which will drive forward the brand.

The alliance will see a strategic European team established to manage all Thorlo marketing and distribution issues in Europe. The team will comprise: Jim Throneburg, COB, Thorlo; Richard Oliver, COO, Thorlo; Ron Cruickshank, chief executive operator, Thorlo; Jurgen Mayer, CEO, Mayer Marketing; Luca Zanatta, CEO, Asolo/Lowe Alpine Group; and David Udberg, managing director of Lowe Alpine UK Ltd. (Source: SGB UK)

Sportcraft Recalling Treadmills Sold To Dick's

Sportcraft is recalling 320 Tredex 10.0 treadmills that were sold to Dick's. The treadmill's circuitry can overheat, causing it to unexpectedly accelerate during use. When this happens, the user can fall. Sportcraft received nine reports of unexpected acceleration, including five reports of injuries. The injuries included sprains to the back, shoulder and knees, and cuts and abrasions to various parts of the body. A consumer reported loss of control resulting in a tip over. The consumer received a black eye, along with cuts and bruises. The model was sold Dick's from January 2004 through March 2004 for between $500 and $1400. The CPSC recommended that consumers stop using the Tredex 10.0 immediately and contact Sportcraft for a full refund or a replacement Sportcraft treadmill.

ECCO Founder Dies

ECCO lost its founder and president Karl Toosbuy, who died June 8 at age 76. Toosbuy founded ECCO Sko A/S in 1963 in Bredebro South Jutland Denmark. Initially "Venus" (later known as ECCOLet and then ECCO Sko A/S) specialized in women's fashion footwear. In the early 1970's with the Scandinavian shoe industry struggling to survive, Toosbuy transitioned the company from women's fashion footwear to the broader casual shoe market where it remains today. Jan Stig Andersen, president and CEO of ECCO USA, Inc., said of Toosbuy, "He will be remembered among his contemporaries as a visionary, a master shoemaker and a demanding perfectionist who never forgot the people who helped him succeed." Toosbuy was one of the first manufacturers to use robotics and computerized equipment in the manufacturing process and revolutionized the footwear industry by producing a new category of innovative comfort footwear. In addition, he felt the only way to ensure the best raw materials was to own the process from "cow-to-shoe." Thus, ECCO began tannery operations to support its growing footwear demands.

Shorts: Terry Lauterbach, Hibbett, Oakley and REI.

Footstar director Terry Lautenbach passed away in New York last week. He was 65 years old. Dale Hilpert, CEO, commented, "We are deeply saddened by this unexpected and untimely loss. Although I have only known Terry for a short time, he was instrumental in my decision to join Footstar." Lautenbach served on Footstar's board since 1996, following the spin-off of the footwear businesses from Melville Corp.. In addition, Lautenbach served as chairman of the Compensation Committee and on the Corporate Governance Committee.

SunTrust Robinson Humphrey downgraded Hibbett to neutral from buy. The move was based solely on valuation…JBHanauer & Co. initiated coverage of Oakley with an outperform rating. The 12-month target price is $17.

Recreational Equipment, Inc. it will open a second store in Houston in the Willowbrook Shopping Center at the intersection of FM 1960 and Highway 249 in October. The new store will serve more than 17,000 active REI cooperative members in the Houston area. Although anyone can shop at REI, members pay a $15 fee for a lifetime membership and receive a portion of the cooperative's profits each year based on a percentage of their regular priced purchases. REI opened its first store in Houston in 1996. Last year, that original store was relocated to 7530 Westheimer Road due to Katy Freeway construction. The Willowbrook 22,500-square-foot site is in a sub-divided existing structure.








Breaking Headlines
News...8/20/04
AUGUST 20, 2004


News...8/19/04
AUGUST 19, 2004


News...8/18/04
AUGUST 18, 2004


News...8/17/04
AUGUST 17, 2004


News...8/16/04
AUGUST 16, 2004


News...8/13/04
AUGUST 13, 2004


News...8/12/04
AUGUST 12, 2004


News...8/11/04
AUGUST 11, 2004


News...8/10/04
AUGUST 10, 2004


News...8/9/04
AUGUST 10, 2004