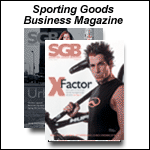 Short news...6/4/04

JUNE 04, 2004 -- Outdoor Retailer Show Is Officially Sold Out

Exhibit space for the Outdoor Retailer Summer Market (August 12-15) to be held at the Salt Palace Convention Center in Salt Lake City, has officially sold out, with a waiting list of over 120 outdoor-related companies. The industry will be looking at the results of a major survey to discover attitudes about finding a new venue, especially one with more space than Salt Lake and facilities, including rooms and restaurants. The total number of brands at Summer Market is now over 925, which represents a 4% increase over 2003 Summer Market (also a sold out show). The increase in brands and booths at Summer Market 2004 is due in part to adjustments within the main hall, and some reconfiguring of space in the Pavilion. Outdoor Retailer attendee pre-registration is also tracking higher compared to last year at this time. With OR's online registration growing in popularity for retailers, guides and distributors, many attendees are registering early and will receive their official badge and show handbook prior to departing for Salt Lake City.

Of the 925 brands scheduled to exhibit, 94 companies are brand new to the Outdoor Retailer trade show. Continuing the tradition started last year, all companies new to the Outdoor Retailer show will be highlighted on the floor with a "New Exhibitor" flag at their booths. In addition to the flags, OR will provide a comprehensive list of new exhibiting companies, with booth numbers, at the registration counter.

Cricket Takes Hold In Brooklyn

The New York borough that was the home of the famous Brooklyn Dodgers is now the home of burgeoning cricket interest. According to The New York Times, immigrants from the Caribbean have taken the sport to the city. For some time, cricket games have regularly taken place in a large park in the Bronx, as well. The paper said the US will field its first tem at the International Cricket Council Champions Trophy in the UK. New York is the home of more teams than any other state. There are even five little league cricket teams, up from two last year. The US hopes to play host to some of 2007 Cricket World Cup. The paper noted that many consider the game duller than watching paint dry. Dupaul Singh is the owner of Singh's Sporting Goods and the big cricket retailer in Brooklyn. He told the Times he sells 4,000 sets of white cricket clothing a year, up from 1,500 three years ago. He sees more youngsters taking up the game. Leagues that used to spend $50 a on a trophy now spend $200, Singh said.

Everlast Sees $1 Billion In Retail Sales In Three Years

George Horowitz, COB/CEO, Everlast Worldwide told those gathered for the company's annual meeting hat, "We are on our way to achieving our goal of $1 billion in retail sales in three years from our current base of $600 million…We expanded our presence in the consumer packaged goods market with the introduction of the Everlast line of nutritional supplements and batteries, among other categories. We also enhanced our worldwide presence via new licensing agreements in key international markets such as Latin America and Asia. Finally, we are generating a considerable amount of trade and consumer excitement via the introduction of important new apparel collections such as our Heritage line, which features print tees, warm-up suits, cornerman button-ups and varsity jackets inspired by champion fighters Joe Louis, Floyd Patterson, Sugar Ray Robinson, Rocky Marciano, Jack Dempsey, Sugar Ray Leonard and Larry Holmes and the eras during which they fought."


Another defendent in the Just For Feet financial scandal was sentenced. Steve Dodge. former VP/US sales of Converse, received four months of home detention, 18 months of probation and a $2,000 fine.

New Balance promoted Jonathan Ram to GM of New Balance Canada. Ram has been national sales and marketing manager for New Balance Canada since he joined the company in August 2002.

Adidas will pick up the apparel/footwear contract at Indiana University. The contract calls for adidas to supply 24 varsity sports. Nike had the contract, which the university put out for bid. Adidas takes over July 1.

Caris & Co. initiated coverage of Big 5 Sporting Goods with an above average rating. The target price is $28.






Breaking Headlines
News...8/20/04
AUGUST 20, 2004


News...8/19/04
AUGUST 19, 2004


News...8/18/04
AUGUST 18, 2004


News...8/17/04
AUGUST 17, 2004


News...8/16/04
AUGUST 16, 2004


News...8/13/04
AUGUST 13, 2004


News...8/12/04
AUGUST 12, 2004


News...8/11/04
AUGUST 11, 2004


News...8/10/04
AUGUST 10, 2004


News...8/9/04
AUGUST 10, 2004