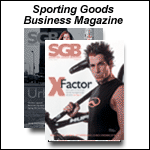 Short news...6/2/04

JUNE 02, 2004 -- Kevin Lamar Has Left Nautilus Group

The Nautilus Group had not announced it when its IR group was contacted by ISG, but Kevin Lamar has left the company "to pursue other opportunities." Lamar was appointed chief operations officer of Nautilus Group in March 2004. He joined the company in 2001 and served as president of The Nautilus Group, Inc. and president of Nautilus Health and Fitness Group, Inc (the commercial/retail segment operations) from January 2001 to July 2003. From 1989 to 2000, Lamar served in a variety of senior management roles at Schwinn/GT Corp. In the last proxy statement, Lamar's salary was $375,000, with a $75,000 bonus. He was given options for 100,000 shares.

NSGA Elects Five New Directors

At the recent NSGA Management Conference & Team Dealer Summit, COB Ron Kruse announced the following new members of the board, whose three-year terms have begun:
District I -- Steve Harding, President of Kep Harding's Sport Shops, Lincoln, NE;
District II -- Bill Reynolds, COO of New Balance DFW, Dallas;
District IV -- Kevin Adams, president of Kittery Trading Post, Kittery, ME;
District V -- Don Bates, president of Allen Sports Center; in Seminole, FL;
At-Large -- Dick Coffey, president of Olympia Sports, Yarmouth, ME.

S&P Lowers Russell's Credit Rating

Standard & Poor's Ratings Services lowered its corporate credit rating on Russell Corp. to 'BB' from 'BB+'. At the same time, the senior unsecured debt rating was lowered to 'BB-' from 'BB'. The unsecured debt is rated one notch below the corporate credit rating, reflecting its junior position in the capital structure relative to the secured bank debt. The outlook is stable. Total debt outstanding was about $335 million at April 4, 2004.

Shorts:
Silhouette Optical released of a new line golf specific eyewear featuring the LST golf lens. To promote this new performance collection, they have signed golf talent Hillary Lunke, winner of the 2003 LPGA U.S. Women's Open title. The high tech lens aids in defining small details in putting surfaces as well as in overall course environments by stabilizing contrasting light conditions. The lenses are set in a rimless frame made of titanium.

New Era's VP/global marketing John De Waal is a new member of the National Advisory Board for Caps for Kids, a charity organization dedicated to providing celebrity-autographed caps for children undergoing cancer treatment.







Breaking Headlines
News...8/20/04
AUGUST 20, 2004


News...8/19/04
AUGUST 19, 2004


News...8/18/04
AUGUST 18, 2004


News...8/17/04
AUGUST 17, 2004


News...8/16/04
AUGUST 16, 2004


News...8/13/04
AUGUST 13, 2004


News...8/12/04
AUGUST 12, 2004


News...8/11/04
AUGUST 11, 2004


News...8/10/04
AUGUST 10, 2004


News...8/9/04
AUGUST 10, 2004