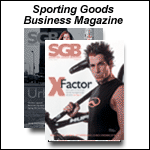 Hibbett's Q1 Sales Rise 21% On 9% Comp Gain

MAY 21, 2004 -- Hibbett Sporting Goods' Q1 net sales increased 21.3% to $96.5 million. Comp-store sales increased 8.8%. Net income increased 53.4% to $8.1 million. EPS increased 47.8% to $0.34 from $0.23 in the prior year.

Hibbett opened eight new stores and closed three stores during the first quarter, bringing the store base to 433. The company plans to open a total of approximately 65 new stores, net of store closings, in FY05.

Mickey Newsome, COB/CEO, stated, "Consistent with the trends we experienced in the fourth quarter, we posted positive comparable store sales in all three merchandise categories this quarter. Continued growth in licensed, performance and urban-influenced products produced low double-digit comparable sales in apparel while strength in ladies and kids led to mid-single-digit comparable increases in footwear. Similarly, hard goods yielded a low single-digit increase due to improvement in team equipment sales.

"The strong sales results, combined with improved product margins and a lower level of markdowns, led to the highest quarterly operating margin in our history at 13.2%. While it would be unrealistic to expect we could sustain such a dramatic sequential improvement in our operating margin throughout the year, we expect to continue to show significant year-over-year improvement in our margins."

For Q205, it expects to report earnings per diluted share of approximately $0.18 to $0.20 and a comp-store sales increase in the range of 5% to 6%. Guidance for FY05 is estimated at approximately $1.06 to $1.09 earnings per diluted share and a comp sales increase in the range of 5% to 6%.

Newsome added, "Although we had expected second half sales momentum to ease a bit as we lapped strong sales results from a year ago, we have yet to see that pace abate to any degree. In addition, our operating results continue to reflect the benefits of our small market strategy, a high level of store and support center operational excellence, greater allocations of the top apparel and footwear brands and a wealth of new store growth opportunities. Based upon this strong start, we are very optimistic about the year ahead of us in fiscal 2005."

The per share results reported for all periods presented herein reflect the effect of the three-for-two stock split that was distributed on April 16, 2004, to stockholders of record on April 1, 2004.







Breaking Headlines
News...8/20/04
AUGUST 20, 2004


News...8/19/04
AUGUST 19, 2004


News...8/18/04
AUGUST 18, 2004


News...8/17/04
AUGUST 17, 2004


News...8/16/04
AUGUST 16, 2004


News...8/13/04
AUGUST 13, 2004


News...8/12/04
AUGUST 12, 2004


News...8/11/04
AUGUST 11, 2004


News...8/10/04
AUGUST 10, 2004


News...8/9/04
AUGUST 10, 2004