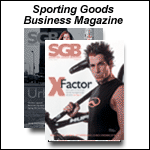 Short news...5/20/04

MAY 20, 2004 -- Italian Authorities Arrest Former Chain Management

According to Italian published reports, five former members of the Giacomelli Sports management team were arrested by the Italian police unit, Guardia di Finanza. Among the arrested managers are Emanuele and Antonio Giacomelli. Italian newspapers wrote that investigators were looking at alleged crimes such as fraud, payments with checks that did not have sufficient funds and filing incorrect balance sheets. The one exec who hasn't been arrested yet is Gabriella Spada, Emanuele's wife and former CEO of Giacomelli Sport. It was reported she has fled to the Maldives in the Indian Ocean where she is supposed to be on "holiday." Former Sports Authority CEO/founder Jack Smith has been hired to manage the bankrupt chain. (Source: SAZ)

Lance Armstrong Foundation, Nike Launch Program Aiding Young Cancer Victims

As a tribute to Lance Armstrong's fight against cancer as well as his historic attempt at a sixth Tour de France win, the Lance Armstrong Foundation and Nike will launch the Wear Yellow Live Strong campaign. Nike will donate $1 million to the Foundation and lead efforts to raise an additional $5 million through the sale of yellow wristbands engraved with his mantra, Live Strong. All proceeds will benefit LAF programs that help young people with cancer live strong. "Young people with cancer should be empowered to fight hard, dream big and live strong," said Armstrong. "We all have important work to do to make sure young people get the tools and services they need. Nike's incredible support for our mission will help the Foundation do our part to raise awareness, funds and even spirits." For Armstrong, yellow is the color of hope, courage, inspiration and perseverance, as well as the color of the leader's jersey in the Tour de France. Live Strong Yellow Wristbands were available beginning May 17 for $1 each at www.wearyellow.com and Niketown locations. All proceeds will benefit the LAF. "The money raised through the Wear Yellow Live Strong campaign will give us new opportunities to provide leadership, resources and support for people, especially young people, living with cancer," said Mitch Stoller, president and CEO of the LAF.

Kelty Links With Beer Company For Joint Effort

Beginning this month, Kelty will launch a series of brand partnerships with Oskar Blues Brewery, the Lyons, Colorado maker of Dale's Pale Ale, a hand-canned craft beer. "I've dreamed of having a beer sponsor for a long time," said Casey Sheahan, president of Kelty, "This is one of the happiest days of my life." "I dropped a 12-pack and my business card off at the Kelty offices a few months ago and they called back almost immediately. Apparently, they needed more beer," said Dale Katechis, founder of Oskar Blues.

Old Chub (a hearty Scottish ale brewed with chocolate and smoked malts) will become the beers of choice for Kelty sales events and spring previews. Kelty will become the gear of choice for Oskar Blues Brewery in a series of beer distributor promotions, helping the company's "canned gonzo beers" gain traction with outdoor enthusiasts as it continues to expand its distribution territory. The beers are now available in Colorado, Arizona, New Mexico and Virginia, with more states to come.

The beer cans are easier to pack in, much easier to pack out and have a longer shelf live by preventing light damage and greatly reducing the risks of oxidation. The cans are also lined with a special coating that prevents the beer from making contact with aluminum.

European SportStyle Summit Premieres At ispo

The European Sportstyle Summit, which premieres at ispovision, Trade Show for Lifestyle and Fashion inspired by Sports, is a forum at which top international distributors will presenting successful sportstyle concepts to a trade audience. The trade visitors attending the summit can look forward to an informative and entertaining event in which key questions about the new sportstyle segment are explored. Experts from the sector in Germany and abroad will be analyzing current themes, trends, ideas, concepts, experience and opportunities in the field of sportstyle, and engaging in discussion with the audience.

Themes: FASHION: Which sportstyle trends will be a hot seller in spring/summer 2005?
POTENTIAL: What makes sport and style such a long-lasting dream team?
BRAND MIX: What is the secret of the perfect sportstyle segment?
CONCEPT – Where, why and how does sportstyle keep the tills ringing?
PRESENTATION – How can sportstyle be best presented at the POS?
SHOP SCENARIOS – What does the ideal sportstyle store of the future look like?
MARKETING – What kind of sportstyle advertising really works?
ADVERTISING AT POS – How can the retail trade best promote sportstyle?

The European Sportstyle Summit takes place on all three days of ispovision, and is a cooperation between ispovision and first-blue.de, the online trend magazine for style and fashion.

Schutt Is First To Offer NOCSAE-Approved Batter's Guards

Schutt Sports is now the first company to introduce NOCSAE-approved batter's guards. This comes on the heels of a new ruling adopted by the Amateur Softball Association requiring all players in the Junior Olympics program to wear appropriate batter's guards. ASA, the national governing body of softball, voted in November at its convention to mandate the use of NOCSAE-approved batters guards for all players in the JO program, effective January 2005, for player safety and protection. Schutt Sports is the currently the only company to offer a patented softball-specific batter's guard. The Schutt Pro-Guard and Pro-Guard 2000 batter's guards not only meet the new NOCSAE standards, but they also come complete with durable Surlyn straps and are available in 13 standard colors. These new guards are designed to allow for increased batter vision and player comfort.

NSGA Management Conference Notes: The Conference drew its largest attendance ever. If you wondered why NSGA caps its registration at 400, you found out in Hilton Head. It was very difficult locating people in the crowds. The program was excellent except for the footwear panel. NPD's Marshall Cohen raced through his valuable stats, while the panel offered little…SGMA's John Riddle and Tom Cove were busy trying to talk the industry's buying groups into having their shows in conjunction with ailing Super Show. Problem is the shows are money makers for the groups and are ideally timed for their members. Super Show's dates, for example, are much too late for team dealers who have done their business months before…Many attendees leave on the morning of the final day. They made a big mistake. The larger-than-usual remaining audience was busy taking notes on two speakers' presentations. One addressed personnel issues, arguing the premise that creating a great place to work is none of best things any organization can do for its bottom line. The second taught the secrets of effective negotiating.

New Balance and Academy Sports & Outdoors are part of an industry group that is working to develop source-tagging technology for footwear. Retailers desire this system as it will dramatically reduce shrink. Ultimately, it will make bar codes extinct and is the first step toward the controversial RFID. Tagging works well enough with hard goods and apparel, but there are big issues with the placement of tags in footwear. NB and Academy are trying to work out the problems. Nike's position on source tagging is unknown, and this is worrisome to its customers…Phil Knight was inducted into the Hall of Fame. He sent a well produced video in which he mentioned how as a young athlete he was inspired by Converse and adidas footwear. Other inductees were Jim Chick, Chick's Sporting Goods, and Jerry Turner, American Sporting Goods.

Attendees were talking about a recent conference for Sports Authority managers. Vendors paid a fat price to address the managers on their products…Tom O'Riordan was registered for the Conference, but he left Fila US before the event…NSGA had a guest speaker at the Awards Dinner, Frank Abagnale, the individual's whose life the movie "Catch Me If You Can" was based. He had some people crying as he told the story of his life which transitioned from a con man to consultant to the FBI…Question of the conference: Were TAG's Trevor Swangard and Hibbett's Nelson Gage separated at birth?

Shorts: Brown Shoe, Reebok

Wells Fargo Securities reiterated FY04 and FY05 EPS estimates of $3.25 and $3.90, respectively, for Brown Shoe. This reflects Y/Y earnings growth of 17.2% in 2004 and 20.1% in 2005, which WFS believes are readily achievable by the company. It also reiterated a price target of $50. Q1 sales were driven by a 2.6% comp at Famous Footwear and strong performance from the company's wholesale segments. Specifically, 1Q wholesale sales increased 21.7%, due to a slight revenue shift from 2Q to 1Q and the addition of the Bass license to the firm's portfolio of businesses. More importantly, despite the sales shift, wholesale order backlog increased 14% (+10% excluding the new Bass brand) at the end of Q1.

Banc of America Securities reiterated its buy rating on Reebok, but reduced its 12-month target price to $43 from $47. The analysts mentioned that Reebok's completion of a BofA Securities expects this transaction to be EPS-accretive for the company in the near term. The EPS estimates for 2004 and 2005 have been raised from $2.80 to $2.85 and from $3.22 to $3.25, respectively. Meanwhile, Foot Locker told analysts that licensed apparel, Reebok's top line driver in recenet quarters, has slowed down at retail.





Breaking Headlines
News...8/20/04
AUGUST 20, 2004


News...8/19/04
AUGUST 19, 2004


News...8/18/04
AUGUST 18, 2004


News...8/17/04
AUGUST 17, 2004


News...8/16/04
AUGUST 16, 2004


News...8/13/04
AUGUST 13, 2004


News...8/12/04
AUGUST 12, 2004


News...8/11/04
AUGUST 11, 2004


News...8/10/04
AUGUST 10, 2004


News...8/9/04
AUGUST 10, 2004