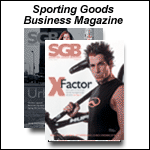 Foot Locker Q1 Income Rose 15%

MAY 20, 2004 -- Income from continuing operations for Foot Locker's Q1 increased 15% to $0.31 per share, or $47 million, compared with $0.27, or $39 million last year. For the 13-week first quarter period, sales increased 5.1% to $1,186 million. Q1` comp-store sales increased 0.3%.

"Our first quarter financial performance was in line with our expectations and the earnings guidance we previously communicated," stated Matt Serra, COB/CEO. "We are pleased with the financial and strategic progress made during the first quarter. We are also pleased, following the end of the quarter, to have completed our acquisition of the Footaction chain. Given our solid first quarter financial results, we have more confidence in our ability to increase income per share from continuing operations in both our second quarter and full year by 10-to-20%."


Foot Locker's financial position strengthened as its cash position, net of debt, increased by $105 million from the same period last year. Merchandise inventories are well positioned to support the recent acquisition of approximately 350 Footaction stores as well as the existing business and planned new store openings.

Taking advantage of current favorable conditions in the interest rate environment, it elected to finance a portion of the purchase price of its recently acquired Footaction stores through a five-year, $175 million amortizing term loan with its existing bank group. The initial interest rate on the LIBOR-based, floating-rate loan is 2.625%. It also amended and extended to 2009 its revolving credit agreement to be co-terminus with the final maturity of the term loan.

On April 20, it provided notification to The Bank of New York of its intent to redeem the entire $150 million outstanding 5.5% convertible subordinated notes. As a result of this redemption notification, Foot Locker expects that most holders will convert their notes into shares of Foot Locker common stock on or before June 3, 2004, at a conversion price of $15.806 per share.

Serra continued, "Maintaining a strong financial position and working towards an investment grade credit rating remains a high priority for our company, and we believe that the continuing progress we have made in enhancing our financial position and balance sheet is moving us closer towards this goal. Along these lines, we are focused on remaining financially prudent as we pursue new investment opportunities, as evidenced by the completion of the new financing arrangement in connection with our Footaction stores purchase."

During Q1, it opened 21 stores, remodeled/relocated 119 stores and closed 44 stores. At May 1, 2004, it operated 3,587 stores in 16 countries in North America, Europe and Australia.







Breaking Headlines
News...8/20/04
AUGUST 20, 2004


News...8/19/04
AUGUST 19, 2004


News...8/18/04
AUGUST 18, 2004


News...8/17/04
AUGUST 17, 2004


News...8/16/04
AUGUST 16, 2004


News...8/13/04
AUGUST 13, 2004


News...8/12/04
AUGUST 12, 2004


News...8/11/04
AUGUST 11, 2004


News...8/10/04
AUGUST 10, 2004


News...8/9/04
AUGUST 10, 2004