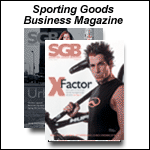 Galyans Q1 Loss Widened To $4.5 Million; Mang's Departure Cost $1.5 Million

MAY 20, 2004 -- For Q104, Galyans reported a net loss of $4.5 million, or $0.26 per share on a fully diluted basis, compared to a net loss of $2.6 million, or $0.15 per share on a fully diluted basis. Q104 included $0.05 net loss per diluted share for expenses associated with the resignation of Galyans' former CEO/COB, Bob Mang. This was about $1.5 million.

Q1 sales rose 21.7% to $157.7 million from the $129.6 million reported in the same quarter last year. Comp-store sales decreased 1.4% primarily due to weaker results in the outdoor equipment, outdoor apparel and accessories categories, which were partially offset by stronger results in athletic equipment, athletic apparel and footwear.

Gross margin as a percentage of sales improved to 27.3% from 26.0% in Q103. The increase in gross margin was primarily due to a higher adjustment for EITF 02-16 and leveraging of distribution cost versus FY03.

SG&A as a percent of sales increased to 31.4% from 28.9%. This increase was primarily from expenses associated with Mang's resignation, increased marketing and depreciation costs and higher pre-opening expenses, as the company opened four stores during Q104 versus two in the year ago quarter.

Edwin Holman, CEO, commented, "We continue to work toward positive comp-store growth and posted marked improvements over the third and fourth quarters of fiscal 2003. We are extremely pleased to have Rick Leto joining Galyans as our new president and chief merchandising officer. With Rick's extensive merchandise and marketing background, he will be instrumental in enhancing our store merchandising and marketing strategies and execution."

During Q104, the company opened new stores in Hoover (Birmingham), AL; Middleton (Madison), WI; Virginia Beach, VA and Lakewood (Denver), CO. The addition of these four stores brings the total stores in operation to 47, compared to the 36 stores at this time last year.

Galyans has signed leases for the remaining five new store locations expected to be opened in fiscal 2004: one additional store bringing the total to seven stores in the Chicago market; the second store in the Cleveland market; Freehold, NJ, its third store in the New York metropolitan area, Charlotte, NC and a replacement store in Galyans' home market of Indianapolis.

It anticipates capital expenditures for FY04 in the range of approximately $36 to $40 million, as compared to $77 million in FY03. The reduction in capital expenditures is primarily due to all of the FY04 store openings having landlord financing as compared to only six of the nine stores which had landlord financing in FY03.

Galyans anticipates adequate liquidity under its credit facility to fund its growth, including capital and inventory for new stores. Cash flow from operations is estimated to be sufficient for it to meet all working capital and fixed capital needs without increasing the debt level at the end of FY04.

Holman concluded, "We are making progress on all of our 2004 initiatives. Our SKU rationalization program has reduced our comp store inventories which has contributed to improved inventory turnover. Our marketing efforts have offered customers promotional incentives and our 'Titanium-Clad Guarantee' insures that we remain price competitive everyday in the marketplace."







Breaking Headlines
News...8/20/04
AUGUST 20, 2004


News...8/19/04
AUGUST 19, 2004


News...8/18/04
AUGUST 18, 2004


News...8/17/04
AUGUST 17, 2004


News...8/16/04
AUGUST 16, 2004


News...8/13/04
AUGUST 13, 2004


News...8/12/04
AUGUST 12, 2004


News...8/11/04
AUGUST 11, 2004


News...8/10/04
AUGUST 10, 2004


News...8/9/04
AUGUST 10, 2004