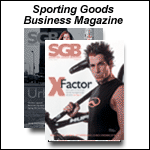 Short news...5/19/04

MAY 19, 2004 -- Collegiate Pacific Retires Bank Debt

Collegiate Pacific said that due to increased cash flows and continuing conversion of its outstanding warrants, it has now paid in full its outstanding commercial bank line. Michael Blumenfeld, CEO, stated, "our goal of completing two significant acquisitions and returning to a debt free status has been achieved. We will update the final status of the warrant call as soon after the May 20th expiration as we can upon reviewing the final counts. We are now in a position where we can agressively review larger and more productive relationships whether they be acquisitions, joint ventures or licensing agreements."

Lucy Activewear Appoints New CEO

Portland-based Lucy Activewear Inc. announced Tuesday that Michael Edwards has been named president and CEO, succeeding founder Sue Levin, who will continue to serve on the board of directors and as an adviser to the company. Edwards, 43, was most recently executive vice president of operations for Jo-Ann Stores, the fabric and craft retailer. "Mike Edwards is the ideal to lead Lucy's growth from a 13-store chain to a dominant national specialty retailer," said Judy Neuman, chair of the Lucy board of directors and a partner at Seattle-based venture capital firm Maveron LLC. "He has extensive experience in both merchandising and operations, and a proven record in building and growing retail organizations in multiple categories." Launched in November 1999, Lucy debuted online as Lucy.com, but shifted its focus to brick-and-mortar stores in 2001. Lucy is backed by venture capital firms Sutter Hill Ventures, Maveron LLC and Oak Investment Partners. The company's venture backers said that along with Edwards' hiring, they are providing additional financing to fund its future growth.

Famous Footwear's Profits Up 17%

Operating earnings at Famous Footwear increased 17% to $12.4 million from $10.6 million. Brown Shoe, Famous Footwear's parent, said the chain increased sales at better margin rates during the quarter. As previously reported, total sales increased 4.2% to $272.1 million. Same-store sales for the quarter increased 2.6 percent. The 897-unit chain opened 12 stores in the quarter and closed 8 stores. "Our first quarter results were driven by a strong performance at Famous Footwear, which delivered same-store sales that were ahead-of-plan with an improvement in gross margins," said Brown Shoe's chairman and CEO Ron Fromm. Brown Shoe's overall earnings were down slightly due to costs to acquire and assimilate the G.H. Bass shoe brand.

Footstar Sells 27 Shoe Zone Stores

Footstar Inc. of New York has entered into an agreement for the sale of its 27 Shoe Zone stores in Puerto Rico to Novus Inc for $5.5 million in cash, subject to bankruptcy approval. The transaction is expected to close by the middle of summer. Novus is a footwear retailer in Puerto Rico operating 64 stores through five distinct retail concepts, including Novus, La Favorita, Bakers, Wild Pair and Metro. Dale Hilpert, Footstar chairman, president and CEO, said, "Shoe Zone is a retail concept targeting Hispanic customers that Meldisco has been incubating over the past two years. While Shoe Zone has shown promising initial results, our focus at this time must be on strengthening our profitable core operations and positioning the company for emergence from Chapter 11. We believe that Novus, as a leader in the Puerto Rican footwear market, has the expertise to take Shoe Zone to the next level." Footstar closed Just For Feet and sold Footaction to Foot Locker in order to focus on Meldisco licensed shoe-department business.

Jimmy Johnson Hosts National Fishing and Boating Week.

Former NFL coach Jimmy Johnson will serve as honorary chairperson of National Fishing and Boating Week (NFBW), June 5-13. Johnson is the first honorary chairperson of the annual fishing and boating celebration, now in its fourth year. During NFBW, hundreds of communities across the country will host fishing and boating events. Johnson will help RBFF kick off the week's festivities at a June 5 media event, where, along with local families, he'll make the ceremonial first cast in New York City's Central Park.

Nautica Sponsors U.S. Sailing Team

Nautica International Inc. has become the "Official Apparel Supplier" of US SAILING, national governing body of the sport, to dress the 2004 US Sailing Teams. According to the sponsorship agreement, Nautica will outfit the 130 members of the US Sailing Team, US Disabled Sailing Team and US Youth World Team with a complete dress and sportswear wardrobe for men and women. David Chu, Nautica's founder, designer and CEO said, "We are proud to resume our apparel sponsorship with US SAILING. It's with great pleasure that we are able to continue our long-standing association with the sport of sailing, a sport that relies on teamwork and athleticism. We salute all of the sailing teams and wish them well in their future competitions."

NBC To Broadcast NHL Games

NBC will broadcast NHL games the next two seasons under a revenue-sharing deal, replacing ABC as the league's broadcast partner. The deal will call for NBC to broadcast seven regular-season games beginning in January and six playoff games in regular Saturday afternoon time slots. The network also will televise games three-through-seven of the Stanley Cup finals in prime time.

Shorts: Foot Locker was downgraded by Merrill Lynche to "Neutral" from "Buy"..Caris & Co. upgraded Dick's Sporting Goods to "Above Average" from "Below Average."





Breaking Headlines
News...8/20/04
AUGUST 20, 2004


News...8/19/04
AUGUST 19, 2004


News...8/18/04
AUGUST 18, 2004


News...8/17/04
AUGUST 17, 2004


News...8/16/04
AUGUST 16, 2004


News...8/13/04
AUGUST 13, 2004


News...8/12/04
AUGUST 12, 2004


News...8/11/04
AUGUST 11, 2004


News...8/10/04
AUGUST 10, 2004


News...8/9/04
AUGUST 10, 2004