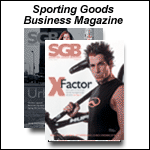 Short news...5/14/04

MAY 14, 2004 -- Columbia Sportswear Opts For Distributor In Norway, Iceland

Capitalizing on increased business prospects and opportunities for brand expansion in Norway, Columbia Sportswear signed a distribution agreement with Portland Norge AS to distribute Columbia and Sorel products in both Norway and Iceland. Distribution will commence in Norway and Iceland with the Spring 2005 product line. Due to the fact Norway and Iceland are not members of the EU, Columbia Sportswear and Sorel chose to use an independent distributor, rather than using its direct to retail system through its own Cambrai, France, distribution center. In addition to distributing Columbia and Sorel product, Portland Norge will own and operate two Columbia Sportswear retail stores under a licensing agreement with Columbia. The stores will be located in Oslo, Norway, and Reykjavic, Iceland. The stores are planned to open by Spring 2006.

Genesco Ups Its Q1 EPS Guidance

Genesco posted net Q1 sales of $226 million, compared to $193 million for the same period last year. The company also raised its Q1 EPS guidance to between 21¢ and 24¢, versus 15¢ for the corresponding period a year ago, and compared to its previous guidance of 12¢ to 13¢. Genesco plans to release its Q1 earnings and host its quarterly conference call on May 26. The company also reported that total same-store sales for the quarter increased 6% (not including the stores acquired in the purchase of Hat World Corp., which was completed April 1). Journeys reported a same-store sales increase of 9%, Johnston & Murphy's comparable store sales rose 8% and Underground Station Group's same-store sales declined 3%. Hat World reported a same-store sales gain of 23% for the quarter and 20% for the month of April. Wells Fargo Securities raised its rating to buy from hold and set a $29 target price.

Huffy Bolsters Tommy Armour Staff

Tommy Armour Golf, a division of Huffy Corp., announced three key additions to its management team, including golf industry veterans Jim Howell, Kim Calhoun and Scott Beasley. This new team will be responsible for directing the Tommy Armour worldwide golf division, which includes the Tommy Armour, RAM, Teardrop and Zebra Golf brands.

Howell joined Armour as director of sales and will be responsible for the Tommy Armour and RAM brands. Howell came from Pro Select Golf, where he served as VP/sales and marketing, overseeing new product development, forecasting, supplier negotiations and managing an impressive array of national accounts such as Edwin Watts, Golfsmith, The Sports Authority, Golf Discount of St. Louis, Golf Galaxy, National Golf Buying Association, Dick's Sporting Goods, Pro Golf of America, Target Stores, Kmart and Wal-Mart.

Calhoun will serve as director of marketing for the Tommy Armour brand, and will lead marketing, new product development, branding initiatives and communications efforts. Calhoun, a former marketing executive with MacGregor Golf and marketing consultant for Adams Golf, spent the first 16 years of his career as an account service executive in major marketing and advertising agencies in the southwest, including five years managing the Ben Hogan account for Tracy-Locke/BBDO.

Beasley will assume a regional sales director position for the company. He was most recently VP/marketing of Kemper Sports Management, where he managed operations and purchasing for 85 golf shops across the nation.

Former Reebok Canada Exec Sues Over Wrongful Dismissal

A former president of Reebok Canada is suing his former employer for C$3.5 million. He claims he was wrongfully dismissed. David Yellowlees charged he was fired after Reebok made a "baseless" allegation that he had embellished financial information. Yellowlees' lawsuit, filed in an Ontario civil court, alleged Reebok fired him for "wrongful accounting practices, including falsifying journal entries, which had the effect of improperly inflating revenues."

Along with former director of finance Steve Bellchambers and former director of operations John Kotarba, he left the company in late 2003. Reebok confirmed they left the company and declared its confidence in its case.

Shorts: Shoe Carnival, adidas-Salomon

Wells Fargo Securities reiterated its hold and EPS ratings on Shoe Carnival. "We do not expect any dramatic improvements in Shoe Carnival's comp performance until the company's revamped merchandise mix generates improved shopper traffic in the chain's stores. We believe that the company will likely implement new marketing initiatives during the important back-to-school season, which may help to stimulate higher margin levels," WFS said…Analyst Anette Nikolajsen of Jyske Bank maintained buy rating on adidas-Salomon. The target price is 115 euros.






Breaking Headlines
Short news...5/14/04
MAY 14, 2004


Swartz Family, Charitable Trusts Selling 3.3 Million TBL Shares
MAY 14, 2004


Oregon Outdoor Industry Wants Bush To Protect National Forests From Loggers
MAY 14, 2004


Shoe Carnival Q1 Earnings Off $500,000
MAY 13, 2004


Short news...5/13/04
MAY 13, 2004


Short news...5/12/04
MAY 12, 2004


Short news: 5/11/04
MAY 11, 2004


US SG Manufacturers Post 7% Sales Growth, But Margins Eroded
MAY 11, 2004


PacSun Earnings Surged 88% In Q1
MAY 11, 2004


Short news...5/10/04
MAY 11, 2004