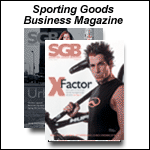 Shoe Carnival Q1 Earnings Off $500,000

MAY 13, 2004 -- Shoe Carnival reported Q1 sales and earnings. Net earnings for the 13-week quarter were $4.6 million as compared with net earnings of $5.1 million in Q103. Diluted earnings per share were $0.35 per share compared to $0.39 per share last year. Net sales increased 6.3% to $145.5 million from $136.9 million last year. Comparable-store sales decreased 2.2%.

The gross profit margin decreased to 29.2% from 29.9% due to the deleveraging effect of lower same-store sales and the lower sales productivity of new stores on buying, distribution and occupancy costs. SG&A as a percentage of sales increased to 23.9% from 23.8%. New store pre-opening costs incurred were $729,000 or 0.5% of sales, compared with $772,000 or 0.6% of sales last year. The company opened 11 new stores in Q104 versus opening 13 stores last year.

Commenting on the results, Mark Lemond, president/CEO, said, "We are clearly disappointed in our results for the first quarter of 2004. In an effort to increase customer traffic during the quarter, we tried new approaches in advertising and merchandise promotions, including a reduction of 'buy one get one at half price' promotions. Although it is apparent these strategies were not successful in total, we did gain valuable insights on a market-by-market basis. We have responded by effecting changes to our advertising and merchandise promotions, continuing the media and message that did resonate and changing what did not. While certain of these changes will be implemented in the second quarter, the primary effect will be seen during back-to-school, our next peak selling period.

"Although sales fell short of our original expectations for the quarter, we effectively managed our inventories and expenses. Our per-store inventories at the end of the quarter were down 1.2%. Tight expense controls during the quarter limited the deleveraging effect of the lower than expected sales results."

The company also issued sales and earnings guidance for the second quarter of 2004. Due to tax-free shopping days in multiple states shifting from late in Q203 to early in the Q3 this year, comparable-store sales are expected to decline low-single digits in Q2. EPS are expected to range from $0.12 to $0.15 in Q2.

Currently, the company expects to open between 20 to 25 stores in fiscal 2004, net of store closings. Eleven stores were opened in Q1 and two stores are expected to open in Q2. Store openings in 2H04 will occur primarily in Q3.






Breaking Headlines
Short news...5/14/04
MAY 14, 2004


Swartz Family, Charitable Trusts Selling 3.3 Million TBL Shares
MAY 14, 2004


Oregon Outdoor Industry Wants Bush To Protect National Forests From Loggers
MAY 14, 2004


Shoe Carnival Q1 Earnings Off $500,000
MAY 13, 2004


Short news...5/13/04
MAY 13, 2004


Short news...5/12/04
MAY 12, 2004


Short news: 5/11/04
MAY 11, 2004


US SG Manufacturers Post 7% Sales Growth, But Margins Eroded
MAY 11, 2004


PacSun Earnings Surged 88% In Q1
MAY 11, 2004


Short news...5/10/04
MAY 11, 2004