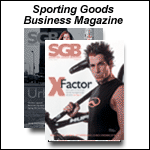 Short news...5/12/04

MAY 12, 2004 -- In this issue:

Callaway In Search For New Ad Agency;

Umbro's IPO Will Raise As Much As $358 Million;

Trails.com Improves Web Site Personalization.

Shorts: Pacific Sunwear job searches.


Callaway In Search For New Ad Agency

Callaway Golf ended its creative relationship with Los Angeles-based advertising agency Dailey & Associates. The move ended a seven-year partnership that produced many memorable TV commercials, such as singer Celine Dion crooning into a microphone that morphed into a Callaway Golf Biggest Big Bertha Driver and reclusive billionaire Bill Gates looking into the camera while holding a Callaway Golf Driver and saying, "I love a big idea."

Callaway COO Patrice Hutin said that considering the evolving market environment, the world's largest maker of golf clubs is looking to move in a new creative direction with its advertising. Hutin added the media planning and buying portion of the relationship with Dailey & Associates will remain intact for the foreseeable future and that an agency review by Callaway Golf already has narrowed the field of potential creative replacements to five candidates.

Umbro's IPO Will Raise As Much As $358 Million

Umbro said IPO shares would be priced at 150 to 190 pence each ($2.66 to $3.37), valuing the 84-year-old UK soccer apparelmillion to $358 million), in line with market expectations. CEO Peter McGuigan will make as much as $25.7 million by the sale of part of his stake. It was through his efforts that the brand regained its position in the world market. The investment company that bought the stodgy Umbro brought in the former Reebok and Pentland exec to revitalize it. What's amazing about its recovery, it was accomplished with a negligible presence in the US. This is something Umbro hopes to do something about with part of the IPO proceeds. Umbro expects to start trading in London on June 3.

Trails.com Improves Web Site Personalization

Trails.com, the planning resource for self-guided outdoor and adventure travel, unveiled a redesigned Web site that personalizes the experience for Trails.com members. The most significant upgrade is a recommendation engine that makes personalized trail and trip suggestions based on a member's profile. Other new features include a customized home page, "Top Trails" list, one-click rating system and more.

The upgrades to Trails.com are directly based on feedback from site users. Leveraging an extensive content database (35,000 guidebook trails across 30 activities) and customer data (personal profiles, reviews, purchasing habits), Trails.com is focused on improving the overall customer experience.

Shorts:

Pacific Sunwear wants to boost the management team of its d.e.m.o. unit. A search is out for a division president and a second men's buyers. Interviews for a CFO are under way.







Breaking Headlines
Short news...5/14/04
MAY 14, 2004


Swartz Family, Charitable Trusts Selling 3.3 Million TBL Shares
MAY 14, 2004


Oregon Outdoor Industry Wants Bush To Protect National Forests From Loggers
MAY 14, 2004


Shoe Carnival Q1 Earnings Off $500,000
MAY 13, 2004


Short news...5/13/04
MAY 13, 2004


Short news...5/12/04
MAY 12, 2004


Short news: 5/11/04
MAY 11, 2004


US SG Manufacturers Post 7% Sales Growth, But Margins Eroded
MAY 11, 2004


PacSun Earnings Surged 88% In Q1
MAY 11, 2004


Short news...5/10/04
MAY 11, 2004