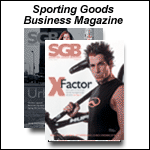 PacSun Earnings Surged 88% In Q1

MAY 11, 2004 -- Pacific Sunwear of California Inc. reported Q1 net income increased 88% to $15.0 million, or $0.19 per share, basic and diluted, compared to $8.0 million, or $0.11 per share, basic, and $.10 per share, diluted, for Q103.

Total Q1 sales were $245.1 million, an increase of 23.6%. Same-store sales increased 12.7%.

"I am pleased to report that we had a great first quarter with earnings up 88% over last year," stated Greg Weaver, COB/CEO. "Same-store sales growth was a robust 12.7% for the quarter. For PacSun, we achieved strong double-digit same-store sales growth in footwear and accessories and high-single-digit comparable increases in guy's and low-single-digit increases in girl's apparel.

"We achieved a 6.0% same-store sales increase in our d.e.m.o. chain in the first quarter against a very strong same store sales increase of 36.5% achieved in Q1 a year ago. Girl's apparel, accessories and footwear have been the comp drivers in d.e.m.o. while men's were down mid-single digits. We opened 16 new d.e.m.o. stores in the first quarter with a projected first year average sales trend of $1.2 million for those stores.

"In the first quarter, we opened 30 net new stores. For the year, we are on plan to open 110 new stores and expand/relocate 35 stores to larger locations, which equates to square footage growth of 15%. We are currently tracking ahead of our 13% operating margin goal for fiscal 2004. Based upon first quarter earnings results and the completed $50.0 million stock repurchase which reduced share count by nearly 3%, the company is increasing its full year EPS guidance to $1.31 from the current consensus of $1.26, assuming same store sales growth of 5% for the balance of the year."






Breaking Headlines
News...8/20/04
AUGUST 20, 2004


News...8/19/04
AUGUST 19, 2004


News...8/18/04
AUGUST 18, 2004


News...8/17/04
AUGUST 17, 2004


News...8/16/04
AUGUST 16, 2004


News...8/13/04
AUGUST 13, 2004


News...8/12/04
AUGUST 12, 2004


News...8/11/04
AUGUST 11, 2004


News...8/10/04
AUGUST 10, 2004


News...8/9/04
AUGUST 10, 2004