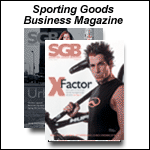 K2 Posts Record Results; Makes Two More Acquisitions

APRIL 20, 2004 -- K2 record Q1 sales, an increase of 76.6% to $277.4 million. Diluted EPS increased to $0.27, as compared to $0.01 in the year earlier period, and higher than guidance estimates of $0.25 previously provided by the company. Basic EPS were $0.31 for the 2004 first quarter as compared to $0.01 in the year earlier period.

Richard Heckmann, COB/CEO, said, "We are extremely pleased with the results of the first quarter which were driven by strength across all our divisions and product lines. Our record performance is a reflection of our premier stable of sporting goods brands, continued successful integration of our recent acquisitions and the achievement of operating efficiencies across our businesses. Consistent with our strategic plan, we recently completed two acquisitions that fit perfectly with K2's other paintball brands, and our Stearns Marine division. We continue to believe that we are well positioned to benefit from the consolidation of sporting goods retailers worldwide and to see additional opportunities that will drive consolidation on the equipment side of the business."

K2 it has acquired the assets of Worr Game Products and Innovative Products, both privately held companies. Worr Game Products is a leader in the manufacture of premium paintball markers incorporating its proprietary Autococker® technology. K2 anticipates that Worr will provide a platform for further growth in the premium marker segment, and will be highly complementary to K2's other paintball businesses including its existing premium JT brand. Worr and JT will also benefit from common distribution channels.

Innovative Products is a market leader in accessories for all-terrain vehicles, including gun, bow and luggage racks. There are over 10 million ATVs in use in the US today, and approximately 50% of sales in the ATV sector are accessories. Innovative Products will integrate with K2's Stearns division, and will benefit from common manufacturing and distribution channels.

The purchase price for the two transactions consisted of a combination of K2 stock, cash, and the pay-off of certain debt. On an annualized run-rate, total sales for the two acquired companies are estimated at approximately $25 million in the next 12 months. The transactions are expected to be EPS neutral in 2004 and accretive to

In Q1 2004, K2 sales were $161.1 million, excluding material acquisitions in 2003 which included Rawlings, Worth, Atlas and Tubbs, and Brass Eagle. In Q1 2003, K2 sales were $149.7 million net of divestitures, which reflects sales growth of 8% on a comparable basis in the first quarter of 2004 versus the same period in 2003.

Gross profit increased to 31.2%, as compared to 30.0% of sales in the comparable 2003 period. Higher gross profits reflect a continuation of trends in previous quarters, including a more favorable product mix driven in the first quarter by team sports, winter sports, paintball products, improved manufacturing efficiencies, and fewer close-out sales. SG&A expenses of 24.2% of sales in the first quarter of 2004 were slightly less as a percentage over the comparable 2003 quarter, despite an increase in dollar amounts, due to the higher sales volume during the 2004 quarter. Operating margins improved from 5.6% in first quarter 2003 to 7.0% of sales for the same period in 2004, driven by enhanced leveraging of selling, general and administrative expenses over higher sales volume and an increase in gross profits.







Breaking Headlines
Short news...5/3/04
MAY 03, 2004


ispo Will Give Nordic Walking Special Focus
MAY 03, 2004


Short News...4/30/04
APRIL 30, 2004


Huffy Hires Lazard Freres
APRIL 29, 2004


Nautilus Group Earnings Plunge On Small Revenue Gain
APRIL 29, 2004


Big 5's Net Income Doubles
APRIL 29, 2004


Columbia Q1 Sales Surge 22%; Net Income Hits Record
APRIL 29, 2004


Short news...4/29/04
APRIL 29, 2004


Inventory Liquidations Slash Russell Profits 85%
APRIL 29, 2004


Saucony Has Record Q1 Sales & Earnings
APRIL 28, 2004