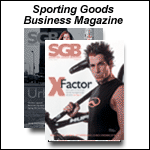 Saucony Has Record Q1 Sales & Earnings

APRIL 28, 2004 -- Saucony reported record Q1 revenues, net income and EPS. for the quarter ended April 2, 2004. Net income increased 63% to $4.2 million. Diluted EPS increased to $0.58 per Class A share and $0.64 per Class B share, compared to diluted EPS of $0.39 per Class A share and $0.43 per Class B share in 2003. Net sales increased 20% to a record $47.0 million, compared to $39.1 million in the first quarter of 2003.

John Fisher, president/CEO, commented, "Strong demand and solid execution across all of our divisions fueled our record results for the first quarter. A robust at-once business in our core technical running and cross-over footwear categories and substantial international growth helped us to achieve our tenth consecutive quarter of meeting or exceeding expectations. Additionally, we continued to improve our gross margins and ratio of sales growth rates to operating expense growth rates and we recently paid a special dividend in the amount of $26.0 million and increased our regular quarterly cash dividends by 25% in an effort to further return value to our shareholders. We are extremely pleased to begin 2004 with a standout performance and we are excited about our prospects for the remainder of the year."

Backlog of open orders at April 2, 2004 increased 28% to $53.0 million. At April 2, 2004, the open order backlog for delivery in the next 12 months increased 25% to $62.9 million.

Fisher continued, "We continue to gain momentum in our domestic technical footwear business, which significantly contributed to our double-digit increase in open orders scheduled for delivery over the next five months. We are experiencing continued strength and significant year-on-year growth in the mid-priced footwear category, which we refer to as cross-over footwear. We expect that our focus in technical footwear and the expansion of our brand reach in cross-over footwear will continue to be keys in our effort to meet our future growth objectives.

"The number of days sales in inventory increased slightly to 85 days at April 2, compared to 84 days at April 4, 2003. Our inventory management has continued to be exceptional during these challenging times. We believe our quarter ending inventories are high in quality and position us well to take advantage of potential increases in the demand for our core products in the next few months of 2004."

Net sales increased 20% to $47.0 million, compared to $39.1 million. Domestic net sales increased 22% to $36.0 million. International net sales increased 16% to $11.0 million in the first quarter of 2004, compared to $9.5 million. International net sales increased due primarily to favorable changes in foreign exchange rates as compared to the Q1 2003. Saucony brand footwear accounted for approximately 88% of total first quarter 2004 net sales, while a combination of Hind apparel and factory outlet

The company expects fully diluted Q2 EPS to range from $0.34 to $0.36 for Class A shares and to range from $0.38 to $0.40 for Class B shares and to range from $1.34 to $1.38 for Class A shares and to range from $1.48 to $1.52 for Class B shares for the year.

The company expects Q2 net sales to range from $42 million to $43 million. The company expects net sales for the year to range from $159 million to $161 million.







Breaking Headlines
Nautilus Group Earnings Plunge On Small Revenue Gain
APRIL 29, 2004


Big 5's Net Income Doubles
APRIL 29, 2004


Columbia Q1 Sales Surge 22%; Net Income Hits Record
APRIL 29, 2004


Short news...4/29/04
APRIL 29, 2004


Inventory Liquidations Slash Russell Profits 85%
APRIL 29, 2004


Saucony Has Record Q1 Sales & Earnings
APRIL 28, 2004


GSI Has Record Q1 Revenues; Loss Is Reduced
APRIL 28, 2004


Short news...4/28/04
APRIL 28, 2004


K-Swiss Q1 EPS Beat Estimates, But Lowers Future Guidannce
APRIL 28, 2004


News shorts...4/27/04
APRIL 27, 2004