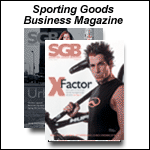 Short news...4/20/04

APRIL 20, 2004 -- Gander Mountain enters the public market this week. Cabela's is expected to begin trading in June. Bass Pro Shops is rumored to be preparing an IPO for sometime in the next year.

ispo winter regained its position as the #1 sporting goods show in the world this past February, and it wants the world to know it. Show management put out a 40-page, four-color wrap-up of the show and mailed it around the world. The review conveys the excitement that took place in Munich in February. The cover shot showed the thousands of show visitors lined up on opening day at just one of the two entrances. Photos, articles, reviews and event summaries made this a great read. Even Jake Burton Carpenter took time away from his snowboarding vacation to come to the show to talk with customers and the ispo reporters. The interviews were more than "isn't this show is the greatest thing since draft beer?" They concerned trends and news, making the articles real reads, not just puff pieces for the show, as we get in the US.

USA Hockey renewed retail licensing agreements with six North American sports merchandise and apparel manufacturers: The Hockey Company, Aminco International, Fox 40 International, Roxbury USA, Sweat Sport Company, and Viceroy Rubber and Plastics.

NBA said it enjoyed its best year ever in terms of merchandise sales. The increasing popularity of NBA jerseys, headwear, toys, electronic games and numerous other products have resulted in a 25% increase in combined sales at the NBA Store on Fifth Avenue and the NBA Store on NBA.com. A variety of new product offerings from Reebok blending retro looks with today's top players, including the launch of NBA D'Funkd this season. The NBA's Hardwood Classics Nights program, which included retro jerseys worn by 12 NBA teams during games, continues its strong sales in its third season. NBA.com set with 2.3 billion page views and 315 million total visits. The new records represent an increase of 43% and nearly 30% respectively, when compared to the previous highs of 1.6 billion page views and 245 million visits established during the 2002-03 regular season. For the first time, more than half of all page views and visits came from fans located outside the US, representing more international traffic to NBA.com than any other US-based sports Web site.

K2 filed a prospectus with the SEC for a shelf registration. Under this shelf prospectus, K2 may from time to time sell any combination of the securities, either separately or in units, in one or more offerings. Together, these offerings may total up to $175,000,000. The types of securities may offer or sell include: Debt securities, units of these securities; common stock; preferred stock; warrants entitling the holders to purchase debt securities, common or preferred stock; and purchase contracts. K2 may sell these securities either separately or in units. K2 may issue debt securities convertible into shares of K2's common stock or preferred stock. The preferred stock issued may also be convertible into shares of K2's common stock or another series of preferred stock.

According to data from golf facilities from around the country, rounds were up 5.3% nationwide for Q1 2004. Traditionally, Q1 only accounts for about 15% of total annual rounds, but after two years of declines due to the weak economy, a shaky employment picture, worldwide unrest and poor weather, recent gains are welcome. Regionally, the Northeast and Mid-Atlantic posted strong gains, partly due to having more play days, 10 more days on average in the Northeast and four more in the Mid Atlantic. The Mountain region, which had the sharpest percentage decrease, -5.0%, also had significantly fewer play days, an average of 10 fewer days open in the region. Beyond a consideration of weather, there is evidence that rounds increased due to other factors. Rounds per play day were up 11% for the quarter. An increase in rounds per play day indicates an increase in new golfers, an increase in rounds by existing golfers, or both. The full report is available at both www.ngf.org and www.golf2020.com. The data is based on a survey of over 1,100 golf facilities conducted by the National Golf Foundation in the first quarter of this year. Data is statistically weighted to be representative of all US golf facilities by region, type (private/public), number of holes and price point.

Phoenix Footwear Group reported Q1 consolidated results. Net sales totaled $18.6 million versus $9.2 million, an increase of $9.4 million or 102%. Net sales for the current period include $185,000 of royalty income compared to zero for the prior year period. The company's financial resulted in net income of $1.2 million, compared to $375,000. Net income per diluted share was $0.24 for the first quarter. Net income per diluted share for the comparable prior year's quarter was $0.10. Gross margin was 44%, comparable to 2003.






Breaking Headlines
Short news...5/3/04
MAY 03, 2004


ispo Will Give Nordic Walking Special Focus
MAY 03, 2004


Short News...4/30/04
APRIL 30, 2004


Huffy Hires Lazard Freres
APRIL 29, 2004


Nautilus Group Earnings Plunge On Small Revenue Gain
APRIL 29, 2004


Big 5's Net Income Doubles
APRIL 29, 2004


Columbia Q1 Sales Surge 22%; Net Income Hits Record
APRIL 29, 2004


Short news...4/29/04
APRIL 29, 2004


Inventory Liquidations Slash Russell Profits 85%
APRIL 29, 2004


Saucony Has Record Q1 Sales & Earnings
APRIL 28, 2004