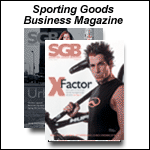 Short news...4/6/08

APRIL 06, 2004 -- Skechers USA expects Q1 2004 revenues to be above the previously guided range of $190 million to $200 million. Skechers also anticipates an improvement in gross profit margin compared to Q1 2003 due to a lower level of inventory markdowns. As a result, Q1 earnings are expected to be above the previously guided range of 5¢ to 10¢ and the consensus of 10¢ per diluted share. "At the close of 2003, we began to experience an improvement in our business," said David Weinberg, CFO. "The momentum has continued into the first quarter 2004 as we have seen better than expected shipments and increased demand for our products both domestically and internationally, including updates of core styles and new Skechers Sport outsoles."

Sof Sole published its inaugural edition of the Sof Sole Newsletter. The quarterly newsletter will bring customers up to speed on happenings with the Sof Sole brand and product offers. Sof Sole is in the process of launching the Sof Sole FitSys. It is a patent-pending accessory system that combines the features and benefits of Sof Sole insoles and technical socks to improve footwear performance and comfort. Also new this spring is the Sof Sole Elite Team. The Team consists of 300 competitive athletes who will act as Sof Sole brand advocates at 1,800+ events and races this year. The Team will seed free FitSys coupons and product at events, as well as act as a Sof Sole spokespeople in the running community.

The Wall Street Journal reported that bankrupt Spiegel would auction off its Eddie Bauer BU after German billionaire Michael Otto failed to strike a deal with creditor banks to retain control of the catalog company. Otto's family owns 89% of Spiegel's shares. He is said to have balked at creditors' demands, and the two sides have been unable to come to terms. It's estimated that the chain could bring in $800 million. In 2003, it had profitable sales of $1.3 billion.

Dresdner Kleinwort Wasserstein reduced its rating on UK retailer JJB Sports to reduce from buy. The broker is concerned that increasing investment in the retailer's leisure division is at the expense of declining expenditure at its core JJB banners, and advised clients to take profits.


Scarborough Sports Marketing will co-sponsor the NSGA Management Conference Conference/Team Dealer Summit Welcome Reception Sunday, May 16, at the Hilton Head Marriott Beach & Golf Resort, Hilton Head Island, SC. This reception is the traditional kickoff to the Conference/Summit. Scarborough Sports Marketing will be co-sponsoring the reception with AND 1. Scarborough Sports Marketing, like SGB and ISG, a division of VNU, provides an in-depth understanding of the American sports fan on a local, regional and national level. Scarborough measures detailed fan demographics, shopping behaviors, lifestyles and media usage patterns of consumers in 75 top US markets, including all professional sports markets.

With the number of overweight people increasing rapidly and the nation facing an obesity epidemic, 83% of the public blames the increase on not enough exercise, according to the results of a recent new Harris Interactive poll conducted for The Wall Street Journal Online's Health Industry Edition. Only 34% of Americans chose caloric consumption as a major reason why obesity has increased. Half of US adults (53%) think that child obesity is increasing due to not enough exercise rather than eating the wrong foods (36%) or eating too much (7%). Most Americans (89%) think that TV commercials encourage people to eat or drink more than is good for them (44% say "a lot," 45% say "some") while only 7% say there is no impact at all. A majority (55%) favors a requirement that restaurants label their menus, 28% oppose. "We know that people consume more and more calories, but only a third of the public see this as a major cause of obesity. These data suggest that many people are either in denial, or they are woefully ignorant, that most people just eat too much," said Humphrey Taylor, COB of The Harris Poll at Harris Interactive.






Breaking Headlines
Short news...4/6/08
APRIL 06, 2004


Short news...4/5/04
APRIL 05, 2004


Short news...4/2/04
APRIL 02, 2004


Short news...4/1/04
APRIL 01, 2004


Selig Questioned On Possibility of Ads On Uniforms
APRIL 01, 2004


Collegiate Pacific Completes Kesslers Acquisition
APRIL 01, 2004


Reebok Will Give Away $1 Million Of Free Shoes To Spur Heart Association Donations
APRIL 01, 2004


Short news...3/31/04
MARCH 31, 2004


Short news...3/30/04
MARCH 30, 2004


Lifetime Products To Pay $800,000 Civil Penalty
MARCH 30, 2004